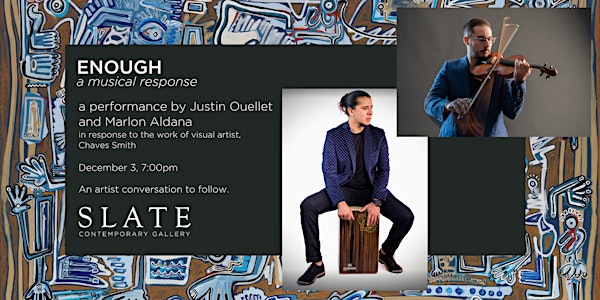 ENOUGH - A MUSICAL RESPONSE
An evening of music performed by violinist Justin Ouellet and percussionist Marlon Aldana, in response to the artwork of Chaves Smith.
When and where
Location
SLATE Contemporary Gallery and Art Consulting 473 25th Street Oakland, CA 94612
Refund Policy
Contact the organizer to request a refund.
Eventbrite's fee is nonrefundable.
About this event
This performance will be an artistic response to the artwork of Chaves Smith, on view now at SLATE Contemporary Gallery, in a solo exhibition titled Enough. Marlon and Justin will tap into their experience as longtime performance partners, songwriters, and improvisers to perform a program of music that will respond to the themes, value and identity, that are explored throughout Chaves' paintings. As an audience member, you can expect to hear a fusion of styles spanning a 300 year period, including classical, blues, jazz, latin, and contemporary new music. Whether it's pre-composed or newly improvised material, the goal is to create an environment of musicking, where the audience and the performer experience creation in the present moment.
100% of ticket sales will go directly to the musicians.
*Please arrive early to allow time for parking. *
ABOUT THE MUSICIANS
Justin Ouellet has performed internationally from California to France, collaborating with musicians from all different backgrounds. His training as a classical musician has awarded him opportunities to perform with members of prestigious groups around the world ranging from the Philadelphia Orchestra to Seoul Philharmonic Orchestra. As a natural improviser, Justin has been blessed to share the stage with renowned musicians such as Andrea Boccelli, Jón Þór Jónsi, Kev Choice & Nadja Salerno Sonnenberg. Justin has received recognition for his talents as an artist and educator, receiving the San Jose Jazz Live Aid Grant, Academy of Gospel of Music Educator of the Year and voted best Jazz Instrumentalist by San Francisco Classical Voice. He can be heard on a multitude of recordings and has worked on a variety of production and engineering projects bringing him to renowned studios such as Skywalker Ranch, George Lucas's estate, where many of the great movie soundtracks and Grammy winning albums have been recorded.
He has produced three solo albums one with his band d'PaJo, which pays homage to the great Stephanie Grappelli (the d'PaJo Sessions, 2021) as well as: "The 25th Street Sessions" (2019), & "Justin Ouellet: The Covid Sessions", which was released this fall. He and his wife split their time between California and Massachusetts. Find out more @ justinouellet.com
Marlon Aldana, born in Guadalajara, Mexico, is well known as a multi-faceted artist for his natural ability as an accompanist and improviser on percussion instruments, while also thriving as a graphic designer & photographer\videographer. Based in the Bay Area, Aldana performs regularly with ensembles and artists in the Latin, Afro-Cuban and Flamenco scenes. Aldana has shared stage with renowned artists such as Jason McGuire, Jeff Chambers, John Santos, Edgar Pantoja, Grammy Award winners Antonio Rey and Jose Luis de La Paz. Typically first call in the Flamenco scene, he has performed with pianist Alex Conde, Flamenco singers Mara Rey, Jose Mendez, Jesus Montoya, Manuel Moreno Carrasco, & Flamenco Dancers Alfonso Losa, Andres Peña, Ivan Vargas, Juan Ogalla, Fanny Ara and Emmy winning Yaelisa of Caminos Flamencos. Aldana can be heard on a multitude of recordings including Ouellet's first and third solo albums. Find out more @ marlonaldana.com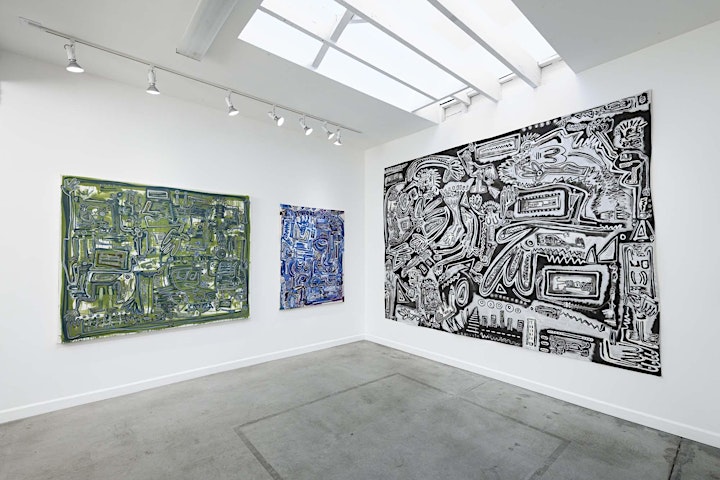 ABOUT THE ARTWORK
Chaves Smith's paintings employ an intricate language of recurring figures and symbols developed over the course of his life, distilling iconography from his Native American ancestors, combined with visual storytelling from recent lived experiences. While growing up in New Mexico, Chaves' creativity was closely tied to the skateboarding and graffiti communities. His very first canvases were skateboards, flyers for local bands, and the walls in the towns where lived. Chaves' newest paintings are characterized by intricate abstractions in rich colors with an emphasis on geometric forms, repeating patterns, and wandering lines. Despite the large scale of this work, the canvases seem to barely contain the energy of his expressions. Chaves means for the playful figures, faces, hands, and symbols that appear in the work to celebrate and interpret human connection. While his work is not explicitly political, it references personal struggle and distills simple truths in a complex time.
Chaves Smith's current body of work, titled Enough, explores the human challenge to navigate a sense of self worth. In the artists' words, "Today it seems value and belonging are biased upon class, identity, sex, race and so on. Being of mixed race, growing up from town to town, I learned quickly that I am different. The gut feeling that I am not the same was validated by a society that puts labels and boxes on people, unable to see worth in the unknown." Through his own creative expression, Chaves attempts to see through the veil of self, and find a place where he feels enough in his mind, body and spirit. Like prayer or meditation, he uses the act of painting to seek and create an internal space. His paintings are therefore the result of a spiritual passage, rather than coming from a forced hand or analytical mind. While the shapes and forms found in Chaves' work undoubtedly do create symbolism which often leads to a narrative or theme, this is not the goal of the project. For this artist, the images are a result of finding an inner truth and translating its message. As for the viewer, one is invited to step into another's world, one that is strange, magical, and yet familiar.
Chaves Smith was formally trained in fine art photography and photojournalism at New Mexico State University. However, he is entirely self-taught as a painter. He painted in isolation for years, refining technique and vocabulary, until encouraged by a professional artist to share the work in a solo exhibition in Las Cruces, NM. After exhibiting there for several years, Chaves turned to traveling the American west, painting and researching for his expanding body of work before settling in Oakland, where he later showed with Vessel Gallery. Chaves is currently living and working in Oakland with a studio at Faultline Artspace.