Description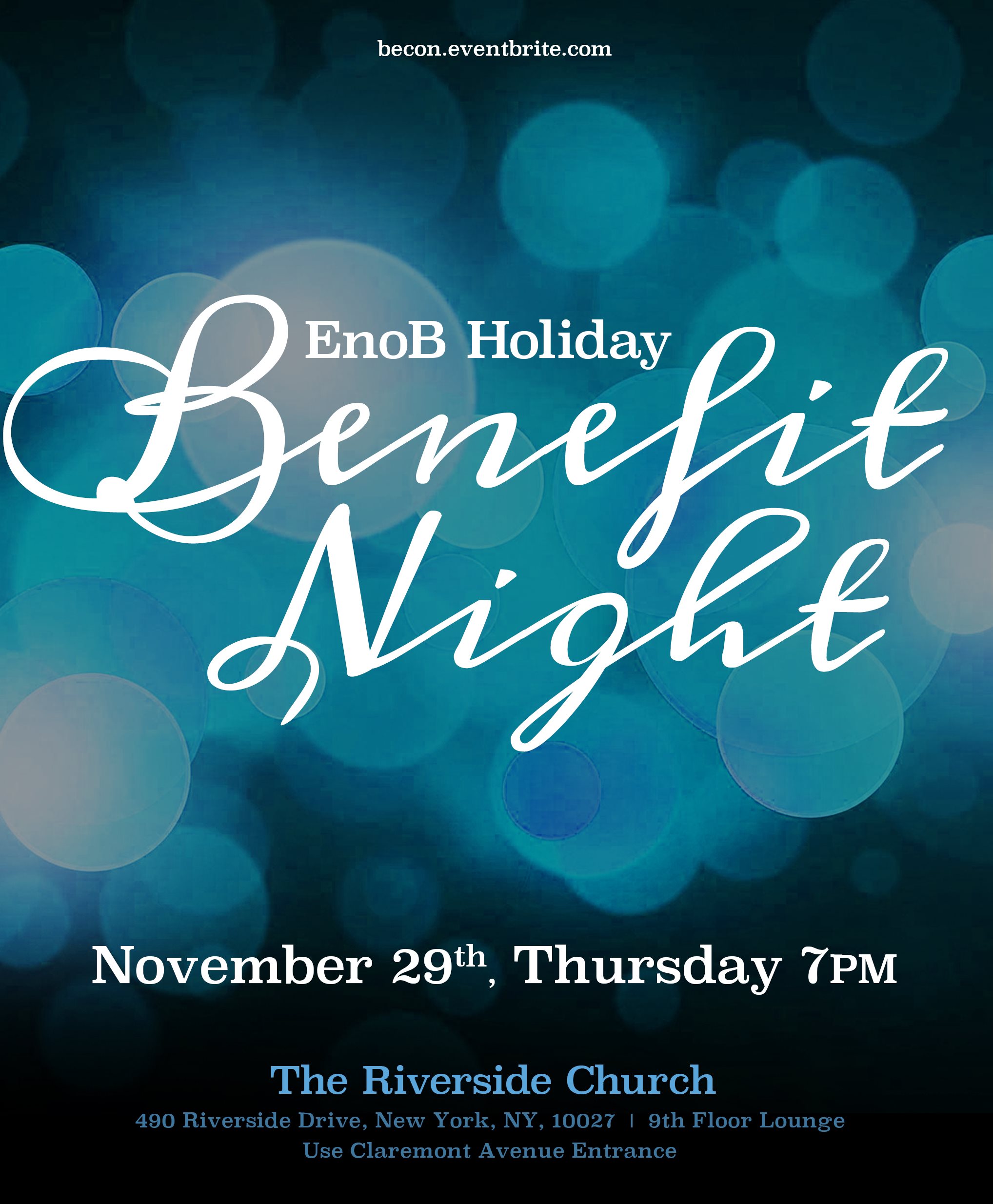 ---
Benefit Night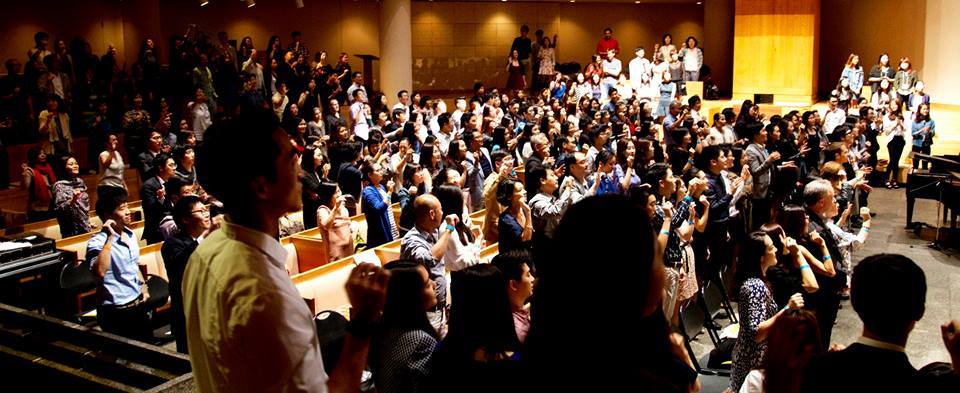 Benefit Night is an annual fundraising event hosted by EnoB, a non-profit music outreach organization that serves hospitalized and disabled children, as well as senior citizens through the joy and the healing power of music. Through Benefit Night, EnoB aims to raise funds to better serve the children and seniors, and to express our gratitude for all of our VIP EnoBians for their warmest support and encouragement. Please come and join us in Spreading Happiness!
---
Location
The Riverside Church (맨하탄 리버사이드 처치)
Between W 120th and W 122nd Street

490 Riverside Drive
New York, NY 10027
9th Floor Lounge (9층 연회홀)
(Use Claremont Avenue Entrance)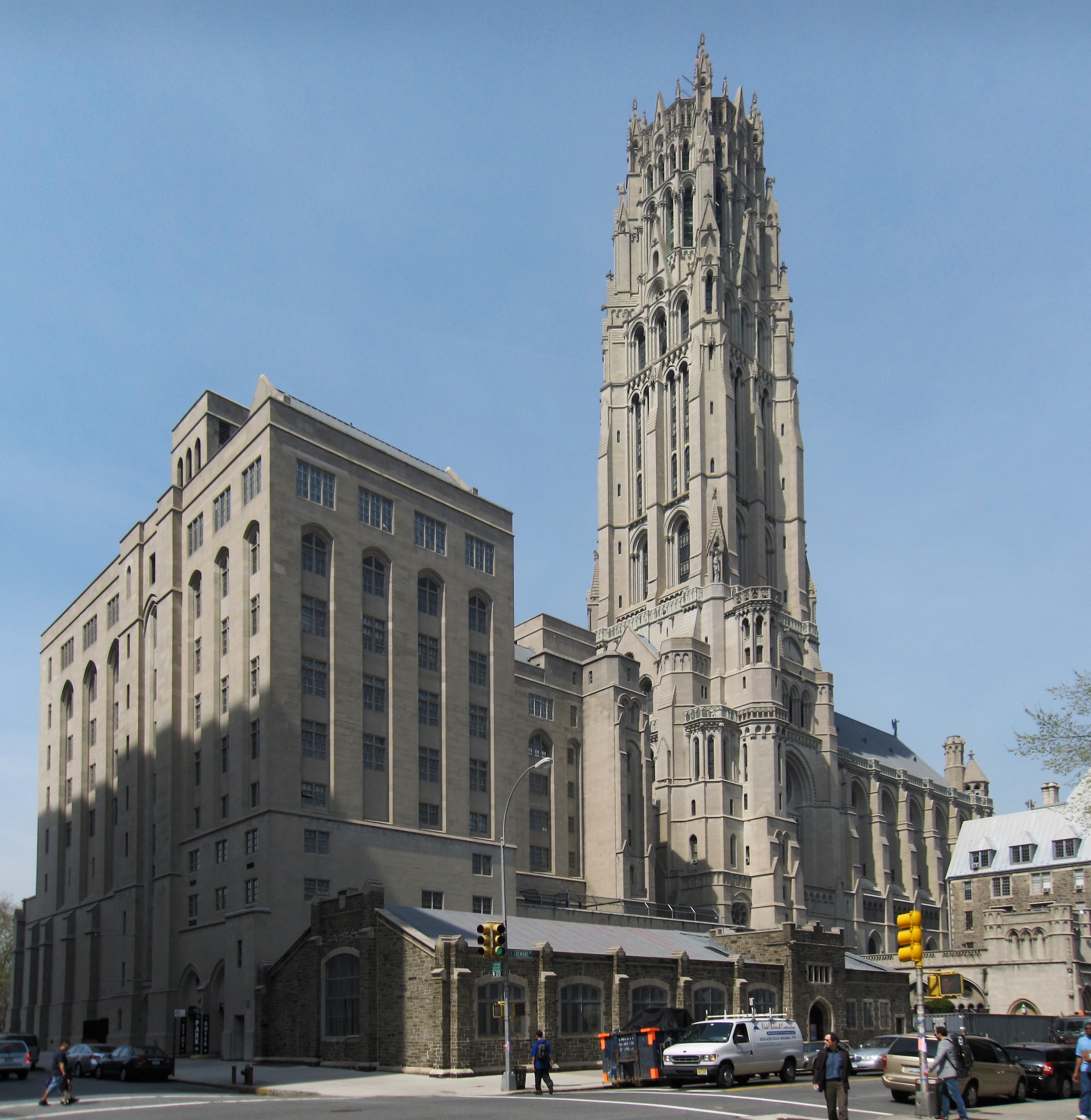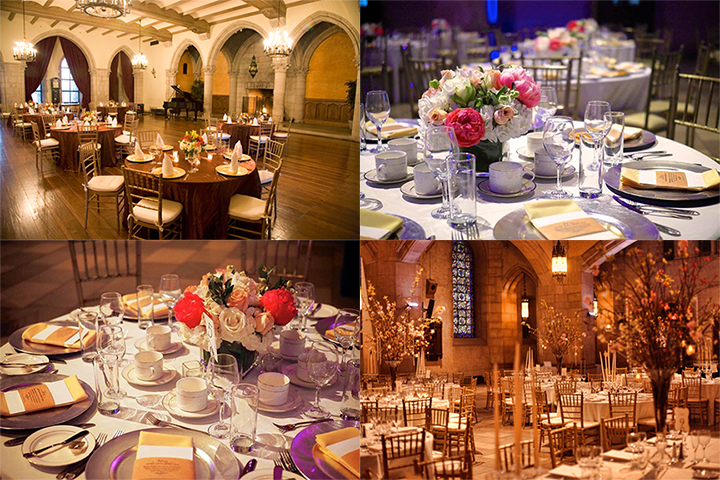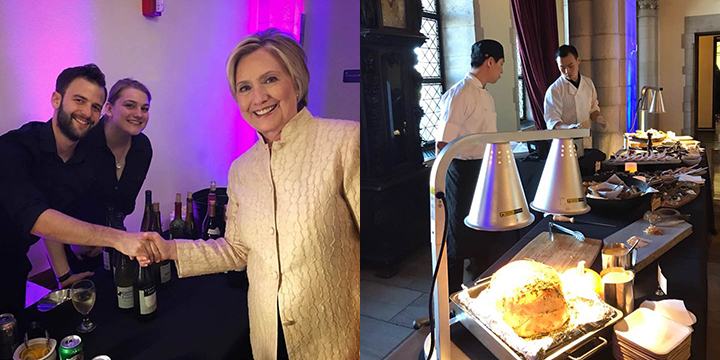 ---
Schedule
7:00pm - Reception with Hors d'oeuvre & Wine
8:00pm - Benefit Concert

---
Dress Code
Cocktail / Smart Casual
* Adult Only
---
Music Director - Q Lim 임규진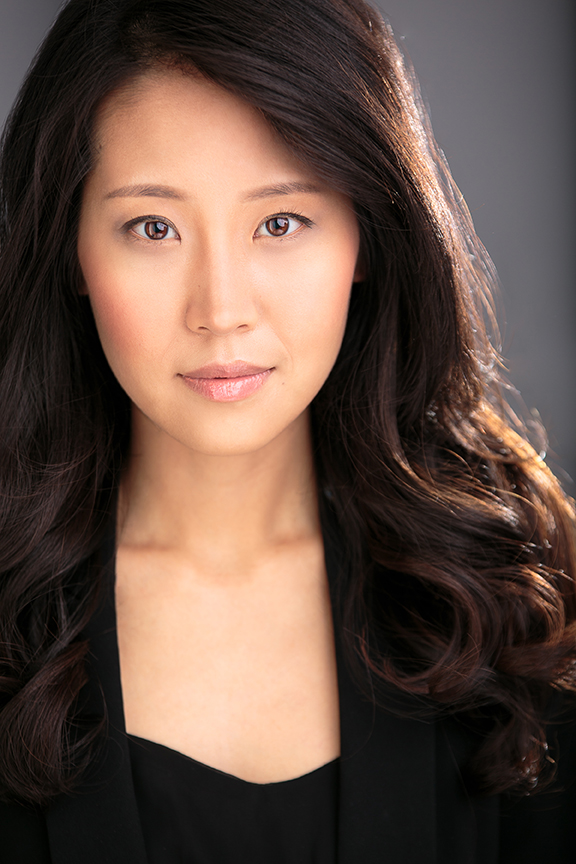 Q has recently ended her journey on the 1st Broadway National Tour of The King and I as Tuptim, just after finishing her broadway debut in the production at Lincoln Center Theatre directed by a Tony Award winning director, Bartlett Sher. She was born and raised in South Korea, then moved to New York when she was 20 knowing nothing about Musical Theatre except that it was her dream. Q has starred as Luisa in The Fantasticks! She was also featured as a soloist in an annual concert of Broadway's Rising Stars at a broadway concert hall, Town Hall and played her favorite Disney princesses; Jasmin, Mulan and Pocahontas on Disney Cruise Line.
미국을 무대로 활발히 활동중인 뮤지컬 배우 임규진은 뮤지컬 판타스틱!에서 여주인공 루이자 역을 맡았고 뉴욕 브로드웨이의 유명극장인 타운홀에서 공연을 했다. 디즈니 크루즈 라인에서 쟈스민, 뮬란, 포카혼타스 역으로 공연을 마친 이후 링컨센터에서 제작하고 토니 최고 감독상을 받은 Bartlett Sher가 감독한 브로드웨이 뮤지컬 '왕과 나'를 통해 20년만에 처음으로 한국인 배우로서 브로드웨이에 입성 했다. 최근에는 같은 작품의 첫 번째 브로드웨이 미 전국 투어에서 텁팀 역을 맡아 2년 동안 공연을 마치고 뉴욕으로 돌아왔다.
---
Music Director - Joseph Im 임요셉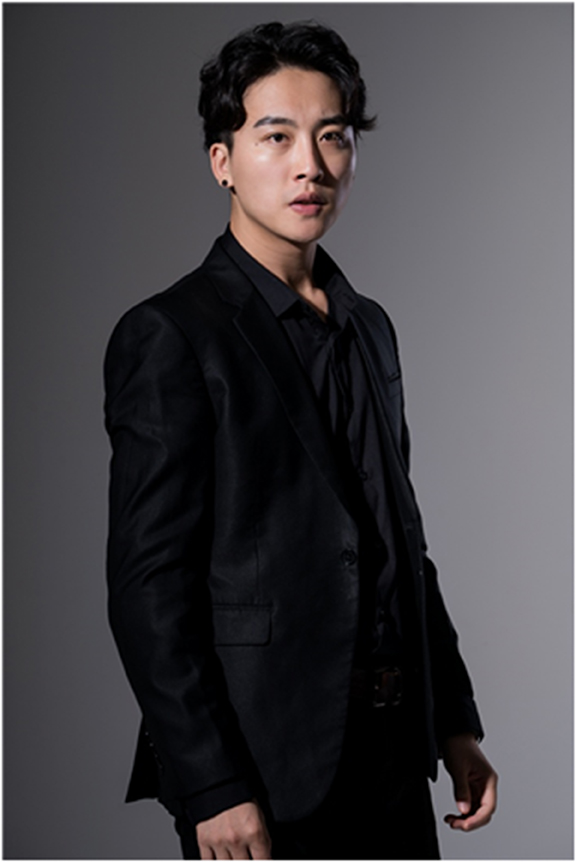 Joseph has starred in numerous musical shows such as Carpediem, The Rock, Mozart!, A Scarlet Girl and Diver Monster, The Moon In Superman and many others. He has been featured in Midsummer Night's Dream Concert and performed in many gala concerts.
뮤지컬 배우 임요셉은 한국에서 뮤지컬 카르페디엠, The Rock, 모차르트!, 진홍빛 소녀 그리고 잠수 괴물, 달을 품은 슈퍼맨등 많은 유명 뮤지컬에서 주조연으로 활약했다. 이 외에도 2017년 콘서트 한여름밤의 꿈외 콘서트와 다수의 갈라쇼에서 공연했다.
---
Musician - Daniel J. Edwards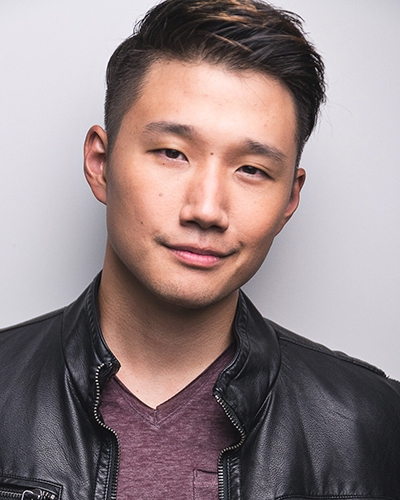 Daniel is stage performer, married man, son of a Christmas Tree farmer. Some stage credits include the Broadway Revival Anything Goes and the King and I National Tour. He also voice acts for kid shows such as Pokémon and Yu-Gi-Oh!
---
Musician - Karissa Harris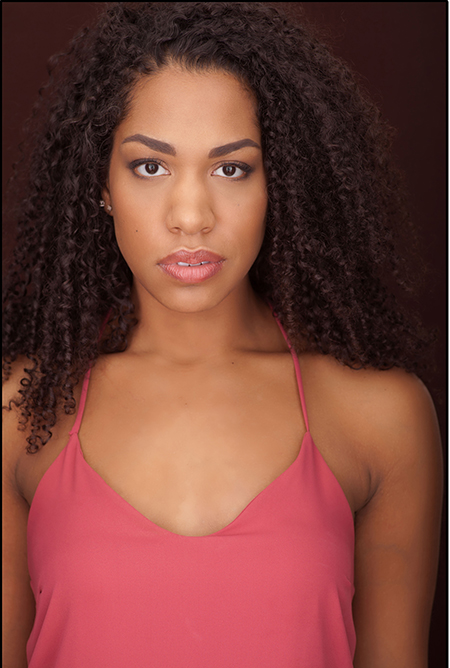 Karissa is elated and honored to be onstage performing for such a wonderful organization and cause.Originally from Allentown, Pennsylvania, Karissa received her B.A. in theatre from Muhlenberg College and currently resides in Brooklyn, NY with her sweet little French bulldog Felony. As a full time actress, she has performed in numerous Regional Theatre productions including:The Hunchback of Notre Dame, Tarzan and Peter Pan (Tuacahn Ampitheatre); Passing Strange and Hair (Playhouse on Park); Rent, Les Misérables and Jesus Christ Superstar (Civic Theatre); Dreamgirls (Fulton Theatre and Maine State Music Theatre); Hairspray (Fulton Theatre and Mill Mountain Theatre); Little Shop of Horrors (Arrow Rock Lyceum Theatre); The Who's Tommy and Godspell (Muhlenberg Summer Music Theatre). Many thanks and congratulations to this very talented group of performers. Special thanks to friends and family for their continued love and support.
---
EnoB? Innovative Bridge!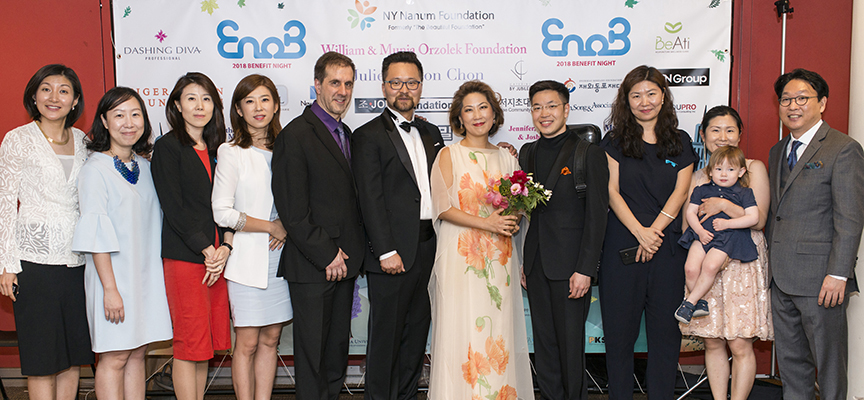 EnoB는 장애를 가진 어린이들을 위한 콘서트를 시작으로 병원, 널싱홈, 홈리스쉘터, 다문화 가정센터 등 문화 사회적으로 소외되고 위로가 필요한 분들께 찾아가는 음악회로 12년째 함께 하고 있습니다. 음악회뿐만 아니라, 다양한 에듀케이션 프로그램들을 주최함으로서 배움의 기회도 드리고 있습니다. 문화복지비영리 EnoB는 현재 뉴욕, 서울, 그리고 중국에서 많은 사람들을 위해 노력하고 있습니다.

---


Parking
Street Parking Available or Park at Nearst Parking Lot
근처에 주차장을 이용하셔도 되고, 스트릿 파킹도 가능합니다.
480 Riverside Drive
New York, NY 10027
(Use 120th Street Entrance)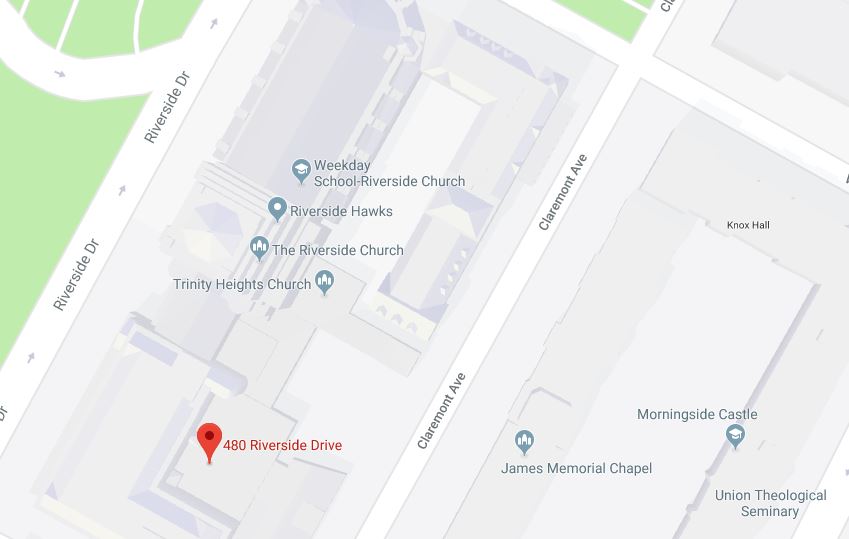 ---
Contact Us
Facebook.com/innovativebridge
www.enob.org
Tel: 212.239.4438
Email : enobinc@gmail.com