EnoB BENEFIT Night : concert & market

Saturday, September 27, 2014 at 6:00 PM (EDT)
Event Details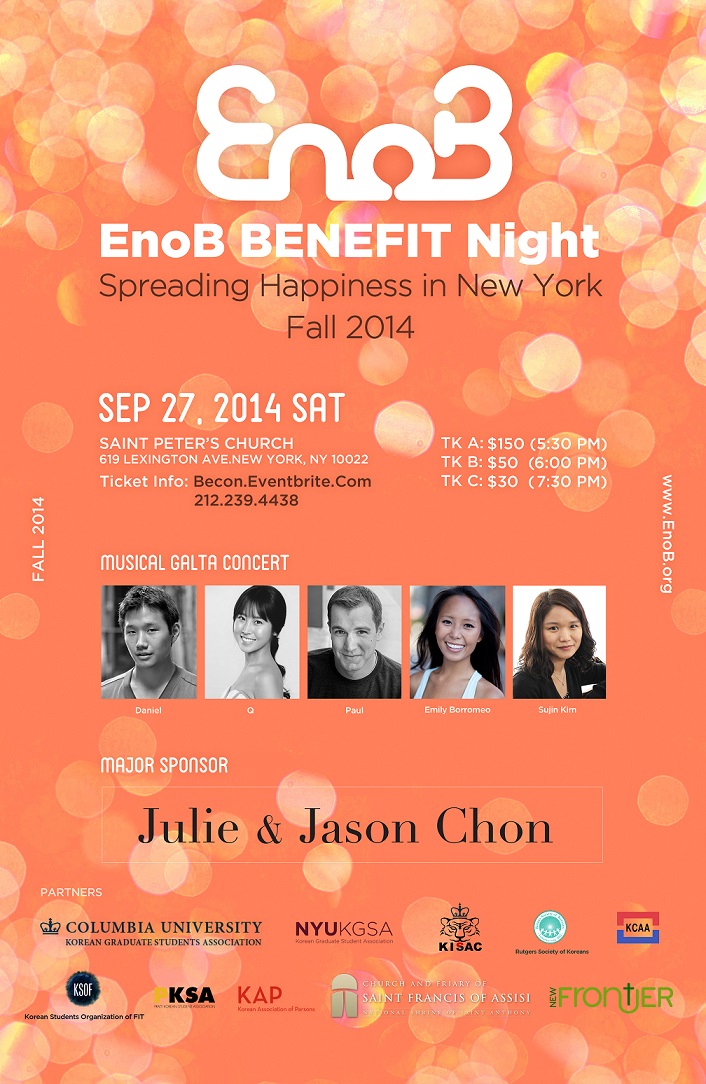 What is EnoB BENEFIT Night?
EnoB BENEFIT Night is a semi-annual fundraising event hosted by EnoB, a Nonprofit music outreach organization that serves hospitalized, disabled children and youth and senior citizens through the joy and the healing power of music and the arts. Benefit Night is an opportunity for EnoB to raise funds to sustain our critical services for people in need and celebrate our work among friends and family.  Please come to the Benefit Night and become a part of this wonderful event.

       Location : Saint Peter's Church(619 Lexington Ave. New York, NY 10022)
       Date : September 27th, Saturday 
       Ticket : tk A-$150 (5:30pm) / tk B -$50 (6:00pm) / tk C -$30 (7:30pm)
Schedule 
5:30pm - VIP and Donor's Reception
6:00pm - Benefit Market: Gallery, Market for goods, Food and Wine
7:30pm - Benefit Concert
9:00pm - Benefit Reception

Ticket Information
tk A- $150 :Includes food, wine, reception and orchestra seating.
tk B- $50 : Includes food, back seating for the concert. (purchase wine at the bazaar before the concert)
tk C- $30 : Concert only, side seating. 

Dress Code
EnoB CASUAL - Joyful, Colorful & Exciting
* Children under age 11 are not recommenced for concert attendance.
---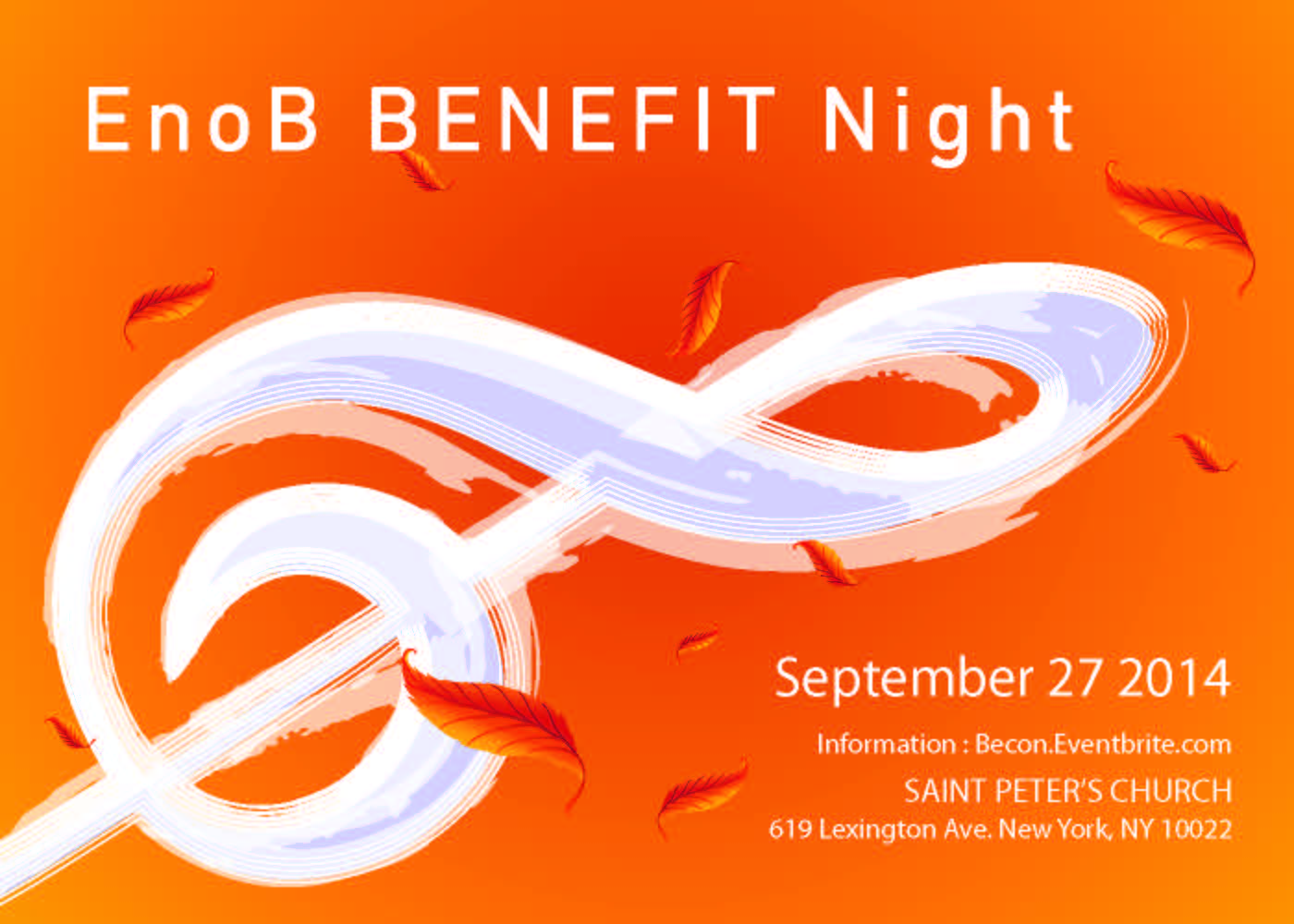 BENEFIT Night Program  

VIP and Donor's Reception @ 5:30pm
VIP 와 후원자들을 위한 리셉션에서는 특별한 식사와 음료가 마련됩니다.
There will be special catering service at VIP and Donor's reception starting at 5:30pm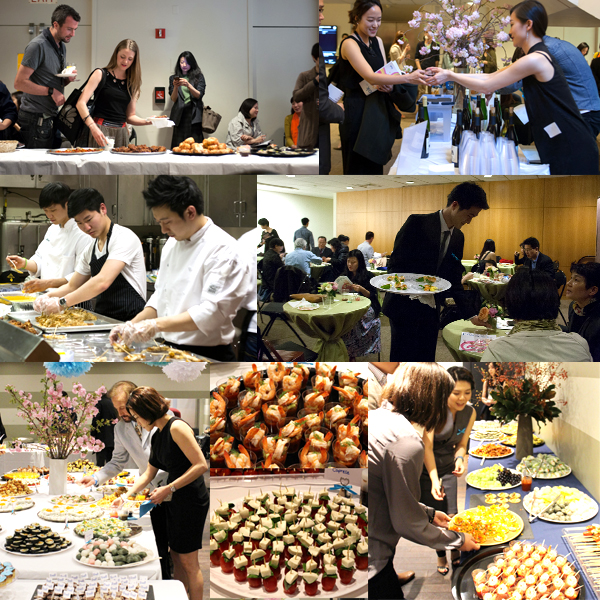 BENEFIT Market : Special exhibition, Gallery and Wine @ 6pm

At BENEFIT Night, There will be a gallery which is put together by student of 4 NY art schools (FIT,Parsons,Pratt,SVA). All art works will be available for sale and the total amount of sales will be donated to EnoB for mission of Spreading Happiness..:) *Please participate in this wonderful event!

이번 BENEFIT Night에서는 뉴욕 4대 아트스쿨 (FIT, Parsons,Pratt, SVA) 학생들 및 다양한 Vendor들이 전시회에 참여 할 예정이며 작가의 작품과 vendor들의 상품을 직접 구매 할 수도 있습니다. 구매한 금액은 이노비의 행복나눔 사업에 쓰이니 많은 관심부탁드립니다.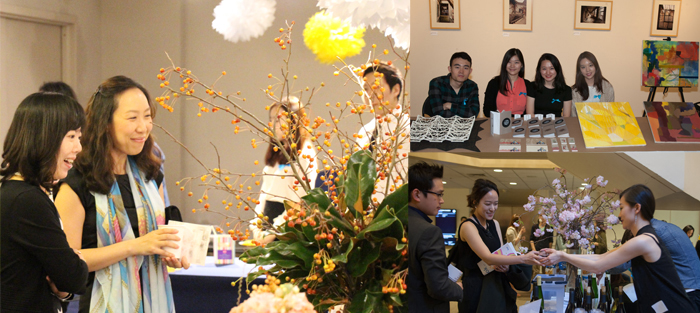 BENEFIT Concert @ 7:30pm
The BENEFIT Night will be consisted of different Broadway Hit songs and Old Pop songs from 70's and 80's with a lead of our new Musical Director, Sujin Kim. This year's BENEFIT Night will be an amazing opportunity to both enjoy music and participate to help out community throught EnoB.
이번 BENEFIT Night은 새로 합류한 김수진 뮤직 디렉터님과 이노비 뮤지컬 팀의 브로드웨이 히트곡들과 80-80년대의 올드팝 연주를 중심으로 이루어지는 음악회 입니다. 각종 예술을 한 자리에 즐길 수 있는 이노비의 BENEFIT Night에 꼭 참여해 자리를 빛내주세요.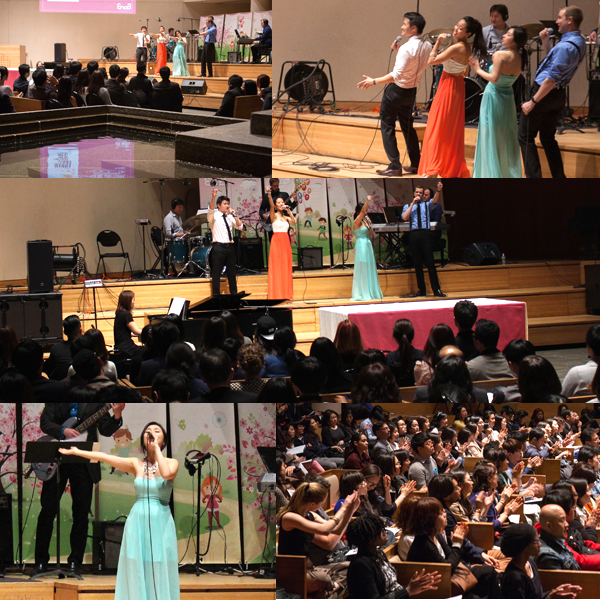 BENEFIT Reception @ 9pm
General Reception begin after the concert. You can enjoy market goods, food and wine for sale! Stay a little whil to enjoy different vendors from all other art schools in New York.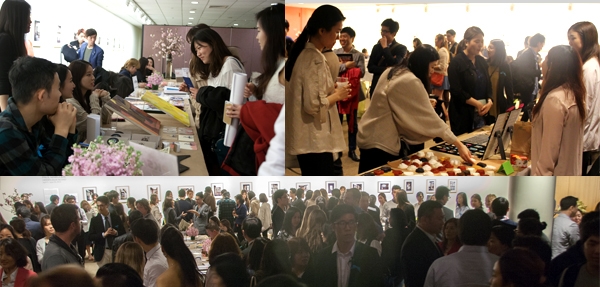 ---
Location & Parking
Address : Saint Peter's Church (619 Lexington Ave. New Yok NY 10022)
By Car : Get detailed driving directions on below map.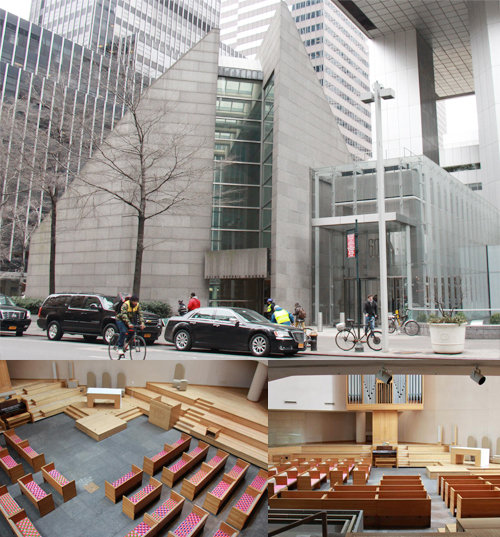 Icon Parking on south side on E 51st st. btw Lexington Av & 3rd Ave for $15 per 5hrs/ Parking stamps availabe at registration booth.
자가용으로 오시는 분들은 51번가 between Lexington Ave&3rd Ave (진행방향 좌측)에 위치한 Icon Parking에 5시간 $15에 파킹 하실수 있습니다. / 당일 안내데스크에서 주차도장을 찍어가셔야합니다.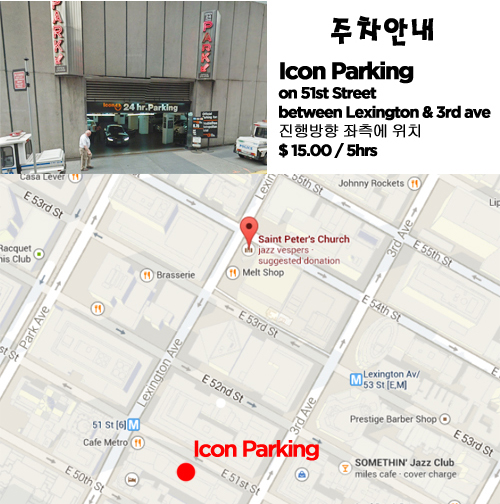 ---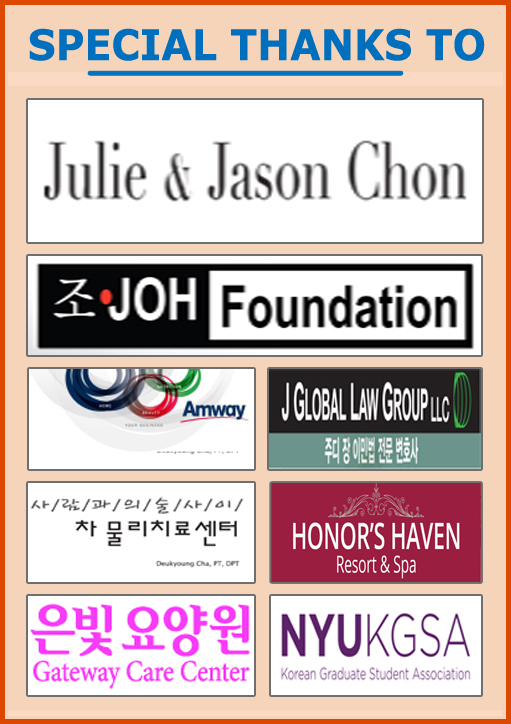 ---
Contact EnoB
Facebook.com/innovativebridge 
www.enob.org
40 West 37th St. Suite #400
New York NY 10018
T: 212.239.4438
Email : enobinc@gmail.com
Have questions about EnoB BENEFIT Night : concert & market?
Contact EnoB
When & Where

Saint Peter's Church
619 Lexington Ave
NYC 10022


Saturday, September 27, 2014 at 6:00 PM (EDT)
Add to my calendar
Organizer
EnoB

Founded in 2006, EnoB (이노비) is a 501-c-3 Good-Hearted Nonprofit Organization that reaches out to people who are disabled, hospitalized, or suffer from socio-economic disadvantages and enriches their lives by involving them in a series of high quality, educational and entertaining events and programs. 



EnoB BENEFIT Night : concert & market