About the course: Enlightened Kids is a workshop conducted for children, in the age group of 6-11 years, to discover and develop positive
About this event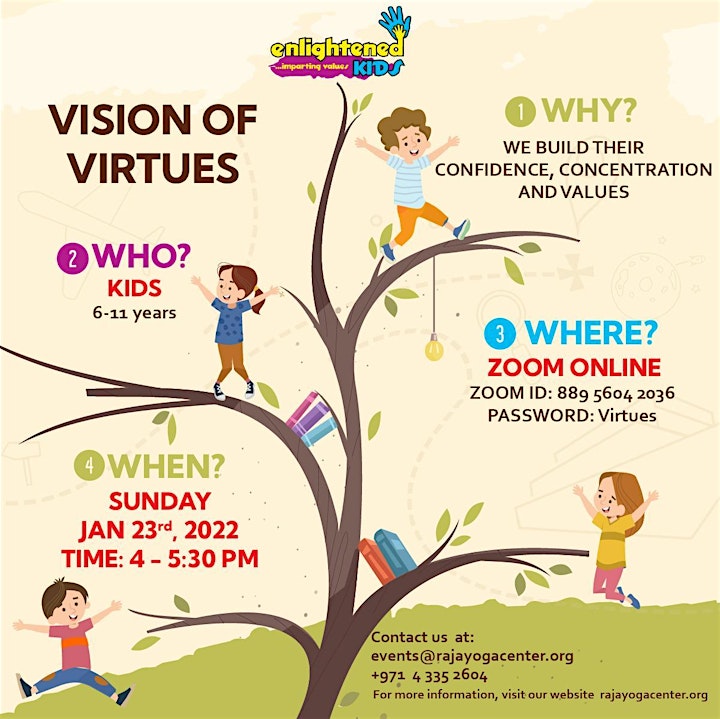 About the course:
Enlightened Kids is a workshop conducted for children, in the age group of 6-11 years, to discover and develop positive values and move towards their potential. We create caring, respectful environment where children feel safe and want to learn. This Workshop is effective in decreasing violence and creating a value based environment. Through this children learn to incorporate values in a practical wayin their day to day life.
Duration: 90 min session
Call/Email: +971 4 335 2604 | +971 50 160 1646 | events@rajayogacenter.org
Organizer of Enlightened Kids
Raja Yoga Centre is a non-profit organization, where every member involved, is working towards building a better society by inculcating divine virtues, through meditation, knowledge sharing & self-volunteered community services.

We at Raja Yoga, constantly interact with the community at large by conducting free self development courses, public events like seminars, lectures & workshops, programs for Youth and Children
We offer free meditation courses for people of all age groups.