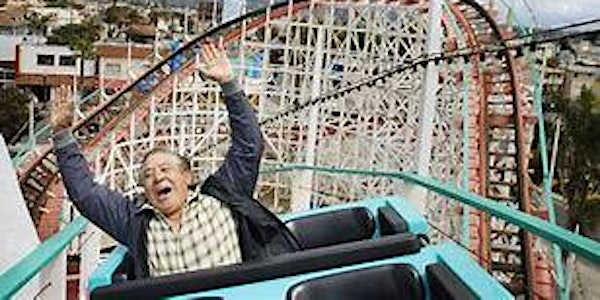 'Enjoy the Ride': Annual York County Elder Abuse Task Force Conference
Get ready for a great day full of education, networking and fun!
When and where
Location
95 Ocean At Nonantum Resort 95 Ocean Avenue Kennebunkport, ME 04046
About this event
We will be 'living like a kid again' for the day as our theme is a carnival/amusement park melody this year!
We are proud to announce our Keynote Speaker for our October 27th Conference at the Nonantum Resort!!
Dr Marilyn R. Gugliucci!!
Dr. Gugliucci (Marilyn) is the daughter of a former star first baseman (her mother) and an exceptionally gifted cook (her father). She has inherited fierce conscientiousness, unflagging optimism and only moderately bridled enthusiasm. She is a professor & Director of Geriatrics Education and Research at the University of New England College of Osteopathic Medicine (UNECOM) and founding director of U-ExCEL, an older adult fitness program. She has been in these roles since she had black hair! Her goal in life is to change the world… effecting change so that aging is embraced.
Her Learning by Living Research, UNE COM signature programs, offers two approaches. One in which she "admits" medical students into nursing homes to live the life of an elder resident for 2-weeks; and the second in which she admits medical students into an acute care Hospice Home for 48 hours to learn about palliative and end of life care. She also conducts research on older adult function, falls, and proprioception. In Maine, nationally and globally, she serves on a number of boards, has attained meaningful awards for her research, teaching, and work with older adults. She has an extensive list of publications.
Marilyn R. Gugliucci, MA, PhD, AGHEF, GSAF, AGSF, NAOMEF-Professor & Director, Geriatrics Education & Research, Director, U-ExCEL~Older Adult Fitness Program/Division of Geriatrics-University of New England College of Osteopathic Medicine. Age Friendly University Global Network, Member-University Faculty Assembly Chair Advisor: Advisor, American Geriatrics Society/UNECOM Student Chapter
Advisor, UNE COM Medical Student Pride Alliance
Other amazing speakers confirmed include:
Judy Shaw: Retired Maine Office of Securities and Governors EJCP co-chair
Adam Hartwig: Maine Center for Disease Control
Jess Gagne-Supervisor:DHHS/APS
Dr Pete Tilney! DO FACEP, FAAEM EMT-P. Emergency Physician, Medical Director LifeFlight of Maine and Kennebunkport EMS.
Dr. Tilney will share stories from the front line and offers his knowledge of being on 'boots on the ground' in his various roles. Dr. Tilney is an expert who deals with tough situations and will offer the audience ways on how to look for the good, inspire those they work with and maintain a sense of positivity when it is difficult.
Also, Members of the YCEATF will also be contributing
their time and knowledge at this conference as well.
We cannot wait until you see the fun extras we have planned for you this year!
Get ready for a great day full of education, networking and fun!
--
The York County Elder Abuse Task Force, established in 2005, is a group of committed professionals from many fields, including but not limited to law enforcement, social services, legal services for the elderly and financial institutions.
We come together to share our knowledge and skills, to serve as a resource to educate the public about elder abuse, and ultimately eliminate it as a problem in York county.
This years theme will be surrounding the rollercoaster of life. Emphasis will be on understanding the up and downs of our professions, lives and the people we serve. We will cover how to embrace what comes our way and to learn how to enjoy the ride.
Contact hours and Certificate of Attendance will be granted.
Who should attend:
BANKERS/FINANCIAL PROFESSIONALSSOCIAL WORKERS/CASE MANAGERSADVOCATESGOVERNMENT AGENCIESPOLITICAL REPSDIRECT ELDER SUPPORTATTORNEYS LAW ENFORCEMENT/INVESTIGATORSHEALTH CARE PROFESSIONALSTHOSE WHO WORK WITH/FOR ELDERSCOMMUNITY MEMBERS/YOU!
We will have time for networking and a great raffle table to support our "Wishing Well Program". We are grateful for any raffle contributions as well as those who purchase the raffle tickets at the conference!
We also have a resource table, feel free to bring handouts/literature to add to this effort.
Thank you to our lead sponsor Kennebunk Savings Bank!