Enjoy Nightlife with Climate Reality @ California Academy of Sciences
About this Event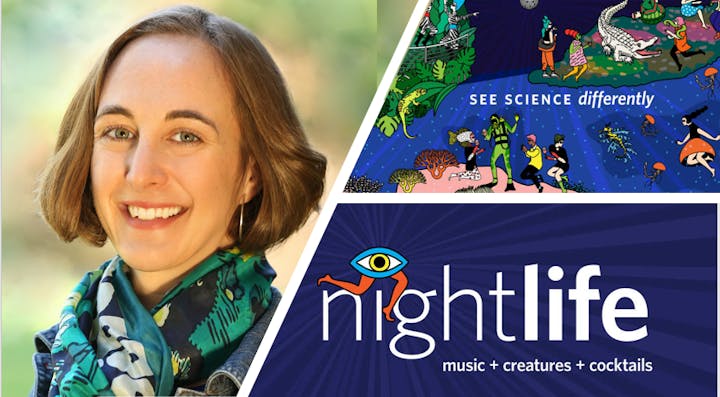 Every Thursday night, the California Academy of Sciences transforms to a lively venue filled with provocative science, music, creatures and cocktails - as visitors ages 21-plus get a chance to explore the entire museum after dark from 6-10 p.m. with NightLife.
ANALOG NIGHTLIFE (8/15)*
On August 15, Climate Reality Bay Area Chapter Members are invited to go back in time and drop out of the digital world as the museum transforms into a phone-free zone with an experimental night dedicated to life in the analog featuring computer-free art, music and film.
Dr. Elizabeth Bagley, who was trained by Al Gore as a Climate Leader in Seattle in 2017 and who is the museum's Director of Sustainability, will share with us what the California Academy of Sciences is doing to move the public to action on climate, and also share how Climate Reality Leaders can join the effort.
SCHEDULE
6:00 - 7:00p: Mingle with Chapter Members for no-host drinks or dinner at The Academy Cafe (Level 1, to the right of Main Lobby Entrance). Look for our Climate Reality banner to find us.
7:15 - 8:30p: Gather at the Board Room (Level 1, far left corner in the back) for a private presentation and discussion with Elizabeth Bagley and our Chapter leadership. We'll conclude with a walking tour of key exhibits led by Elizabeth.
8:30pm onwards: You're on your own to enjoy the museum.
TICKETS
You must buy a ticket directly from the museum to gain admission. Tickets range from $18-20. Purchase online in advance to save money vs. buying at the door.
NOTES
NightLife is 21+ with ID. Last entry to rainforest dome is at 7:45 pm. Planetarium passes available for purchase online.
*Please note: In the spirit of all going analog together, NightLife will require every guest to temporarily unplug and place their phone in a small Yondr case. You'll maintain possession of your phone at all times and there will be several "unlock" stations set up around the museum for easy phone access.
FOOD & DRINK
A variety of no-host food options are available at NightLife from 6:00-9:30 pm, including The Academy Cafe and The Academy Cafe Food Cart located in the front lobby.
Enjoy a different fresh seasonal "craft on draft" cocktail at each NightLife bar area designed by our resident mixologist Shane McKnight!
All bars accept cash and credit cards.