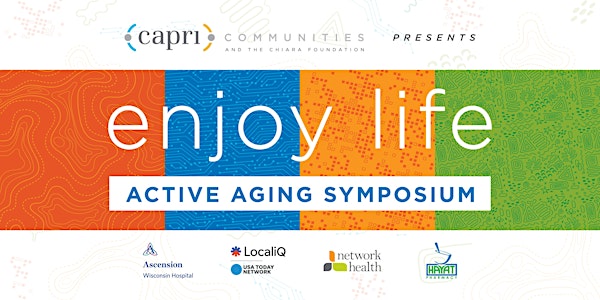 Enjoy Life Active Aging Symposium
Through humor and education, we will address ways for older adults to live life to the fullest, try new things, stay active and enjoy life!
Date and time
Wednesday, June 21 · 8am - 2pm CDT
Location
Brookfield Conference Center 325 South Moorland Road Brookfield, WI 53005
Agenda
8:00 AM
Doors Open
---
Check-in and visit with our fantastic 'enjoy life' exhibitors in areas of Learning, Adventure, Health & Wellness and Community. Enjoy live demonstrations and learn about opportunities to get involved...

8:15 AM - 8:45 AM
Get Movin' in the Morning
---
Start your day off right with an invigorating yet calming morning yoga workout led by Katie Michel of Orange Shoe Personal Fitness! Katie will lead you in exercises to increase flexibility and calm y...

9:00 AM - 10:00 AM
Keynote Speaker - John McGivern
---
John McGivern will share personal stories in a way that only he can - with humor and insight that reminds us all of the importance of enjoying life.
10:30 AM - 11:15 AM
Breakout Speakers - Session #1, Collaborate Rooms A, B & C
---
Choose to interact with our exhibitors on the exhibit floor or attend one of three fantastic breakout speaker sessions. During our morning lineup you can choose from: 1) Transformative Adventures on ...

11:00 AM - 1:00 PM
Line Dancing - Connect Ballroom C-2
---
Do you love to dance or wish that you could? This activity is for you! Mari Pat McAuliff and Danceworks will be teaching a variety of dances to get you smiling and your blood pumping. Stop in to join...

11:00 AM - 1:00 PM
The Joy of Pickleball! Connect Ballroom C-1
---
USPA certified teaching pro Mike McGuire will share everything you need to know about how to play the fastest growing sport in the US - pickleball! From rules to equipment to demonstrations on how it...

11:30 AM - 12:30 PM
Breakout Speaker - Session #2, Connect Ballroom C-3
---
Dr. Kathy Hartke will discuss topics ranging from online dating to sex after sixty in a candid and open conversation that you won't want to miss. Dr. Hartke is the past chair of the WI Section of the...

12:30 PM - 1:30 PM
Breakout Speakers - Session #3, Collaborate Rooms A, B & C
---
Continue interacting with our exhibitors on the exhibit floor OR choose to attend one of our afternoon breakout sessions including: 1) Let's Get Flexible - The Value of Flexibility Exercise and Healt...

1:15 PM - 2:00 PM
Final Visits to Exhibitor Booths & Event Conclusion
---
This Symposium is yours to enjoy as you see fit. You can choose to participate in any of our activities or attend speaker sessions or you can visit with our incredible 'enjoy life' exhibitors in the ...

About this event
Who says that getting older means that it's time to slow down? Not Capri Communities, which is why we are bringing to Southeast Wisconsin the first annual Enjoy Life Active Aging Symposium for older adults, taking place at the Brookfield Conference Center on Wednesday, June 21 from 8am – 2pm. This is a FREE event that is open to all but focused on those post-retirement, ages 55+. Full details can be found at enjoylifesymposium.com.
As Southeastern Wisconsin's #1 senior living company, Capri Communities knows a thing or two about older adults and the role that staying active in mind, body, and spirit plays as we age. This is why we embarked on this journey to create an event designed specifically for older adults.
The Enjoy Life Active Aging Symposium will address with humor and optimism, ways to embrace active aging, try new things, make new friends and enjoy life. This first of its kind event will include dynamic breakout speakers, educational enjoy life exhibitors, interactive activities, music, entertainment, and much more.
John McGivern will kick things off at 9am as the Keynote Speaker. John is famous for his Emmy award-winning PBS series, Around the Corner with John McGivern. He is currently working on a new TV series, John McGivern's Main Streets. He will address the aging process with personal, funny, and touching stories that make us realize that they are our stories too.
Following John's Keynote, Symposium attendees can customize their morning - selecting from seven fantastic breakout speakers who are experts on subjects including travel, finance, flexibility, dating after sixty, gardening and more. They can also visit with a great variety of enjoy life exhibitors who will be on hand to interact with attendees on topics ranging from health and wellness to adventure to learning and community involvement. Whether you are interested in skydiving or smoothies, Botox, birds, or bocce leagues, salsa dancing or salsa fresca – there will be something for everyone!
The Symposium will also include live entertainment and feature interactive demonstrations/lessons on pickleball and line dancing. There will also be some fun surprises, including a special performance by the Milwaukee Dancing Grannies.
In a world that seems to have too much negative noise, this Enjoy Life Active Aging Symposium will focus on all things possible, fun, and positive for older adults. It will highlight ways to get involved and explore interests that you may never have had the opportunity to do before. Most of all, it will encourage people to keep learning, stay active, and embrace new opportunities.
So, whether you stop by for an hour or give us your morning, this is an event that you won't want to miss. For full details, visit enjoylifesymposium.com and mark your calendars to attend on June 21 and join in on the fun!
About the organizer
Capri Communities, the Top Choice for senior living in Southeast Wisconsin*, is proud to present the first annual Enjoy Life Active Aging Symposium. In a world that can sometimes contain too much negative noise, this event is designed for older adults 55+ and is all about focusing on the importance of living life to the fullest, trying new things, meeting new people, getting involved, and enjoying life - whatever that may mean to you.
Capri Communities has 18 locations throughout Southeast Wisconsin and features Independent Living, Assisted Living, and Memory Care apartments, so we know a thing or two about older adults and the importance of active aging. This is why we have created the Enjoy Life Active Aging Symposium and secured speakers and exhibitors from around the state and country to come to share their wisdom and thoughts on ways to enjoy life and get involved.
If you or a loved one are interested in learning more about Capri Communities, please visit our website - www.capricommunities.com. We are not your typical senior living company. Come and see how we are enjoying life at Capri!