Enhancement Foundation's Diamonds & Pearls Pre-Mother's Day Luncheon Lupus...
Description

The Enhancement Foundation organization sponsored its first inaugural Diamonds and Pearls Women's Bonding Dedication on (Saturday, June 16, 2018, from 8am to 3:30pm) at the Marriott Richmond Short Pump located 4240 Dominion Blvd, Glen Allen, VA 23060. And it was a success! Last year, we were given a proclamation by the Mayor of Richmond and we anticipate another proclamation this year. On Saturday, May 4, 2019, of this year from 9:00 am to 3:00 pm at the same location, our organization is sponsoring our 2nd Annual Diamonds and Pearls Pre Mother's Day Luncheon and Lupus Fundraiser. Attire: Dressy and All Are Invited!

Our volunteers are joining the Enhancement Foundation to ensure our event focuses on the importance of establishing and empowering healthy lives and relationships. Our Diamonds and Pearls Pre Mother's Day and Lupus Fundraiser event is being presented not only to empower the whole woman's ability to improve their whole social, personal health, professional growth and development, but in light of the many challenges and issues women and girls face.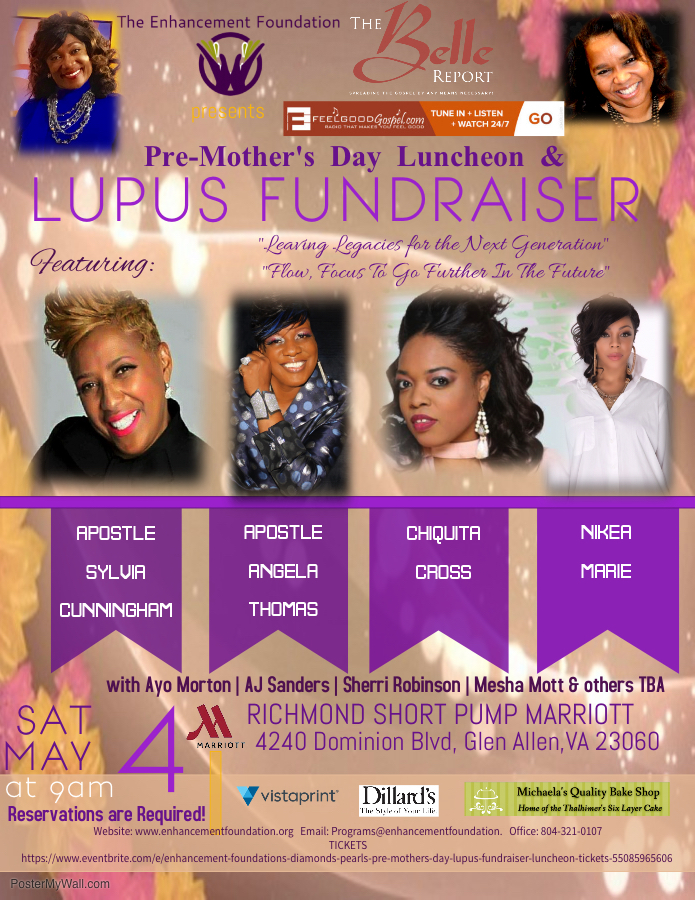 This year's women's event initiative will allow us to focus on the women's health as impacted by an overwhelming disease known as Systemic Lupus Erythematous (Lupus) Plagues. This disease has sparked our interest since it has impacted younger girls and women of all ages. In part this leading health problem has caused us to further investigate and desire to educate others on the known causes of Lupus that plagues over 1.5 million Americans. It is believed that 5 million people according to the Lupus Foundation of America throughout the world have a form of Lupus. Although all people of all races and ethnic groups can develop Lupus, women of color are three times more likely to develop Lupus. More than 16,000 new cases of Lupus are reported annually across the country. Systemic Lupus Erythematous (SLE or Lupus) is a systemic autoimmune disease that affects many joints and organs in the body. With Lupus, like Rheumatoid Arthritis (RA), the patients' immune system attacks their own healthy tissues. Please click on the link below to learn more:
https://www.facebook.com/enhancementfoundation/videos/248878942724841/
The Enhancement Foundation will identify women in the community who suffer from this grave disease and provide some assistance in this area by educating, providing awareness and financial support at this upcoming event.
Our Network
Our current sponsors for this year's event is the Richmond Marriott Short Pump, Dillards, Vistaprint, and Michaela's Bakery. Ms. Sheilah Belle - (The Belle of The Belle Report) (https://www.enhancementfoundation.org/meet-our-partner-the-belle) has committed to be a supportive partner in this event.
We will be advertising this event again on WTVR CBS6 and WRIC-TV Channel 8 and other TV, radio, and social mediums of advertisement. As the result of sponsorships received last year at lease twenty participates were able to attend the event for free.
How Can Your Organization Help Us?
In order to offer these services to the community, we rely on the generosity of individuals and businesses for monetary support
In order to help our organization you may choose one or more of the following:
Assists us in providing complementary tickets to at least twenty to thirty participants for this endeavor who are not able to attend

Make a commitment to support our annual appeal by giving a donation via our corporate options listed on our site: https://www.enhancementfoundation.org/vip-sponsors-exhibitors-ads (the Advertisements or Exhibits area)

Provide any products and or services that will make this event a success

A donation receipt will be provided to you and any other documentation once you have made your donation by clicking on donate with your credit card:
(https://www.enhancementfoundation.org/donation-options) and click on the Sponsor Donations or AD/Exhibit Donations.
How Will Your Donations Benefit Your Organization
All donations are tax deductible
Your company name, logo and marketing materials will be advertised on all our marketing efforts, event program booklet and other mediums for visibility
Participants and other targeted groups will be encouraged to utilize your products and services
Your company will become a part of our network
In closing, your generosity will make a difference in our community. For more information please visit our website: www.enhancementfoundation.org. We welcome you to please meet our leadership and board members on our website: https://www.enhancementfoundation.org/our-leadership
Thank you in advance for your time, support, and consideration of this worthwhile and life is changing event and legacy building efforts for the next generation of women.
No Tickets will be sold at the door!
Registration is required: In order to get appropriate food count and seating availability for the hotel!
Cost increases after April 20, 2019.