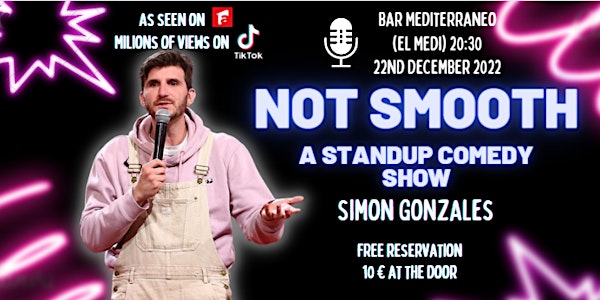 English Standup Comedy Solo Show - Not Smooth - Simon Gonzales
English Standup Comedy Show - Simon Gonzales - Not Smooth
When and where
Location
C. de Balmes, 129 129 Carrer de Balmes 08008 Barcelona Spain
About this event
A ONE TIME EVENT ONLY!
After almost three years attempting to make people laugh, this Berlin based comedian is coming back to his hometown of Barcelona and doing a solo show for the very first time, where he will attempt to make you laughs at his pains.
Simon is half Swedish half Spanish comedian with the dark past of Lord Voldemort and the innocence of a labrador, that always perform with the passion of a flamenco dancer and has the ability to assemble jokes the way a true Swede assembles IKEA furniture; struggling and cursing more than he should.
He has toured and performed in over 10 countries and was recently in the Romanian TV show Standup Revolution (impressed already?). When he is not on Romanian TV (which is most of the time), you can catch him around Berlin performing and hosting in multiple shows such as Best Friends comedy, on the spot, joke battle or making people laugh on TikTok racking up milions of views.
You thought that was it? Nono, along Simon will the fantastic local comedians Antonio and Mariah Girourd support this show because Simon is not confident enough to make it by himself.
Antonio has been doing standup for over 9 years with TV appearances on Comedy Central and Phi Beta Lambda. He is also a TV writer having worked in the acclaimed TV show ''la resistencia'' in Spain.
Show details:
Date: 22 December
Location: Bar Mediterraneo (el Medi) carrer de Balmes 129 08008 Barcelona
Doors open: 20:00
Show begins: 20:30
Price:
FREE RESERVATION, 10 € at the door with one drink included.
If you still have doubts, check Simon out @simongcomedy on all platforms for clips