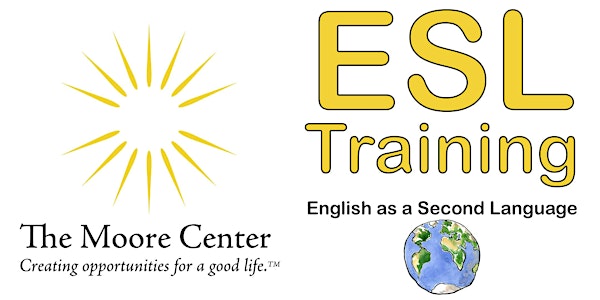 English as a Second Language (ESL) Training - October
When and where
Location
The Moore Center 195 McGregor St. Unit 400 Manchester, NH 03102
Description
THIS TRAINING RUNS FOR 8 CONSECUTIVE WEEKS - Our English as a Second Language (ESL) training program begins on Tuesday, October 16th and runs every Tuesday for 8 consecutive weeks from 10:30 a.m. to 12:00 p.m. All required materials will be provided.
ESTA CAPACITACIÓN CORRA PARA 8 SEMANAS CONSECUTIVAS - Nuestro programa de capacitación de Inglés como Segundo Idioma (ESL) comienza el martes 16 de octobre y se celebra todos los martes durante 8 semanas consecutivas de 10:30 a.m. a 12:00 p.m. Se proporcionarán todos los materiales requeridos.
This program is to help immigrants and other residents of New Hampshire who want to increase their English language proficiency in order to qualify for employment within our organization. It's conducted in partnership with an additional 3 week training program provided by Manchester Community College. Visit our website for more details.
Este programa es para ayudar a los inmigrantes y otros residentes de New Hampshire que desean aumentar su dominio del idioma inglés a fin de calificar para el empleo dentro de nuestra organización. Se lleva a cabo en asociación con un programa adicional de capacitación de 3 semanas proporcionado por Manchester Community College. Visita nuestro sitio web para más detalles.