Description
¿List@ para aprender?... ¿List@ para lo que viene en el futuro?
En el desarrollo de software siempre hay retos, nuevos problemas, nuevas soluciones y muchas opciones.
Te invitamos a nuestra próxima #Meetup el día 6 de mayo, 7pm "Engineering SW Testing" patrocinada por nuestros amigos de EPAM
Los esperamos en Periférico Sur #8110, Col. El Mante, C.P. 45609 Tlaquepaque, Jalisco. Les recordamos que EPAM cuenta con estacionamiento, y para le ingreso a sus oficinas hay que presentar una identificación.
AGENDA:
7:00 pm - Registro
7:15 pm - Bienvenida
7:20 pm - Charla "Business Driver Driven QA" por Alex Percont
Descripción:
Well performed QA has always been the key factor for the most successful enterprises. Functional testing now considered as the foundation of it has suffered many transformations to enhance the quality process with aims to deliver the best quality product in alignment with the Business Drivers, come join us to have a technical perspective from our QA expert Alex Perez on what this means for us.
8:10 pm Anuncios y Networking
Invitado: Alex Percont (AKA: Alejandro Pérez)
Once a software developer, I jumped into Quality Assurance to see if I could figure out why applications have defects. I still don't know why, but I do know now how to find them.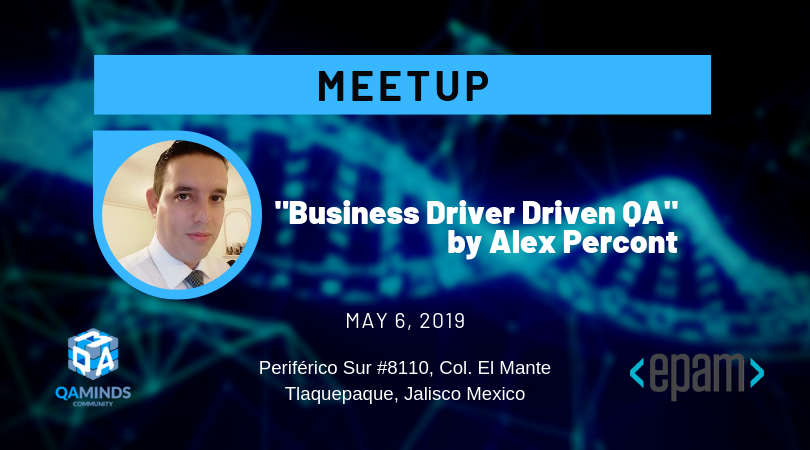 --------------------------------
Organizer of Engineering SW Testing - Meetup - QA Minds