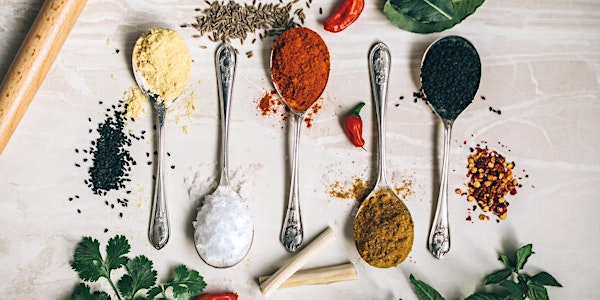 Engaging Your Senses for Ayurvedic Healing
Engaging Your Senses for Ayurvedic Healing: A Live Online Workshop with Ananta Ripa Ajmera
Refund Policy
Contact the organizer to request a refund.
About this event
This workshop is being hosted live online.
If you need to request accessibility accommodations, please email publicprograms@ciis.edu at least one week prior to the workshop start date. For more information, explore our Frequently Asked Questions page.
Ayurveda, the most ancient holistic system of healing and sister science of Yoga, teaches us how interrelated we are with the world. According to this ancient wisdom tradition, we are the microcosm of the entire universe and connected through the existence of five great elements, which are the building blocks of everything on Earth.
These five great elements—space, air, fire, water, and earth—combine to form different bio forces (doshas in Ayurveda), which define our individual constitution (prakruti), as well as the constitutional makeup of our physical and/or emotional ailments (vikruti). The way we engage our senses plays a vital role in how healthy and balanced our bodies and minds are and supports both treatment and prevention of disease in Ayurveda.
Join author, spiritual teacher, and Ayurvedic practitioner Ananta Ripa Ajmera for a multi-sensory experiential workshop exploring Ayurvedic principles and practices designed to unlock self-healing. Ananta empowers you to understand your true nature, as well as any imbalances you are presently experiencing by providing detailed questionnaires and guidance through the world of Ayurveda and caring for your senses.
Experience the art of sacred eating to heal your sense of taste and relationship with food. Practice chanting soothing and stress-reducing mantras to heal your sense of hearing. Learn to activate self-love in a practical, tangible way to relieve physical aches and pains. Rejuvenate your skin and sleep more restfully. Embrace your sense of smell for grounding in the present moment. After learning how different colors activate different healing potentials to balance your doshas and chakras, create a sacred mandala online to connect your eyes with personally meaningful colors and shapes.
Ananta provides guidance through an inventory of how you are currently using your senses—what inputs you are consuming and how they are influencing your emotions and experience of life. Finally, you will make a personal plan to create a happier, more harmonious relationship with your senses.
You are encouraged, but not required, to bring something small to eat, like raisins, cranberries, dates, figs or other dried fruits, a body oil, a favorite essential oil, or scented flower to the workshop to make it more interactive and engaging for your senses. While this will add to your experience, it is not a requirement to join the workshop. Anata also recommends some wonderful body oils to promote mental clarity:
Ananta Ripa Ajmera is a spiritual teacher, co-founder, and CEO of The Ancient Way, an organization that supports you to embody ancient wisdom in a way that unfolds your true Self. The Ancient Way offers a Spiritual Warrior Certification, Ayurveda practitioner training program, and spiritual wellness retreats. Ananta is Advisor of Ayurveda at THE WELL, a modern wellness club, where she writes articles, offers workshops, and works with a team of integrative medical practitioners. She is author of the upcoming book The Way of the Goddess: Daily Rituals to Awaken Your Inner Warrior and Discover Your True Self (Penguin TarcherPerigee 2022) and The Ayurveda Way (Storey Publishing 2017). She has previously taught at UNICEF, Stanford School of Medicine, ABC News, NYU, and California Department of Public Health. Her work has been featured in Forbes, Vogue, Yoga Journal, Spirituality & Health Magazine and more. Learn more about Ananta by following her on Instagram @ananta.one and visiting The Ancient Way.