Engaging with the Middle East and Arabic Typography and Cultural Identity

Thursday, March 15, 2012 from 6:30 PM to 8:30 PM (EDT)
Event Details
We have two guest speakers. Nadine Chahine and Tarek Atrissi
Engaging with the Middle East
Brand consistency across different scripts and cultures is a challenge that every brand manager knows. So how does one maintain the same identity in a script that runs in a different direction, and in styles that are so different from what one sees in Latin? How does one translate "modern" in Arabic? What is the visual translation of "chiq" in the Middle East? Every culture and script bring to the table a new set of expectations, a whole range of collective memories. This talk will focus on how to establish dialogue with the Middle East while taking a quick look at design trends and the cultural considerations that one needs to be aware of.
Nadine Chahine is an award winning Lebanese type designer working as an Arabic Specialist for Linotype and Monotype Imaging. She has a BGD in Graphic Design, an MA in Typeface Design from the University of Reading, and is a PhD candidate at Leiden University. She taught Arabic type design at universities in Dubai and Beirut. She has won the Dean's Award for Creative Achievement from AUB and two Awards for Excellence in Type Design from TDC in 2008 and 2011. Her typefaces include: Frutiger Arabic, Neue Helvetica Arabic, Univers Next Arabic, Palatino Arabic, DIN Next Arabic, and Koufiya.
Arabic Typography and Cultural Identity
Defining an "Arab identity" is a major cultural challenge in the Arab world today. A challenge reflected in all aspect of communication design, particularly in graphic and typographic design. Tarek's talk will focus on the Arabic typographic challenges, by showcasing recent projects in Arabic lettering, calligraphy and type design, and analyzing current design trends and inspirations in the current socio-cultural climate of the Arab world today.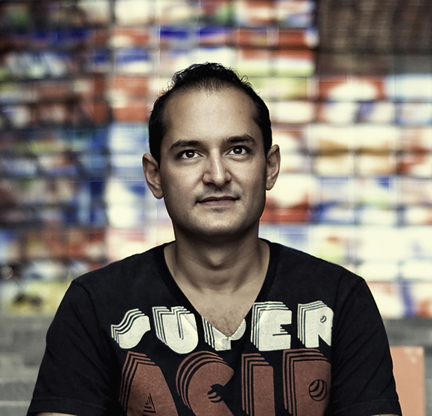 Beirut born Tarek Atrissi runs a Netherlands-based  multi-disciplinary design studio, Tarek Atrissi Design, specializing in Arabic design, branding, cross-cultural design and Arabic typography (www.atrissi.com). He holds an MFA in Design from the School of Visual Arts in New York; a Masters of Arts from in Interactive Multimedia from the Utrecht School of the Arts in Holland; and a postgraduate certificate in Typeface Design from the type@cooper program of the Cooper Union New York. His awards includes the Adobe Design Achievement Awards, TDC, and The Dutch Design Award, among others. Tarek designed custom Arabic typefaces for major brands in the Arab world, including the Arab Museum of Modern Arts in Qatar; Saudi Arabia's telecommunication company (STC) and Al-Ghad newspaper in Jordan. His non-custom Arabic fonts are distributed through the Arabic typography portal: www.arabictypography.com
Have questions about Engaging with the Middle East and Arabic Typography and Cultural Identity?
Contact the organizer
When & Where

New York, NY 10018-7243


Thursday, March 15, 2012 from 6:30 PM to 8:30 PM (EDT)
Add to my calendar
Engaging with the Middle East and Arabic Typography and Cultural Identity