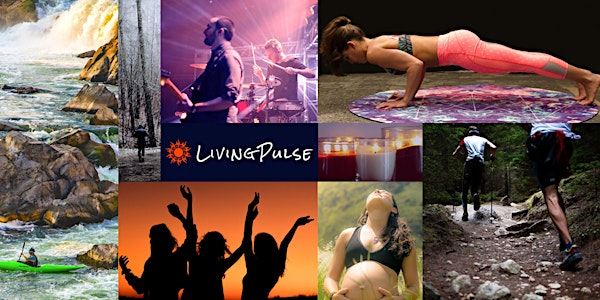 Engaging with the LivingPulse
Join us for a free, interactive exploration of insights, movement, sights, and sounds and how they help us feel connected to the world.
When and where
Location
Timber Hall Events 349 N. Turkey Creek Leicester, NC 28748
About this event
Philosophers and scientists have suggested for centuries that there is a connection between human life, and all of the life on the earth and the universe. In recent years, as science has learned more about the nature of all life, that connection has moved beyond the suggestion stage, and has been made factually clear. While understanding this connection intellectually is not easy, it is doable. What is more difficult is feeling that connection and oneness in one's entire being. LivingPulse will be an organization that shares new scientific research on this connection and—even more to the heart of our mission—offers various activities, led by guides, to help individuals feel that connection and oneness.
This inaugural event will serve as an introduction of the organization, its guides, its ideas, and a few of its activities to the greater Asheville community. This event is intended for adults or near adults (ages 15+).
The guides at this event will include:
Marta Martin, executive director and event coordinator for the Asheville Movement Collective
River Guerguerian, artistic director of Asheville Rhythm and percussionist for Free Planet Radio
Matthew Richmond, musician, composer, and lecturer at University of North Carolina at Asheville
Nancy Jurek, yoga instructor and meditation guide
Dan Collins, hiker, trail runner, and founder of LivingPulse
Tom Boots, visual artist and sound meditation guide
Free Planet Radio will provide live music for the event. (The band includes multi-instrumentalist Chris Rosser, two-time Grammy winner Eliot Wadopian, and River Guerguerian.)
We will begin gathering at 4:00 pm, so please plan to arrive no later than 4:30 pm and stay until 6:15 pm. That way you will be able to enjoy the depth and breadth of the presentations and activities and get a clearer sense of what LIvingPulse is about.
Event Schedule
Time Activity/Description
4:00 Gathering time
4:30 Welcome and Introductions
4:35 Breathing meditation, centering (w/audience participation)
4:40 Opening Thoughts
4:45 Movement/yoga/meditation (w/audience participation)
4:55 Brain science/How can we turn off the chatter & get to the pulse?
5:05 Origins of LivingPulse
5:10 Music as a path (w/audience participation)
5:20 Painting as a path
5:25 Dance as a path
5:30 Begin dance, music, painting (w/audience participation)
6:00 Wind down
6:10 Closing thoughts
6:15 Post-event hangout by the fire (with snacks and refreshments)
7:00 Closing
Learn more about our mission and vision at livingpulse.org.