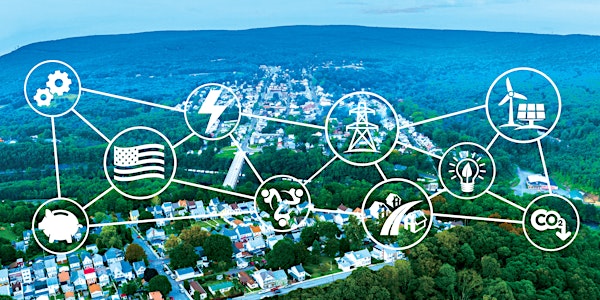 Engaging the Public with Large-Scale Electricity Delivery Infrastructure
Join us for expert discussions on public engagement strategies in the siting of large-scale electricity infrastructure.
About this event
As the United States embarks on a path towards net-zero carbon emissions, understanding how publics can more effectively participate in the buildout of major electricity delivery infrastructure will be critical.
The National Academies' Committee on Accelerating Decarbonization in the United States: Technology, Policy, and Societal Dimensions invites you to join them for a two-part webinar series focused on strategies that would (1) enhance public participation in electricity transmission development and (2) deliver just and effective benefits and compensation to stakeholders most affected by the siting of large-scale decarbonization infrastructure. This webinar series will serve to build upon the findings and recommendations of the committee's 2021 report, Accelerating Decarbonization of the U.S. Energy System, and guide them in writing a second.
WEBINAR DATES, TIMES, AND TOPICS
September 30 from 1-4pm ET: Public Engagement across the Transmission Development Lifecycle: from Planning to Permitting
A robust transmission grid is broadly viewed as an enabler of achieving decarbonization by 2050. Tune in to learn about objectives, challenges, best practices, and innovations in engaging the public in the planning, siting, and permitting processes unique to high voltage transmission lines development. Panel discussions will address current issues in public engagement from three perspectives: in the electric transmission planning process; in project siting and permitting; and as a matter of intergovernmental coordination.
Livestream link: https://vimeo.com/event/2392661
Public Q&A Form: http://nationalacademies.org/deps-webinar
Please visit the event page on the National Academies' website to view the livestream and the agenda.
October 3 from 12-3pm ET: Just and Effective Local Benefits & Compensation Strategies for Deep Decarbonization Infrastructure
Tune in for a discussion on state of the art knowledge and practices in the design and implementation of compensation programs, with the goal of advancing recommendations that help solve for equity, restorative justice, and social acceptance outcomes associated with the build out of new large-scale infrastructure essential for rapid decarbonization of the energy system. The committee aims to collect perspectives that include private as well as public compensation, and generation as well as transmission facilities. Experts will review strengths and weaknesses, and innovations in policy and practices which address how local financial benefits are determined and awarded across different technologies and jurisdictions. A key priority for the workshop is to identify those policies which do the best job of addressing power differentials among affected publics and between affected publics and project proponents.
Livestream link: https://vimeo.com/event/2397035
The webinar Q&A form will be posted as the event approaches.
Please visit the event page on the National Academies' website to view the livestream and the agenda.
VIEWING INSTRUCTIONS
Viewing instructions will be posted on this page as the events approach. If you register on this page, you'll also receive instructions via email prior to each event.
ABOUT THE STUDY
This event is part of a larger National Academies' study that is examining the technology, policy, and societal dimensions of decarbonization. The study committee published its first report in February 2021, and is currently working on its second report. Learn more about the study and sign up for updates on our website.

Disclaimer: This registration information is being collected via Eventbrite. Eventbrite is not affiliated in any way with, or endorsed by, the National Academies of Sciences, Engineering, and Medicine, and your submission via the Eventbrite website is subject to Eventbrite's privacy and terms of use.