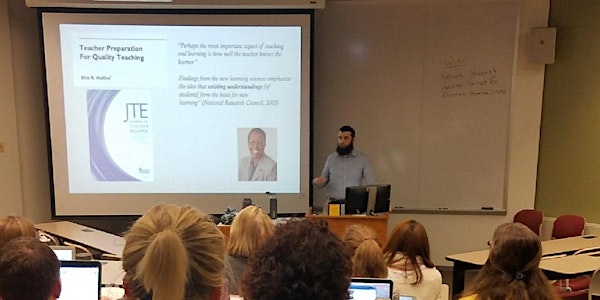 Engaging Muslim Students in Public Schools
When and where
Location
Hamline University West Hall 105 1536 Hewitt Avenue Saint Paul, MN 55104
Refund Policy
Refunds up to 7 days before event
Description
Final offering of this popular training for SY 17-18!
Click here to see reviews of this training
This is a one of kind training course! If you teach Muslim students do not miss it!
This seminar will increase teachers' background knowledge and cultural competency of Muslim students. Further, it will provide teachers with narratives and perspectives that are currently absent in the educational curricula and practice of teachers; but can be utilized to engage Muslim students in academics, honor their heritage and identity, and push them as students towards academic achievement and performance of exemplary indicators on Minnesota's Standards of Effective Instructional Practice. This wiil include providing concrete curricula material that has been specifically designed and researched to connect with and draw upon the background knowledge of Muslim students in Minnesota.
Goals of this training are:
- To make teachers better equipped to nurture positive relationships with Muslim students and honor their cultural identity in the classroom.
- For teachers to acquire pedagogical tools, literary resources, and narratives both historical and cultural that can be utilized in the classroom to increase academic engagement of Muslim students with culturally relevant pedagogy.
- For teachers to explore the intersections of race and religion as it pertains to personal identity of Muslim students and consider the latent implications of that intersection in 21st century classrooms.
- For teachers to design a specific lessons or unit plans with goal of practicing culturally relevant pedagogy with Muslim students and bringing absent narratives into the classroom and curriculum.
About the Presenters:
Michael Abraham is an ESL teacher, instructional coach, and curricula developer. He has a BA in Political Science with a concentration on the history of the Muslim world and is currently completing his masters degree in teaching English as a Second Language. He has been an active member of the Muslim community in Minnesota for over 10 years and has studied Islam in America and the Muslim world in both secular and religious settings. His focus is helping educators to better understand and cross cultural bridges to meet goals aligned with providing equity in education and culturally-relevant pedagogy. Michael has done consulting with several districts and charter schools in the Twin Cities, been a guest speaker at Hamline University's federally funded English Learners in the Mainstream (ELM) Project, and presented at the Minnesota English Learner Education Conference. Currently, he teaches a professional development course with Minneapolis Public Schools on Increasing Academic Engagement and Cultural Comptenecy with Muslim Students.
Qurina Slayhi is an ESL teacher at South High School with Minneapolis Public Schools. She has given presentations on cultural sensitivity and culturally relevant pedagogy of Muslim students at Hamline University, the 2016 MeLed Conference, MPS, and other school districts in the Twin Cities. She has been involved in youth mentoring in the Muslim community and public schools for over 6 years.
What others have said about the presenters and this training program:
"This training was absolutely phenomenal! I feel like a veil has been lifted when it comes to my understanding of Muslim students (especially my Somali students). Everything makes sense now! I wish I would have attended this training in college before I ever began teaching. This should be a requirement for every single teacher who has Muslim students in their classroom!"
- Jeffery W., Burnsville High School ESL Teacher.
"All teachers want to know about appropriate ways to make Muslim students feel welcome in schools. Michael Abraham's well researched workshops give teachers the information they need to interact with Muslim students and their families in a mutually respectful manner."
- Ann Mabbott, Ph.D. ESL Program Coordinator at Hamline University School of Education
"At this training, I learned so much about Islam in general and Minnesota's Muslim and Somali populations. The training covered big-picture facts and background information but also pointed out nuances within Muslim culture and how those give rise to cultural clashes for my Muslim students and their parents. I have a better functional understanding of the foundation of Islam and its role in my students' lives and feel more confident in my ability to provide a responsive curriculum that will engage all students. Thank you for a great day of applicable learning!"
- Alyssa J. - English Teacher, Eden Prairie High School
This training was very helpful in understanding the mindset of Muslim students with regard to their identity and offers ways to enrich our learning environment and build trust with our Muslim students. Abraham bridges two worlds with ease and objectivity while clearly keeping students at the center."

- Theresa B. - ESL Teacher St. Louis Park Public Schools
"During the training I had many "aha!" moments relating to specific students. Certain interactions or sets of behaviors now made more sense to me. Understanding clears the way for true relationships and communication!"
​- Chris W. - Art Teacher, St. Anthony Public Schools.
"I attended the October presentation of Teaching Muslim Students lead by Michael Abraham. During this presentation I was impressed with Michael's passion, knowledge, and insight into teaching students who are Muslim. He provided useful tools and strategies to support culturally relevant texts and resources for Muslim students as well as tools to support cultural understanding and tolerance for all. I was provided new and insightful insights into the life and culture of many of my students, and this insight has expanded my understanding of my students and has positively impacted my instruction. I recommend this training to those who want to either understand their Muslim students better, or to those who want to increase engagement and understanding for their students. It is a great training that enriched my own understanding of my students as well as my instruction."

- Mary B. SPED Teacher Autism Specialist at Vista View Elementary School ISD 191
For more information visit:
www.abrahameducation.com