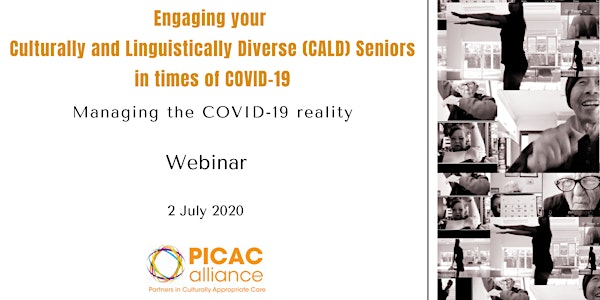 Engaging CALD seniors in times of COVID-19
Managing the COVID-19 reality
About this event
What are the lessons learned from the coronavirus epidemic? Join us to explore examples of good practice from a range of aged care providers across Australia, and discuss their strategies in meeting the needs of culturally diverse clients. You will walk away with an overview of the successes and failures and an idea of where we are heading next as we move to a 'new normal'.
For aged care services providers (frontline staff, team leaders and managers) who are supporting culturally and linguistically diverse (CALD) seniors who live in residential aged care homes or at home.
Presenters and topics
PICAC TAS – facilitating the session
PICAC NSW & ACT - Diverse needs require a diversity of responses
PICAC NT – The impact of isolation: CALD-perspectives from residential aged care facilities (RACFs)
PICAC SA -Evidence from two state-wide surveys: what organisations have been doing and what they have learnt so far 
PICAC VIC - Experiences from the Australian Multicultural Community Services
PICAC WA - Organisational development for the post-COVID-19 world 
This event is proudly brought to you by the PICAC Alliance, a national Government funded initiative.