EngageOK Exhibitor Registration

Tuesday, July 7, 2015 at 2:00 PM

-

Thursday, July 9, 2015 at 4:00 PM (CDT)
Event Details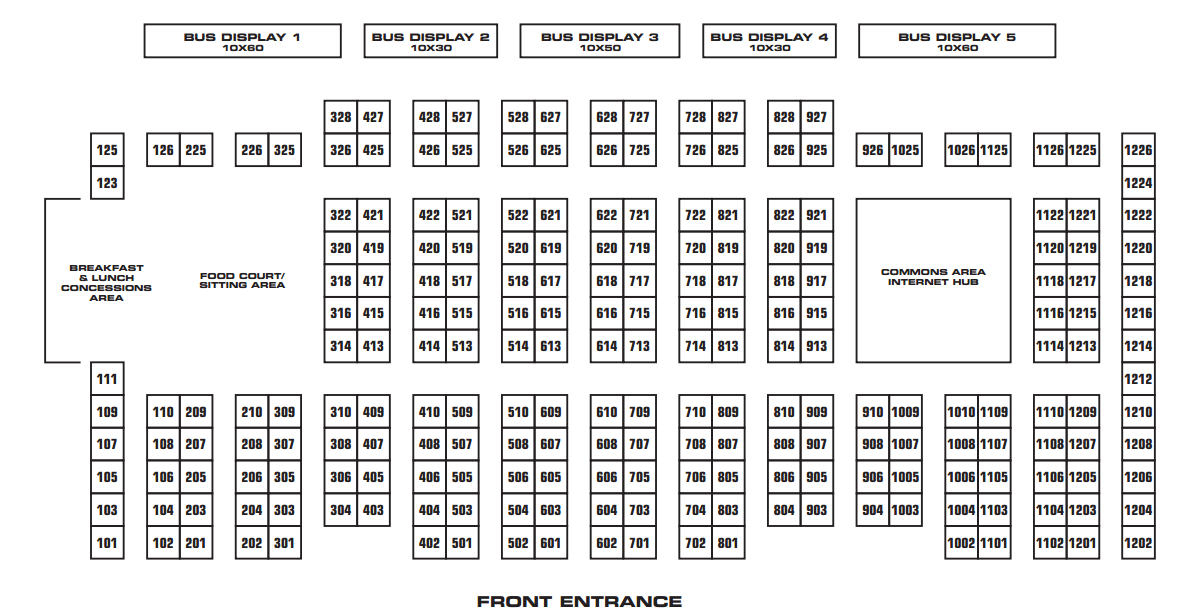 Exhibitor Rates
Bus Exhibits: $1,850.00

Prime Exhibits: $600.00

Standard Exhibits: $525.00

Not-for-Profit Exhibits: $400.00
Exhibitor Registration Payments
Booth locations will be verified after payment via credit card, check or reciept of a purchase order. All booth purchases are first-come, first served. 
Please make checks payable to:
Oklahoma State Department of Education
(Please specify subject: EngageOK)

Or 

Submit a copy of your purchase order to:
 
Oklahoma State Department of Education
Events Office Suite 112
2500 North Lincoln Blvd. 
Oklahoma City, OK  73105
 Schedule
Tuesday, July 7 8:00am - 2:00pm: Tradeshow Move-In Day

Wednesday, July 8 8:00am - 4:00pm: Exhibit Hall Open

Thursday, July 9 8:00am- 4:00pm: Exhibit Hall Open

Thursday, July 9 4:00pm- Move Out/Tear Down Begins



Exhibit Hall Booth Resources



Exhibitor Booths
Booths Include:




Each 10 x 10 booth will be equipped with an 8' back wall and 3' side dividers, a 6' or 8' skirted table, two (2) chairs, a wastebasket, a identification sign with booth number, and two complimentary registrations.  

Application Denial




Event Management reserves the right to cancel or refuse rental space to any persons or company whose conduct or display of goods is, in the opinion of Event Management, incompatible with the general character and objectives of the event.

Booth Staffing




All individuals who will staff an exhibit booth must send their names to events@sde.ok.gov. This will ensure we have name badges for each attendee. 



Logo Submission Guidelines
As an exhibitor, you may submit your logo for use on the event web site and throughout the event.
Please see the guidelines below for submitting that artwork:
Make sure all images are at least 300 dpi (dots per inch) resolution.

Image dimensions must be at least 5 inches by 5 inches.

We prefer vector EPS files, but will accept Adobe Illustrator, Photoshop, .jpg, .tif, or .png files as long as they meet the criteria stated in the two bullet points above.

If sending an Illustrator or Photoshop workfile, DO NOT flatten layers, and please include fonts as necessary.

DO NOT send web images, files embedded within a Microsoft Office (Word, PowerPoint, or Excel) application, or self-extracting files, such as .EXE or .SEA files. 
Please send all artwork to events@sde.ok.gov.
Cancellation Policy
No refunds will be issued for cancellations.
Exhibit Policies and Regulations
The Exhibitor agrees to make no claim for any reason whatsoever, against the Oklahoma State Department of Education, the conference sponsors, or other contractors for loss, theft, damage, or destruction of goods, or for any injury to self or employees, nor will claim be made for any damage of any nature or character, including damage by reason of failure to provide space for the exhibit, or from removal of the exhibit, or for failure to hold the conference as scheduled.
The exhibitor agrees to accept full responsibility for compliance with local, city, and state fire safety, and health ordinances regarding the installation and operation of equipment. This includes use of safety guards and devices where necessary to prevent personal accident to spectators. Only fireproof materials used in displays. The necessary fire precautions will be the responsibility of the exhibitor. Absolutely no burning candles or like substances may be used. The Fire Marshal frequently visits the exhibit areas to maintain compliance.
Each exhibitor must keep at least one attendant in the booth during all conference hours.
All vendors must stay within the 10 x 10 booth space marked off by the pipe and drape. There will be NO items in the aisles or across the aisles along the walls. If a vendor wants or needs additional booth space, the vendor must purchase additional booth space. The Fire Marshal has approved the exhibit floor plan and requires compliance.
Each organization is responsible for moving their goods into and out of the exhibit hall. Vehicles are not allowed to drive into the exhibit area for the purpose of loading or unloading.
At least one (1) representative should be in attendance at the booth, and the displays from each company shall be set up in the Exhibit Hall until the designated removal time at the end of the conference. Overhead and loading doors will NOT be opened early.
Each organization is responsible for its own audiovisual equipment and necessary electrical devices. Audiovisual presentations shall be adjusted to a low volume.
During the assigned exhibit set-up time, a representative of the company shall check in with the Exhibitor Information Desk. A conference representative will be available for assistance during exhibitor move-in, the conference, and during vendor move-out.
The exhibitor is financially responsible for damages caused to the equipment and/or materials belonging to the decorating company and/or the convention center. Items may NOT be taped or pinned to curtain drapes provided by the decorator.
Your Exhibitor Agreement and payment are required to secure your exhibit space. Exhibit space will only be held with received payment. Full payment is required before the conference begins or the exhibitor will NOT be allowed to set up and exhibit. Purchase orders are acceptable for state and/or governmental agencies.
All colleges and universities are required to pay full booth price.
Not-for-profit organizations shall include a copy of their nonprofit status when requesting special pricing. Not-for-profit special pricing is as follows: One booth for the price of $400, with each additional booth $525.
Each 10 x 10 booth will be equipped with an 8' back wall and 3' side dividers, a 6' or 8' skirted table, two (2) chairs, a wastebasket, and a identification sign with booth number. There will be no 8' back walls for double booths on either end of booth pods. Additional equipment may be ordered from the decorating company privately.
Electrical service is available from the tradeshow vendor. Payments for this service must be made directly to the tradeshow vendor.
Internet service is available from SMG/Cox Convention Center. Payment for this service must be made directly to SMG/Cox Convention Center.
Exhibitor freight shall be shipped to the decorator at their designated warehouse. The convention facility will not accept vendor freight.
No young children or personal pets shall be allowed in the exhibit booths during the conference unless authorized by the exhibit chair. Service animals are allowed.
Subletting Space: Exhibitor shall not reassign, sublease, or share assigned space with any person, firm or entity and agrees not to exhibit, advertise, or offer for sale goods other than those manufactured and/or sold in the regular course of business, without notification and approval of Event Management. 
Fire Protection: All display material must be flameproof and subject to inspection by the fire department. No flammable fluids or substances may be used or shown in booths.
Repair of Damages: The cost of repairing any damage by the exhibitor, its employees, representatives or agents to the facility will be billed to and paid for by the exhibitor. Nothing will be posted on, tacked, nailed, screwed, or otherwise attached to columns, walls, floors, ceilings, furniture or other property of the facility. 
Hold Harmless: Exhibitor assumes entire responsibility and hereby agrees to protect, indemnify, defend and save OSDE, its employees, and agents harmless against all claims, losses and damages to person or property, governmental charges or fines and attorney's fees arising out of or caused by exhibitor's installation, removal, maintenance, occupancy or use of the exhibition premises or a part thereof. In addition, exhibitor acknowledges that OSDE does not maintain insurance covering exhibitor's property and that it is the sole responsibility of the exhibitor to obtain business interruption and property damage insurance covering such losses by exhibitor.
When & Where

Cox Convention Center
1 Myriad Gardens
Oklahoma City, OK 73102


Tuesday, July 7, 2015 at 2:00 PM

-

Thursday, July 9, 2015 at 4:00 PM (CDT)
Add to my calendar
Organizer
Terri Grissom
405-521-2107