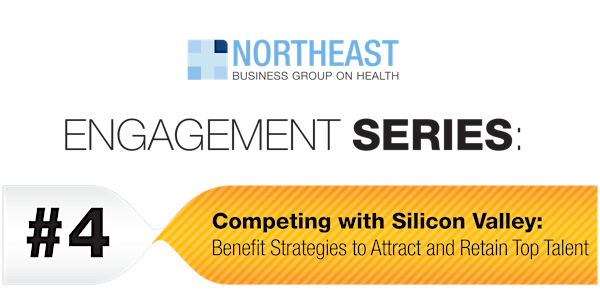 ENGAGEMENT SERIES - Competing with Silicon Valley: Benefit Strategies to At...
Description
Employee engagement in their health benefits and decisions is the Holy Grail for employers. Join us for the last part of a four–part breakfast series that tackles areas NEBGH employers have identified as their greatest engagement challenges.
Silicon Valley employers like Google, Facebook and Amazon set the benefits bar high, offering employees benefits like egg-freezing, in-house yoga instructors and world class culinary chefs to on-site healthcare for employees and their pets.
You've been tasked with attracting top talent but what can you provide that will compete with these companies?
Panelists:
Latricia Parker, Executive Director, Global Benefits, The Estee Lauder Companies
Michael Rendel, MD, Global Head of Benefits & Wellness and Firm's Medical Director, Goldman Sachs
Thomas C. Squires, Esq., Senior Manager of Employee Benefits, Corning Incorporated

Jude Komuves, Chief People Officer, Collective Health, (former Head of People & Recruiting Programs at Google)

Moderator: Dr. Tania Elliott, MD, FAAAAI, FACAAI,

Chief Medical Officer, EHE; Associate Attending, NYU Langone Medical Center
---
Sponsored by:
Organizer of ENGAGEMENT SERIES - Competing with Silicon Valley: Benefit Strategies to Attract and Retain Top Talent
Northeast Business Group on Health (NEBGH) is an employer-led, nonprofit coalition of benefits leaders and healthcare stakeholders with the mission of empowering members to drive excellence in health and achieve the highest value in healthcare delivery and the consumer experience.
NEBGH runs top-quality local programs and conferences throughout the year featuring employers, innovators and nationally-recognized experts, along with peer-to-peer networking opportunities.