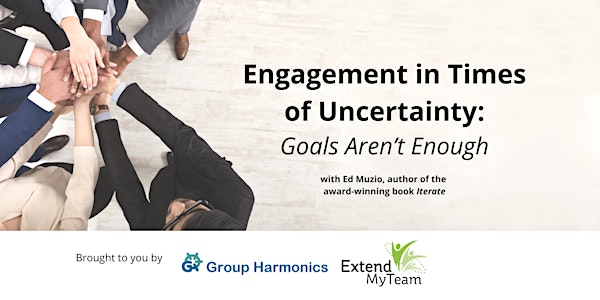 Engagement in Times of Uncertainty: Goals Aren't Enough
Engagement in Times of Uncertainty: Goals Aren't Enough
About this event
We all know how important clear goals are to management. We sometimes forget, they're not enough. If you want an employee base that brings their best, even when things are uncertain, they need more than goals – they need access to resources, and they need to be able to perceive their own progress along the way.
In this webinar, award-winning author Ed Muzio (Iterate: Run a Fast, Flexible, Focused Management Team) will explain how clear goals, control of resources, and self-managed feedback combine to create what's known as Front Line Self-Sufficiency. When you get it right, your front line will be more engaged, and better able to tell management how things are going. (Instead of the other way around!) Your company will make better decisions because they'll have better information, and it will be easier to change course when needed. A must for front-line managers and middle managers alike, understanding the concept of Front Line Self-Sufficiency is the first step in getting managers out of the handholding business, and into the business of directing the organization.
About the Presenter
Bestselling author Ed Muzio is one of a very few management consultants in the world who do systems-level coaching with a CEO or SVP and staff simultaneously, helping executive teams make a cultural shift so significant that it propagates downward into how their organization runs. His work has been hailed for producing substantial results even in the most challenging circumstances, and Ed has been called "one of the planet's clearest thinkers on management practice" by the editor of an international business magazine. His mantra is "higher output, lower stress, sustainable growth" – a promise central to his company's mission of creating culture changers. His books have won Awards of Excellence in the human performance field, and his most recent – Iterate: Run a Fast, Flexible, Focused Management Team – is rated as "one of the best in the field" and "a must read" by GetAbstract.
Originally trained as an engineer, Ed has started organizations large and small, led global initiatives in technology development and employee recruitment, and published articles and papers on a variety of business topics. Prior to founding Group Harmonics in 2004, Ed was President and Executive Director of a human services organization, and a leader, mentor, and technologist within Intel Corporation and related technology consortia. A Cornell University graduate, Ed's accomplishments include the creation and stewardship of a worldwide manufacturing infrastructure program, a nationally-recognized engineering development organization, and a non-profit residential program for at-risk youth.
This event is brought to you by ExtendMyTeam, LLC, your trusted partner for talent solutions to meet the growing demands of your business. We offer a full suite of human resources and recruiting advisory services, customizable to fit your needs.