ENGAGE: Youth Engagement Seminar & Showcase

Friday, December 7, 2012 at 9:00 AM

-

Sunday, December 9, 2012 at 4:00 PM (EST)
Event Details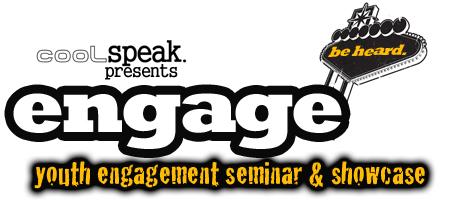 CoolSpeak is a youth engagement company providing speakers, programs and events geard toward motivating middle school, high school and college students and the professionals that serve them.  We strive to provide inspiration and motivation so that learning can take place, allowing each and every student and professional to achieve their fullest potential.  Inspiring Learning.  Improving Education.  Infusing Cool.
Due to the increase in demand and growth of our company, in the interest of discovering talented individuals who share our passion for impacting the lives of the youths in our communities and in the spirit of sharing our approach to youth engagement with youth professionals across the country, CoolSpeak will be hosting ENGAGE: Youth Engagement Seminar & Showcase, December 7-9, 2012. 
ENGAGE is a training and development seminar and showcase that will focus on student engagement the CoolSpeak way.  This is a professional development training for youth professionals, where you will experience, learn and practice effective ways to share your message.  During the seminar, participants will be trained in the skills and techniques utilized and necessary to execute successful and impactful  lessons, programs and events for youth.  Individuals interested in participating in this three day event are encouraged to register as a "Participant."  
Additionally, individuals interested in becoming certified CoolSpeak facilitators, presenters and/or speakers are encouraged to attend the three day training event and register as a "Showcaser."  Each "Showcaser" will be given the opportunity to showcase his/her skills and abilities through a fifteen (15) minute audition.
Finally, individuals interested in auditioning for Step Above are encouraged to attend the three day training event and register as a "Stepper."  Each "Stepper" will participate in a seperate audition process and be given the opportunity to showcase his/her skills and abilities for Step Above.
The training will be taking place at the Monte Carlo Resort & Casino in Las Vegas, Nevada.  We have secured a per room discounted group rate as follows:
$49.00 - Thursday, December 6, 2012

$95.00 - Friday, December 7, 2012

$95.00 - Saturday, December 8, 2012

$49.00 - Sunday, December 9, 2012 (if needed)

The reservation cutoff date is November 09, 2012.   The number to call to reserve rooms is 1.800.311.8999.   Our hotel confirmation code for all call-in  reservations is 'XCS2012'.  In order to receive the group rate, you must state that you are part of the CoolSpeak December Meeting and use the confirmation code.  Additionally you can reserve online by using the CoolSpeak room reservation link: https://resweb.passkey.com/go/XCS2012.
We are requesting a small investment of $150.00 to help offset the catering expenses.  That fee will cover continental breakfast and lunch every day of the training.  The training itself will be free.  We will not be charging for the training, the training materials and/or the training supplies. 
Lastly, please note that we only have thirty (30) slots for this event.  Seating is available on a first-come, first-serve basis.  When all of the seats have been taken, we will begin a waitlist.  If seats become available, they will be awarded on the basis of your placement on that waitlist. 
If you have any questions and/or concerns, please don't hesitate to contact Michelle Mazaheri-WIlliams at 1.888.300.1880 ext. 10 or michelle@coolspeak.net.

When & Where

Monte Carlo Resort & Casino
3770 Las Vegas Blvd. South
Las Vegas, NV 89109


Friday, December 7, 2012 at 9:00 AM

-

Sunday, December 9, 2012 at 4:00 PM (EST)
Add to my calendar
Organizer
CoolSpeak: The Youth Engagement Company
CoolSpeak is the leading full-service youth engagement organization delivering unique speakers, programs and events to keep students inspired, parents involved and teachers engaged.  The CoolSpeak engagement platform offers specifically tailored experiences that allow educational institutions, non-profit organizations and Fortune 1000 businesses to foster educational agendas and support proactive youth outreach. CoolSpeak allows for the cultivation of stronger and more meaningful connections that empowers our audiences to become catalysts' for positive change, intrinsic motivation, personal growth and self-sustaining inspiration.  We put the motivation back into education.
ENGAGE: Youth Engagement Seminar & Showcase