FPRA Jax hosts Brunet-Garcia as they share strategy and outcomes from their recent campaign for the CDC promoting COVID19 vaccines.
About this event
Join us for an engaging conversation about one of Brunet-García's latest campaigns with account executive Amy Mills and senior art director Cassie Deogracia. Amy and Cassie will talk about how they turned micro-moments into motivation for Millennial and Gen Z audiences to get vaccinated. How can you use micro-moments in your messaging? Ask the experts at this limited attendance event.
---
Brunet-García applies exceptional strategic creativity to some of the most complex issues affecting our nation today. We strive to make a difference by focusing our energy on areas of social impact. We translate complexity into understanding; create life-changing communications that resonate across communities and cultures; reach audiences with innovative multi-channel outreach strategies, and inspire action. Learn more by visiting www.brunetgarcia.com.
Amy Mills: Organized and detail oriented, Amy brings years of account service and project management experience to the BG lineup. A true autodidact, she is constantly adding to her professional and emotional repertoire by devouring new books, podcasts, webinars, and even languages as she seeks to better understand the world around her. With degrees in both Marketing and Sociology with a focus on gender studies, Amy is as empathetic as she is effective in how she communicates.
Cassie Deogracia: Cassie combines personal expression and client needs to develop visuals that are versatile, memorable, enduring, and drive home an on-point message. She's a structured designer with a background in Graphic Design, Fine Art, and Advertising. Cassie has a love for design history and principles, and uses her skills to bring life to campaigns for the United States Department of Agriculture, National Center for Injury Prevention and Control, and many more.
---
Because Brunet-García is hosting us at their Jacksonville offices, we have to limit attendance to 10. But we will work to bring you all the takeaways in our newsletter. Virtual and recording options are TBD.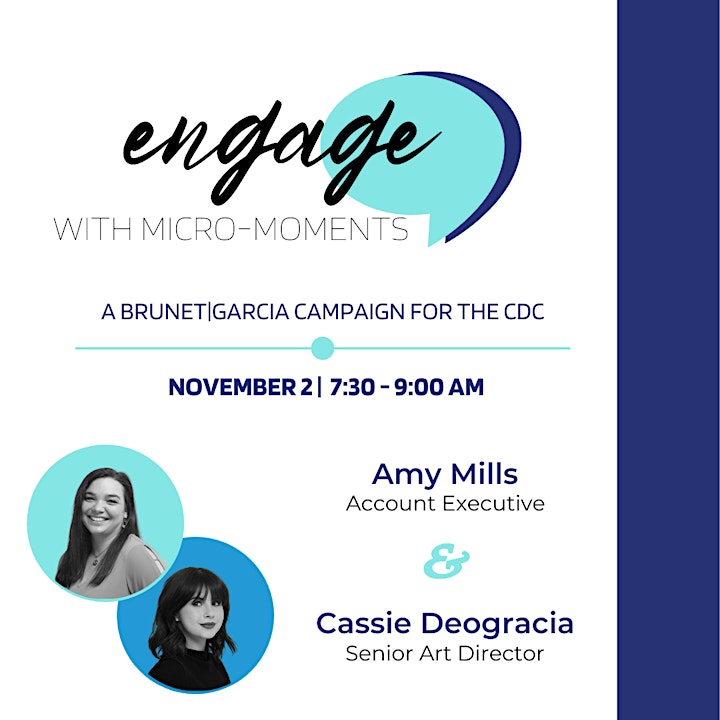 Organizer of Engage with Micro-Moments: A Brunet-Garcia Campaign for the CDC