ENGAGE: THE LA DIGITAL STORYTELLING CONFERENCE 2017 Immersive Storytelling...
Actions and Detail Panel
ENGAGE: THE LA DIGITAL STORYTELLING CONFERENCE 2017 Immersive Storytelling...
Wed, February 15, 2017, 1:00 PM – 4:00 PM PST
Description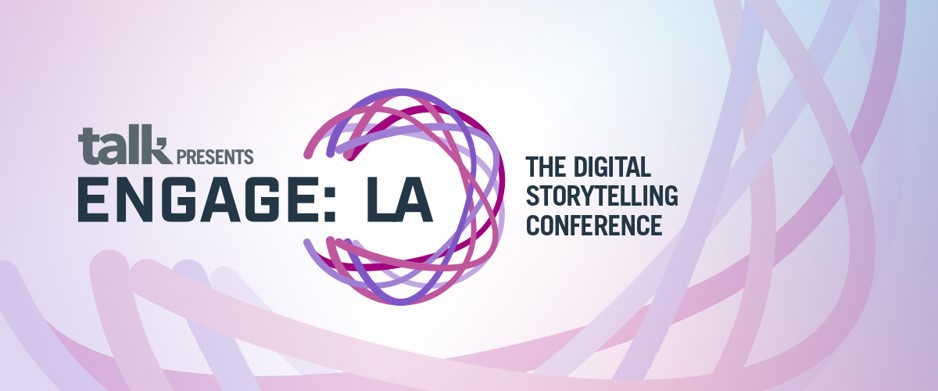 ENGAGE: The LA Digital Storytelling Conference
Event Details
Venue: TBA
Date: February 15, 2017
Time: 1:00 pm to 5:00pm
ENGAGE OVERVIEW
ENGAGE LA is an in-depth look at how the digital age is evolving and transforming storytelling. We are bringing all the successful elements from our dynamic Talk Forum NYC events to for our third ENGAGE LA Forum. This experience will change how you view the world of content creation and consumption, with fresh perspectives that can be applied to a variety of areas, including social, mobile, retail, video, TV and film.
Attendees will get to connect with the foremost experts and influencers in a casual, approachable atmosphere, and share perspectives on multi-platform real-time storytelling and branded entertainment. With Hollywood and Silicon Beach converge, ENGAGE LA will alter your perspective on how content can transform your brand experiences for today's consumers.
For sponsorship opportunities, please contact events@talkforumnyc.com.
Click here for more information.

PREVIOUS SPEAKERS

Sean Moriarty, CEO of Demand Media
Beatriz Acevedo, President and Co-Founder of MiTu Networks
Josh Crick, Managing Director of Digital Integration, Leo Burnett
Scott Harris, Co-Founder and Creative Partner, Mistress Los Angeles
Christopher Erwin, COO, Big Frame
Brent Bushnell, CEO of Two Bit Circus
Billy Hawkins, CEO and Co-Founder of Arsenic Magazines
Kristi Vanden Bosch, Chief Digital Officer at MXM
Tom Dunlap, Chief Production Officer, 72andSunny
Amy Cohn, Mentor at Techstars Disney Accelerator
Elizabeth Cline, Executive Director at The Industry (a Los Angeles-based experimental opera company)
Rob Maigret, Chief Creative Officer at Sphero (Formerly)
Sam Wick, Executive Vice President Business Development & Operations; General Manager, Enterprise at Maker Studios
David Baron, VP Content Partnerships, Hulu
Jason Rapp, Managing Director, Science, Inc.
Robert Goldberg, Founder and CEO, Fresno,Inc.
Host Committee / Advisory
Allan DeBevoise, Chairman at Machinima
Josh Mandel, Managing Director at Hustle (R/GA)
Bettina Sherick, Founder of Hollywood in Pixels
Chris Denson, Director at Omnicom Digital Media
Margie Gilmore, General Manager at Whalerock Industries
Ciaran Bossom, SVP, Head of Office at VaynerMedia
Leslie Capstraw, General Manager, Weber Shandwick LA
Jay Tucker, Silicon Beach USC
Winston Binch, Chief Digital Officer at Deutsch LA North America
Jason Bergsman, EVP at Chernin Entertainment
Mark Cibort, President of Deep Focus
Matt Joseph, Founder at Locent
Mark Anderson, EVP of Division Black