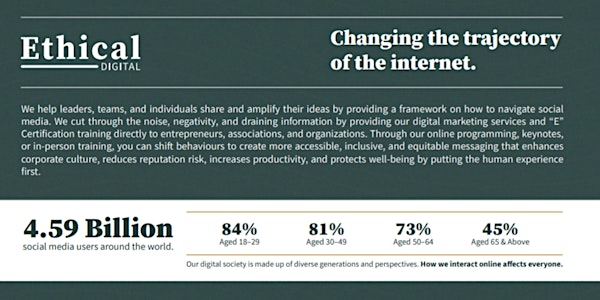 Engage & See - Social Media and Wellbeing: Interactive Experience
Join our session for some impactful insights and actions to implementing Social Media & Wellbeing training for your team and organization.
About this event
Ethical Digital has launched our "E" Certification Series "Social Media and Wellbeing". These programs will help users understand how their social media behaviour affects their wellbeing and content creators will shift behaviours to create more accessible, inclusive, and equitable messaging that enhances corporate culture, reduces reputation risk, increases productivity, and protects well-being by putting the human experience first.
This experience will highlight:
· How your external communications impact your customer experience
· The impact internal communications has on your team & organization
· Evaluate the effect your social media habits have on productivity
· Effects of FOMO
· Creating actionable tasks that will build resilience
· The role your organization has on the impact of social media in the wider world
It's an hour and we can't give you everything but can provide some impactful highlights to get you thinking about implementing Social Media and Wellbeing for your team and organization.