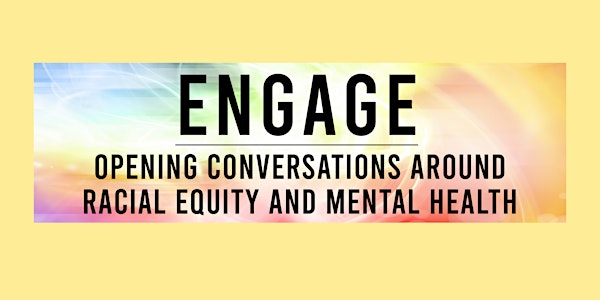 ENGAGE- Conversations To Bridge The Gap In Racial Equity & Mental Health
Engage, is a monthly, one-hour Zoom program event, launched specifically to help set a pathway for behavioral health care for people of colo
About this event
Engage, is a monthly, one-hour Zoom program event, launched specifically to help set a pathway for behavioral health care for people of color.
Who: This program is designed to support administrative and front line staff members of human service providers and community organizations who may come in contact with person who may need mental health services but aren't necessarily trained as mental health works.
What: Through this FREE, interactive program, the Mental Health Association in New Jersey will help prepare them to engage in conversations with adults, adolescents and families of color about mental health. Further, we will help enable staff members to take next steps in assessing and engaging them and facilitating connection to get the help they need.
How: We will provide training, resources and information and offer ongoing support for these endeavors. After each program, participants will walk away with: solid skills and strategies, mental health resources, and new contacts to collaborate with. We will also provide participants with access to additional FREE training for themselves and their agencies around behavioral health, racial equity and cultural diversity.
When: 12:00 p.m., on the first Wednesday of every month.
This initiative is a natural progression as we mark the success of our "Emotional Support for Families of Color" program, and long-standing PEWS (Promoting Emotional Wellness and Spirituality) program. I hope you will join in this important give-and-take and sharing of resources to create synergy and positive action.
Register here>>>
https://us06web.zoom.us/meeting/register/tZUocOitpj8vHtD1n950CPChJnW5mravdElT