Location
DoubleTree by Hilton Hotel Atlanta - Marietta
2055 South Park Place Northwest
Atlanta, GA 30339
No one narrates stories better than a Kenyan does...
About this event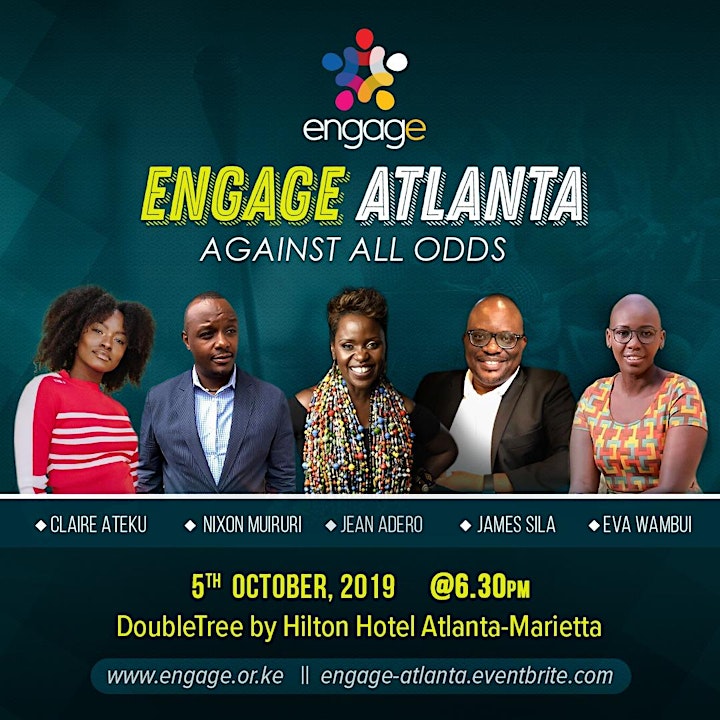 "When something is important enough, you do it even if the odds are not in your favor." Elon Musk.
On 5th October, for the first time in Atlanta, 5 Kenyans will share diverse stories and experiences on how they have made strides "Against all Odds". Join us for an evening filled with life-changing experiences, reflection and scintillating live music performances.
Engage was set up with the key objective of harnessing the power of engagement to inform, inspire and influence society. We do this by providing a platform for ordinary and extra-ordinary individuals to share their thoughts, ideas and experiences, through music and speech. Our vision is to curate and create the largest library of human stories and experiences.
Engage is not a showcase of great speakers but an eclectic mix of renowned, accomplished individuals who have shaped various sectors and largely unknown but exciting individuals who are transforming society right where they are.
At Engage fascinating thinkers and doers combine to spark discussion and connection with the audience on a diverse mix of topics so as to Inform, Inspire and Influence.
Remember, 'There's no greater agony than bearing an untold story inside you.' -Maya Angelou