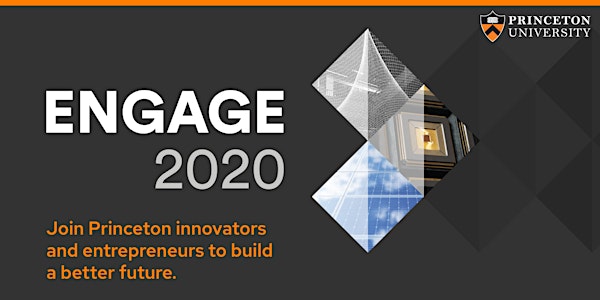 Engage 2020: A new Princeton innovation and entrepreneurship conference
Join Princeton University innovators and entrepreneurs to build a better future.
About this event
Innovate. Collaborate. Impact.
Join Princeton University for an inaugural innovation and entrepreneurship conference, live and online, November 4-6.
In this three-day, immersive event, you'll :
Create your own agenda from 50+ virtual sessions of relevance to academia, business and industry, Princeton alumni, entrepreneurs, investors, foundations and the intellectually curious.
Hear from Princeton's academics, inventors and entrepreneurs in fields such as energy and sustainability, bioengineering, art and architecture, and social impact.
Visit exhibits about Princeton-related innovations and startup companies, New Jersey scientific research facilities, and Princeton Innovation campus partners.
Connect with other attendees.
Featured program tracks include:
For the entrepreneurially-minded: A robust slate of webinars, skill-building workshops and Princeton-related startup showcases will offer entrepreneurs and those who work with them an abundance of thought-provoking opportunities.
For faculty, researchers, companies, government, foundations and external partners: Get practical ideas from case studies and in-depth discussions of how Princeton researchers are working with external partners to advance research and have impact beyond campus in science, technology, social science, humanities and social action.
Celebrate Princeton Innovation: Now in its 12th year, this event hosted by the Office of Technology Licensing features faculty innovators who show how their discoveries have the potential to become everyday innovations that improve life, benefit the planet, and grow the economy.
New Jersey Core Facilities Showcase: Sessions and virtual exhibit booths will highlight research services and equipment offered by academic institutions from around the Garden State.
Data Science in Oncology and Immunology: In this in-depth workshop, industry partners and academic researchers will explore areas of mutual interest and identify potential collaboration in the areas of biomedical data science, computational oncology and computational immunology.
Register now. There is no fee to attend this event.
On the Agenda at Engage 2020
Want to know more? Here are some highlights of the more than fifty sessions planned for Engage 2020 … the information, insights, skills and inspiration to innovate, and change the world.
Tackling Covid-19
Princeton Pandemic Research and Solutions – In this timely session led by Dean for Research Pablo Debenedetti and featuring faculty panelists, you'll hear about four Princeton-funded research projects focused on Covid-19 and the value of academic research as a driver of innovation and entrepreneurship.
Partnerships Perspective from the National Science Foundation
Invention to Impact – Learn directly from Andrea Belz, Division Director of Industrial Innovation and Partnerships (IIP) at the National Science Foundation, how angel investors and their portfolios can benefit from and support more opportunities for all. Under Dr. Belz's leadership, the IIP manages America's Seed Fund powered by the NSF, the NSF Innovation Corps (I-Corps™), Partnerships for Innovation and Industry-University Cooperative Research Centers (IUCRC).
Educator-Entrepreneur: A Personal Journey
Innovation Keynote – Hear Princeton's Andrea Goldsmith, the new dean of the School of Engineering and Applied Science and the Arthur LeGrand Doty Professor of Electrical Engineering, talk about her personal experience as both a faculty member and technology entrepreneur and share her perspectives on innovation, entrepreneurship and stepping in to lead Princeton's engineering school in these times. Includes a Q&A led by Princeton's Vice Dean for Innovation Rodney Priestley.
Global Pandemic vs. Venture Capital: How to Win
Emerging Investment Trends and Opportunities – Gain valuable knowledge and actionable insights from Princeton-alumni venture capitalists, who will share perspectives on key investment trends and opportunities amid the Covid-19 pandemic, across various industry sectors, business models and social impact ventures. They'll also discuss how venture investing is evolving.
Partisan Politics
The Princeton Gerrymandering Project – In 2021, thousands of state legislative districts and the entire House of Representatives will get new maps. The advent of big data and polarized politics makes it more important than ever to draw fair lines. In this timely panel less than 48 hours after Election Day, Professor of Neuroscience Sam Wang and a student team will discuss the Princeton Gerrymandering Project; its partnership with Representable.org, a grassroots initiative that supports state- and federal-level reform efforts to eliminate partisan gerrymandering; and how their collaboration provides tools to let citizens weigh in and become full partners in the process.
Powerful Partnerships: Microsoft + Princeton
Digitally-Enabled Research and Innovation: Collaboration with Microsoft – Princeton welcomes Elizabeth Bruce of Microsoft, who will join Princeton faculty members Jen Rexford, Jake Shapiro and Ned Wingreen to discuss key issues unique to corporate/academic faculty collaborations. Microsoft Corporation researchers have collaborated with Princeton research teams in various disciplines including computer science, molecular biology and political science. Richard Hay, Jr. of Princeton's Corporate Engagement team will co-moderate with Bruce.
Venture Funding 101
Fundraising for Early Stage Startups – How do startups go about raising money? What is venture capital and what do VCs look for in startups? Are VCs funding startups during COVID-19? Princeton alumni Jim Cohen '86 and Mark Poag '93 will discuss fundraising for early-stage startups.
Partnering for Patients: Industry & Academia Case Study
Industry/Academia Collaboration: A Case Study from the Bassler Laboratory – Learn firsthand how to create a successful collaboration, from two very different laboratories pursuing the same critical goal: developing treatments for severe unmet medical needs through science. Bonnie Bassler, The Squibb Professor and Chair, Department of Molecular Biology at Princeton University, and Ken Carson, Executive VP of Chemical Sciences at HotSpot Therapeutics, will talk in-depth about their partnership in the pursuit of potential antimicrobial therapeutics targeting bacterial cell-cell communication.
Accelerating Interdisciplinary Research
Catalysis Initiative – Discover the power of industry partnerships in bringing academic research to life in this talk with Dave MacMillan, the James S. McDonnell Distinguished University Professor of Chemistry and leader of the Princeton Catalysis Initiative (PCI). An academic incubator, PCI builds dynamic connections well beyond the traditional realm of chemistry to accelerate interdisciplinary research, on and off campus.
Diversity in Innovation
Promoting Innovation in STEM Research: Perspectives from Africa – As universities grapple with inequity and the lack of underrepresented researchers in STEM fields, they rarely look beyond the United States. Leonard Wantchekon, Professor of Politics and International Affairs at Princeton University and founder of the African School of Economics in Benin, will discuss with colleagues the rich innovation in Africa and by Africans in the U.S., in fields such as applied mathematics, statistics, biomedicine and economics. Entrepreneurial scholars are engaged in cutting-edge work, and can contribute both to the diversity of these fields and to the potential for research's real-world impact.
Overcome the Funding Hurdle
Funding My Clean Energy Startup – Social enterprises often face fundraising challenges. In this session, leaders from three clean-energy companies will discuss raising money – what their biggest challenges were, what worked and how they achieved success.
Money Matchmakers
Succeeding at Securing Non-dilutive SBIR/STTR Funding for University Spinoffs and Advanced Technology Startups – How do startup companies connect with venture capital sources, economic development groups and other funding partners? Kirk Macolini, founder and head of InteliSpark, will take you through his process of matching small, innovative companies and technologies with funding opportunities. InteliSpark has extensive experience working with NSF, NIH, DoD, DoE, NASA, and other federal agencies and has a proven track record of creating winning SBIR/STTR proposals for startups.
From Student to Startup – Young Alumni Panel
The Path from Innovation to Entrepreneurship – Hear directly from recent alumni who will share how their student experiences and discoveries at Princeton led to their careers as startup company founders. In collaboration with the Keller Center.
The Art of Social Change
Arts, Media & Social Justice – Join artist, entrepreneur and educator Indrani Pal-Chaudhuri '01 for an enlightening discussion about how arts and entrepreneurship can have a positive impact on social justice. In collaboration with the Lewis Center for the Arts.
And Three Sessions on Threats to the World's Urban Centers...
Moving Forward
Innovating Urban Mobility – In cities worldwide, mobility has hit a crisis point and threatens to affect people, the economy and the environment. Hear perspectives from university, government and industry leaders on innovation in personal mobility in urban environments – and the example of the City of Newark, NJ, with a focus on land use and community access.
Weather the Storm
Smart Cities: Water System Resilience – How do hurricanes, floods and tornadoes affect the water systems we rely on? This session offers multi-sector perspectives on protecting urban water systems from extreme weather events. Learn from government and industry stakeholders about critical needs in managing runoff, overflow, water treatment challenges and advancing research agendas to support infrastructure innovations.
Climate Change + Coastal Threat
Environmental Resiliency: Sea Water Rise – Discover public policy and entrepreneurial initiatives that address the enormous challenges of climate change and its effects on coastal communities. This panel will feature Princeton faculty and alumni discussing policy issues and entrepreneurial-driven innovation to manage the impacts of sea water rise on coastal populations. In collaboration with the Princeton Environmental Institute.
Plus, so much more. We hope you'll take advantage of this opportunity to learn firsthand from innovators about life-changing ideas that will make a positive difference for humanity. We look forward to seeing you at Engage 2020. Register now.