Location
Calvin College
3201 Burton Street Southeast
Grand Rapids, MI 49546
Description
Building Bridges of Unity in Diversity
People from every stripe and walk of life are invited to come to Calvin College in Grand Rapids, Michigan, June 8-10, 2016 to engage in two days of conversations, relationship-building, and worshiping the God who unites us.
Engage 2016 will feature worship, workshops, creative interactions and keynote addresses by Christena Cleveland and Anthony Carter.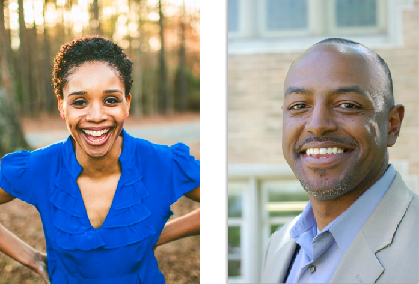 ---
Christena Cleveland is a social psychologist with a hopeful passion for reconciling across cultural divisions. She is the first Associate Professor of the Practice of Reconciliation at Duke University's Divinity School and author of Disunity in Christ:Uncovering the Hidden Forces that Keep Us Apart. Her keynote is: "Give Me Unity or Give Me Death: A Practical Theology for Diversity in the Church." Integrating theology and social psychology research, Christena will help us understand why cultural divisions persist despite our best efforts, and give us a theological vision and practical tools for overcoming them.
Anthony Carter is lead pastor at East Point Church in East Point, Georgia, and author of many books including On Being Black and Reformed: A New Perspective on the African-American Christian Experience and his most recent Blood Work: How the Blood of Christ Accomplishes our Salvation.
---
**Student ($40) and General Registration ($50) fee (plus a small registration charge) includes six meals and all conference activities. Lodging in a single-occupancy dorm room at Calvin College (not air-conditioned) can be added for an additional fee of $25 per night.
---


Schedule (subject to change):
Wednesday
2 PM - 11 PM
- Registration
7 PM
- Worship, public invited. Focus on injustice and lament.
Thursday
8 AM - 10 AM
- Registration
9 AM
- Worship. Focus on healing and shalom.
11 AM
- Creative interactions
12 PM
- Lunch/Ministry Fair
1:30 PM
- Keynote and Q&A
2:30 PM
- Creative interactions
4:00 PM - 5:15 PM
- Workshops
7 PM
- Worship, public invited. Focus on praise and celebration.
9 PM
Ice cream social with synod
7 AM
- Breakfast with synod delegates
12:15 PM
- Box lunches with synod
---


Confirmed Workshops (more are being added)
All My Mothers and Fathers - The Journey and Joy of Adoption
Carol Bremer-Bennett, Director U.S. Operations for World Renew, will share her cross-cultural journey as an adopted daughter and adoptive mother of five.
Becoming More Hospitable in a Diverse World
Jesus calls us to love people as he loves us. Yet, without even realizing it, we can be unloving in our words and our actions. In this workshops, we'll give our Top 5 Lists, from four different perspectives, for becoming more hospitable and loving in a diverse world, and give lots of opportunity for audience interaction.
Panelists - Pastor Shannon Jammal-Hollemans, Collaborative Program Developer for Faith Formation Ministries, Christian Reformed Church; Pastor Kate Kooyman, Coordinator for Restorative Justice, Office of Social Justice, Christian Reformed Church; Pastor Esteban Lugo, Director of Race Relations, Christian Reformed Church; and Pastor Mark Stephenson, Director of Disability Concerns, Christian Reformed Church.
Better Together: Part 1 – Overcoming Barriers to Unity
Paul Fleischmann will help participants identify debilitating hindrances to collaboration and how to overcome them in a spirit of unity.If unity is so important to Jesus, why don't we see more of it? Maybe because disunity is so important to Satan! He does everything he can to stop it. What can help us avoid the roadblocks that sidetrack so many on the road to unity? We can overcome our differences, stereotypes and challenges! This 2-part workshop will examine strategic, time-tested principles of collaboration. Experience the stories, videos, worksheets and discussion that will deepen the impact of your ministry, your relationships and even your spiritual walk.
Better Together: Part 2 – Building Bridges to Unity
Paul Fleischmann will help participants unleash the power of unity for greater fruitfulness in life and ministry. If there is a "secret sauce" for effective collaboration it is undoubtedly "mutual trust." But it isn't automatic. Learn how to build trusting partnerships by examining Jesus' standards for unity and by exploring the powerful four-part collaboration process. Doing unity God's way will accomplish far more than we could ever accomplish alone! This is the second of a 2-part workshop that includes presentation, discussion, videos, examples and time for personal application. Those who attend both Parts 1 and 2 (recommended) will receive a free copy of Paul Fleischmann's book, Better Together.
Presenter - Paul Fleischmann co-founded the National Network of Youth Ministries (NNYM) and See You at the Pole. He now serves NNYM as President Emeritus, as a consultant with The Savage Group and as a board member of several ministries. Through Better Together Resources he provides workshops, presentations and consulting on collaboration across the country. His most recent book, Better Together, released in 2015, has become an official networking resource for over 20 national ministries. Paul earned a bachelor's degree from Seattle Pacific University and a Master of Divinity from Western Seminary in Portland, Oregon. He and his wife Toni live in San Diego, California and have two adult sons and two grandchildren.
Bridges or Barriers to Racial Reconciliation
This workshop will provide Biblical insight on how churches can identify and remove barriers that interfere with racial reconciliation to become intentional bridge builders of racial unity in the body of Christ.
Presenter - Pastor Wayne Coleman is the outreach/youth pastor at Millbrook CRC in Grand Rapids MI and has over twenty years of experience serving in community development and urban ministry. In 2004 he was awarded the Dr. Martin Luther King Social Justice Award from the City of Holland MI, and in 2011-12 he was awarded the student diversity award from Western Theological Seminary for his work in helping to develop the Stoudemire Lecture series. In 2012 he graduated with M.Div. from Western Theological Seminary in Holland MI.
Changing Face of Reformed Worship
Join Pastor Joyce Borger, Director of Worship Ministries, and a panel of guests as we discuss and discern how the CRC has evolved from a Dutch immigrant church to the ethnically diverse denomination that it is and how that change has impacted our worship. What gifts do the various ethnicities and cultures bring to our denomination? How do we move from simply being hospitable, to a spirit of mutual sharing, and then stand in solidarity with each other? What does that look like in the worship context? From a broad discussion of these and other questions to practical advice from seasoned practitioners, come ready to engage.
Creation, Evolution, Design, and Human Origins
The words "creation," "evolution," and "design" mean different things to different people, and sometimes provoke arguments. Although some people see conflict between science and theology, they complement each other wonderfully. Debate about these topics is often driven by concerns about human origins. Science has uncovered some fascinating things that we ought to take seriously; at the same time, we need to preserve theological truths about humanity created in the image of God and human responsibility for sin. Various positions that Christian scholars take on this issue will be examined, and areas where Christians agree and disagree will be explored sympathetically.

Presenter - Dr. Loren Haarsma earned a Ph.D. in physics from Harvard University. He did research in neuroscience for five years in Boston and Philadelphia. In 1999 he returned to Calvin College to teach physics and to study the activity of ion channels in nerve cells and other cell types. He also studies and writes on topics at the intersection of science and faith. He and his wife Deborah co-wrote the book Origins: A Reformed Look at Creation, Design, and Evolution.
Raising Kingdom Kids
Each day our children are absorbing racist messages about themselves and others. As parents and Christians, our words and actions must expose and counter this societal brainwashing with the truth of God. Come discuss what we can do to help our families live out and work towards God's kingdom vision of a world where every life matters.
Presenter - Jolanda Howe is a stay-at-home mom who has a passion for seeing kids grow in faith. She is the children's ministry coach for Calvin Seminary's Church Renewal Lab, and is involved in the Sunday school and youth ministry programs at her church. She believes in teaching kids to pray "your kingdom come" and to live that prayer as Christ's change agents in the world.
Redeeming Racialized Identities
As Christians, we have spiritual identities and racial/ethnic identities. How should these identities relate to one another as we continue to grow as followers of Christ? In what ways can a church play a role in enabling their members to integrate these identities in such a way that all members grow as the citizens of God's Kingdom without losing their unique identities?
Presenter - Dr. Peter Cha is Professor of Church, Culture and Society at Trinity Evangelical Divinity School. Prior to joining the Trinity faculty, he was involved in a number of different ministries, including youth and young adult ministry in Korean American churches, campus ministry with InterVarsity Christian Fellowship, church planting and pastoring a multiethnic Asian American congregation. He is a member of the Committee on Race and Ethnicity (CORE) of the Association of Theological Schools (ATS). He co-authored Following Jesus without Dishonoring Your Parents: Asian American Discipleship (IVP, 1998) and has edited and contributed chapters to several other books.
Engaging the Building Blocks of Faith
What do people need in order to grow in faith? The Building Blocks of Faith model provides a framework for Faith Formation ministries and shepherding a stronger discipleship culture in your congregation. Building Blocks are based on the premise that Christians of all ages need four things from the church: 1) Belonging, 2) Understanding, 3) Hope 4) Calling and Equipping. This session will include conversation about how congregations can nurture belonging in ethnically diverse communities of faith.
Presenter - Dr. Syd Hielema serves as the Team Leader for Faith Formation Ministries which helps congregations provide a sturdy spiritual home for believers and searchers of all ages. Before taking this calling in 2014, he served as a youth pastor, youth ministry professor, and a university chaplain. Syd and Evelyn married in 1977 and have three children. They worship at Meadowlands Fellowship CRC in Ancaster, ON, where Syd serves as a youth leader, pianist, and occasional preacher.
Equipped 2 Equip: Living our Ephesians 4 Calling
This past summer the Christian Reformed Synod approved a critical shift in ministry. At the heart of this ministry shift is the vision of Ephesians 4 highlighted now in the first article of the CRC Church Order which calls the church "to honor the apostolic injunction that office bearers are 'to prepare God's people for works of service, so that the body of Christ may be built up' (Eph. 4:12)'." In this workshop, we will explore what it means to live out this calling to equip God's people for ministry that transforms lives and communities.
Larry Doornbos is the lead pastor at EverGreen Ministries in Hudsonville, Michigan. He, along with his wife Linda, have found great joy in watching EverGreen grow and develop over the last 22 years. They deeply appreciate the commitment of the leadership, staff, and people at EverGreen to live passionately for Christ. Larry also served Rehoboth CRC in New Mexico for 8 years. Larry and Linda have 2 children:Gayle is married and is a Ph.D. student in Systematic Theology and Chris is a special needs child who lives at home and brings joy to his parents. Larry enjoys jazz, good books, great theater and movies. He also works out, but doesn't enjoy that at all.
Leading and Practicing Reconciliation on a Multi-cultural Preaching Team
Pastor David Beelen, Pastor Darrell Delaney, and Pastor Sean Johnson believe that a diversity of voices is healthy for a multicultural church. Learn from their experience with their team concept. Topics covered:

How expectations can cause us to 'mute' our voices.

How we are supportive of each other.

What temptations or pitfalls do we need to avoid?

How we handle comments that could be divisive.

How we ground our team in a biblical basis for diversity of leadership.

How we keep each other accountable in our weekly sessions.
Presenters - Dave Beelen: Senior Pastor, Madison Square CRC
As Senior Pastor, Dave mentors and trains the multi-site Preaching Team (Joy Bonnema, Darrell Delaney, and Brad Knetsch), working closely with Pastor Brad to give him direction and guidance in leading the Madison Ford Campus, and Pastor Joy Bonnema in leading Madison North Campus.
Darrell Delaney: Madison Square Campus Pastor
Darrel is in charge of the pastoral care ministry of the congregation: weddings, funerals, baptisms and the Lord's Supper. He has over 15 years of youth ministry experience, received an M.Div. from Western Theological Seminary and a Th.M. from Calvin Theological Seminary. He and his wife Kia have three children.
Sean Johnson: Ford Reaching OUT Director
As the Director of Reaching OUT, Sean oversees Madison Square's Ford campus outreach work near and far through evangelism, community, and education. A resident of the Madison Square neighborhood his whole life, Sean's passion is to see lives changed locally and leaders from the community built up and transformed. He writes, loves hip-hop culture, and seeks to utilize hip-hop as a vehicle to communicate the hope of Jesus Christ.
Why Can't We All Just Get Along? The Doctrine of Discovery and the Roots of North American Racism
Where did North American attitudes on race come from? Many are unaware that theological developments in medieval Europe shaped the assumptions behind the exploration and "discovery" of North America. One of those assumptions that European settlers brought with them to the "New World" was that it was right and God-ordained for Christian Europeans to subdue and rule over "pagan" and non-European peoples who were assumed to be less than human. This attitude of European superiority justified the colonial settlement of North America's indigenous peoples, placing them on reserves/reservations, and a history of genocide and oppression since then. Even today, 500 years later, the Doctrine of Discovery is a key foundation of historic and contemporary racism in both the United States and Canada.

Presenters: Mike Hogeterp directs the Centre for Public Dialogue, a justice and reconciliation advocacy and citizen empowerment ministry of the CRC. In the course of this work Mike has been blessed to work with Indigenous policy experts and church leaders in discovering the spiritual and practical roots of reconciliation. From 2012 to 2016 Mike was chair of the Doctrine of Discovery Task Force which is due to report to Synod 2016.
Mike Wagenman is a Christian Reformed campus minister at Western University where he mentors young adults to be advocates and change-agents for justice, unity, and reconciliation. He teaches New Testament theology at Redeemer University College, serves on the CRC's Race Relations Advisory Council, and represents the CRC at the Canadian Ecumenical Anti-Racism Network.