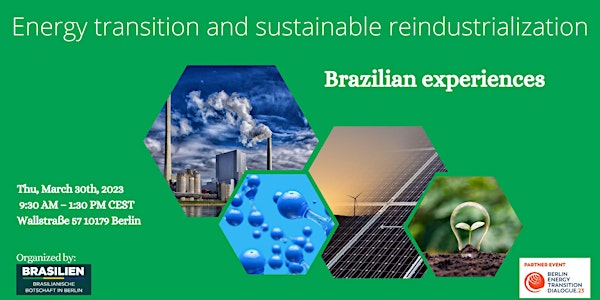 Energy transition and sustainable reindustrialization Brazilian experiences
A BETD23 partner event promoted by the Brazilian Embassy about the impact of the ongoing energy transition on the Brazilian industry.
By Brazilian Embassy in Berlin
Date and time
Thursday, March 30 · 9:30am - 1:30pm CEST
Location
Wallstraße 57 Wallstraße 57 10179 Berlin Germany
About this event
The ongoing energy transition towards the replacement of fossil fuels by renewable and clean sources has an impact on industry, especially on the most energy-intensive sectors. The sustainable reindustrialization resulting from this process has already started in Brazil and has a great potential for expansion.
The event "Energy transition and sustainable reindustrialization: Brazilian experiences" is a BETD23 partner event promoted by the Embassy of Brazil in Berlin and aims at shedding light on these innovations and their implementation process.
The event shall have two consecutive panels: i) Industry decarbonization: the new Brazilian reality, with the participation of Brazilian companies with projects already under implementation - Aço Verde do Brasil, Unigel, Braskem, Votorantim Cimentos; and ii) Perspectives for the expansion of Brazilian sustainable industry: building partnerships for new technologies and markets, with the participation of governmental representatives, the think tanks Agora Energiewende and E+ Transição Energética, Siemens Energy and the Federal University of Rio de Janeiro.
The audience will have the opportunity to ask questions after each panel. A cocktail will be served at the end, with further opportunity for networking. The event will be held in English (Portuguese-English simultaneous interpretation shall be provided, if needed). An online participation is also possible.
Target audience: Representatives of German government, private sector, financial institutions, scholars, experts, as well as BETD participants and guests.
Find more about the BETD23 Agenda
Agenda
Opening remarks (9:45 am) Ambassador Roberto Jaguaribe
Panel 1 (10:00 am – 11:10 am )Industry decarbonization: the new Brazilian reality
Moderator: Guilherme Chrispim, Chief Executive Officer, Brazilian Association of Distributed Generation (ABGD)
Steel industry: Brazilian green steel and investments in reducing carbon emissions. Silvia Nascimento, CEO, AÇO VERDE DO BRASIL
Plastic industry: plastic resins produced using sugarcane and capture CO2 from the atmosphere. Walmir Soller, CEO Europe & Asia, BRASKEM
Chemical industry: green ammonia with the first industrial-scale green hydrogen plant in Brazil. Leo Slezynger, Shareholder, UNIGEL
Cement industry: green fuel and power matrix. Alvaro Lorenz, Global Director of Sustainability, Institutional Relations, Product Development and Engineering, VOTORANTIM Cimentos
Panel 2 (11:15 am – 12:25 pm) Perspectives for the expansion of Brazilian sustainable industry: building partnerships for new technologies and markets
Moderator: Rosana Santos, Executive Director, E+ ENERGY TRANSITION INSTITUTE
Bases and opportunities for expanding industry decarbonization. Sandoval de Araújo Feitosa Neto, General Director, BRAZILIAN NATIONAL ELECTRIC POWER AGENCY (ANEEL)
New technologies and potential for industry decarbonization in Brazil. Carsten Hasbach, Senior Director Government Affairs, SIEMENS Energy
International partnerships for industry decarbonization: identifying convergences. Frank Peter, Director Agora Industry, AGORA ENERGIEWENDE
Energy transition and sustainable reindustrialization: an integrated perspective. Marianne Zanon Zotin, CENERGIA/COPPE/RIO DE JANEIRO FEDERAL UNIVERSITY (UFRJ)
Final remarks (12:25 pm)
Networking Cocktail (12:30 pm – 1:30 pm)