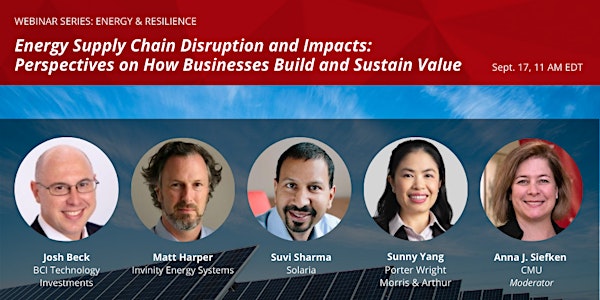 Energy Supply Chain Disruption and Impacts
Energy Supply Chain Disruption and Impacts: Perspectives on How Businesses Build and Sustain Value
About this event
A Zoom Webinar link and password to join will be provided upon registration.
The global pandemic has put many supply chain pressures on the solar industry. As the sector considers new ways to manage supply chain challenges through 2020, will renewable energy companies continue to drive successful value and efficiency? What are best strategies to prepare for equity investing and how can energy leaders determine their companies' valuations as we move into the next phases of COVID-19? Join us to hear market experts on ways to build value for investors through technology and operational execution. Panelists include:
This discussion will be moderated by CMU Scott Institute for Energy Innovation Executive Director Anna. J. Siefken.
This is the 11th installment in the "Energy, Resilience, and COVID-19 – Pivoting in 2020" webinar series. The Wilton E. Scott Institute for Energy Innovation at Carnegie Mellon University hosts this series to highlight research, industry and innovation related to how COVID-19 is impacting the way we will do business and what it means to the energy systems we rely upon.
Speaker Bios:
Josh Beck is Managing Director and Chief Investment Officer of BCI Technology Investments; a $100M venture capital firm specializing in renewable energy hardware commercialization. He has worked in international project management and M&A transactions throughout North America, Asia, Europe, and Africa for 18 years. He is passionate about building high functioning teams, establishing profitable environments, commercializing product lines, positioning companies for high multiple 3 to 5 year exits, and successfully guiding entrepreneurs past challenges associated with building trans-pacific business partnerships while simultaneously protecting intellectual property. Josh is a consistent and passionate international M&A business manager with experience executing investments and projects for Fortune 500 corporations, mid-cap private companies, and early stage enterprises. He is proactive in his approach and utilizes a best-in-class due diligence process to identify early stage companies with a high probability of success, while implementing project management best practices to provide board-level organizational strategic planning that accelerates commercialization, and speed to successful exit. He has served on the Board of Directors for five clean technology companies.
Josh's background and training as a Senior level international technical project manager serves BCI Technology Investments in a variety of ways; (1) Josh has vast experience in negotiating, contracting and executing on deliverables associated with complex international public-private partnership agreements. His ability to assess the viability of a venture traverse the challenges of commercialization and include providing advice that maintains focus on the eventual goal of a successful exit; (2) Josh has hands-on experience managing technical engineering teams and reporting directly to Boards and C-Level Executives on milestones toward new product launch and ongoing profit and loss forecasting. He has a reputation as an executive who drives results via team orchestration centered around achieving measurable milestones while staying focused on company end-goals; (3) Josh's education in macroeconomics and international business allow him to effectively evaluate trends and market conditions that affect portfolio company commercialization viability, exit valuation and timing. This insight is counterbalanced by his technical experience managing engineers and resource allocations for product development cycles of complex energy storage systems, medical devices, aerospace components, and automotive products. Josh received his BS from Bethany College and his MS from the University of Amsterdam. He resides in Pittsburgh with his wife and two daughters.
Matt Harper is a clean-tech entrepreneur and product developer. His expertise is in using advanced technologies to develop revolutionary industrial and commercial products; his passion is in helping companies adopt those products to build sustainable, profitable businesses. Matt's experience includes pioneering work in electrical energy storage, wastewater treatment, hydrogen generation and fuel cell vehicles.
As Chief Commercial Officer of Invinity Energy Systems, Matt is responsible for the commercialization and deployment of Invinity's groundbreaking vanadium flow battery-based energy storage solutions. Invinity's mission is to make our future electric system more economically and ecologically sustainable by delivering the safest, most dependable, and most economical energy storage solutions currently serving the electric grid.
Matt holds a master's degree in management and engineering from the Massachusetts Institute of Technology (MIT), and is the inventor of numerous patents related to energy storage and other industrial technologies.
Suvi Sharma, an industry thought leader in solar PV innovation, is responsible for leading Solaria's strategic initiatives as it extends the applications of its technology. Mr. Sharma joined Solaria in 2003. He is a seasoned entrepreneur with 20 years of experience in company formation, fundraising, talent recruitment, business development and global operations of innovative companies in renewable energy, information technology and private equity. Suvi Sharma was co-founder and board member of NEXTracker until its acquisition by FLEX. He began his career at Geocapital Partners, a $500 million international private equity firm, and founded and ran IVUS, an outsourced CRM provider. Mr. Sharma holds a B.S. in Statistics from Northwestern University.
Sunny Yang , Admitted to practice in both the U.S. and the People's Republic of China, Sunny is a corporate attorney who focuses her practice on international business matters and trade. She represents Chinese entities doing business in the U.S., as well as U.S. entities pursuing investments and operating in China. Sunny provides legal advice on various international trade issues, such as market entry, structuring and restructuring import and export transactions, Section 301 tariffs, proper classification, valuation and country of origins determinations, product exclusions applications, import compliance, export control and compliance. She also assists clients in developing duty-savings strategies and strategies to prevent and deal with supply chain interruptions caused by the U.S. China trade war and the pandemic through the effective use of duty drawback, foreign trade zones and subzones, preferential duty programs and free trade agreements, including the very recent United States-Mexico-Canada Agreement (USMCA). As a member of the firm's COVID-19 Strategy Team, Sunny has counseled numerous clients on various matters relating to the Defense Production Act (DPA) and other regulations enacted in response to the COVID-19 pandemic. Among other things, she has assisted clients in obtaining Section 301 product exclusions from the Office of the U.S. Trade Representative (USTR), ensuring that personal protective equipment (PPE) and other medical devices satisfy the requirements established by applicable regulatory agencies (e.g., HHS, the FDA, and the USDA), and developing effective international supply chain strategies that permit the import and export of PPE and other medical products without difficulties. She further handles various disputes related to these products. A frequent author and lecturer on topics relating to customs and international trade law, Sunny is active in several industry organizations, holding leadership roles in regional and national bar associations.