Join us for a series of weekly events educating about energy during the months of May and June.
About this event
Clean energy is one of the biggest goals local and federal governments have declared in their adaptation to climate change. This speaker series aims to educate and inform the Los Angeles Harbor College community and broader Los Angeles Community College District audience of the clean energy transition. The speakers will cover an array of topics related to energy including the basics of renewable energy, energy conservation and efficiency, building decarbonization, the deployment of electric vehicles, electrifying public transit, how emerging technologies will affect the grid, and how to transition to clean energy equitably. Join us to hear from a panel of experts on how we can reduce our carbon footprint through clean energy and why it's important. Paul Lee from the City of Los Angeles Mayor's Office will be joining us to discuss the clean energy transition and how it will be executed in Los Angeles.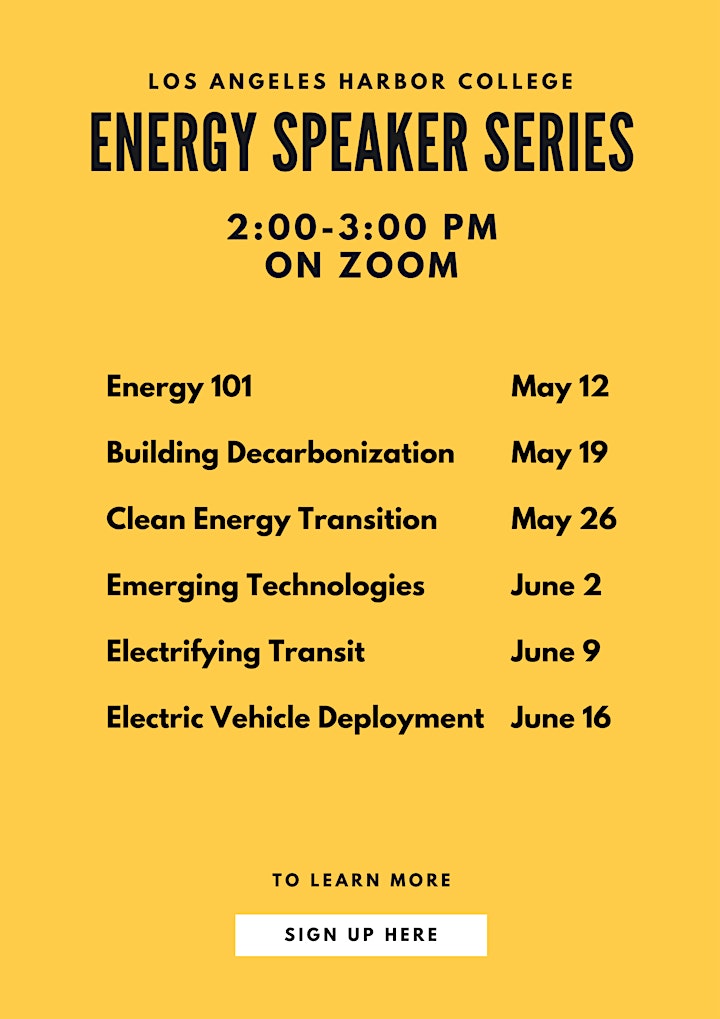 Speaker
Paul Lee serves as the Energy Policy Analyst for the LA Mayor's Office of Sustainability. He oversees the City's renewable energy policies, greenhouse gas inventories, and community air quality monitoring projects. He previously worked as a Civil Engineer for the Los Angeles Department of Water and Power on the LA100 Study, investigating ways to transition the City to 100% renewable power. He has a B.S. in Civil Engineering from UCLA, M.S. from Berkeley with an emphasis on energy and climate, and he is currently pursuing his Master's in Public Administration at USC.