Join us for a series of weekly events educating about energy during the months of May and June.
About this event
Clean energy is one of the biggest goals local and federal governments have declared in their adaptation to climate change. This speaker series aims to educate and inform the Los Angeles Harbor College community and broader Los Angeles Community College District audience about the clean energy transition. The speakers will cover an array of topics related to energy including the basics of renewable energy, energy conservation and efficiency, building decarbonization, the deployment of electric vehicles, electrifying public transit, how emerging technologies will affect the grid, and how to transition to clean energy equitably. Join us to hear from a panel of experts on how we can reduce our carbon footprint through clean energy and why it's important. In this session, we will be joined by Julia Benz with Guidehouse who will be discussing the future of blockchain technology on the electric grid.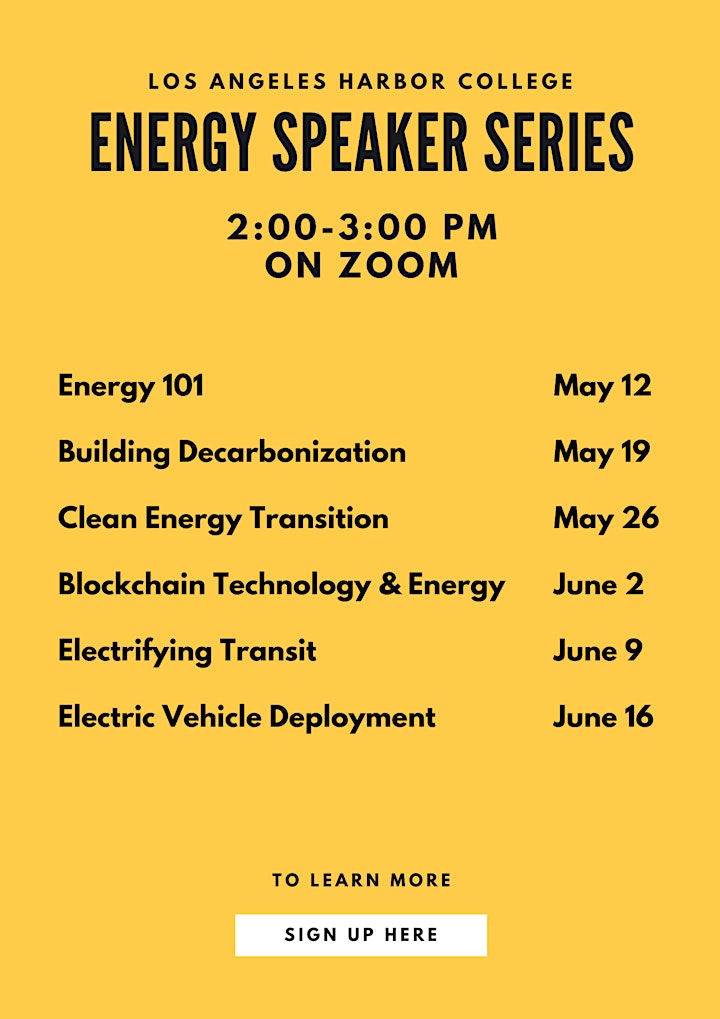 Speaker
Julia Benz is a Research Associate contributing to the Data Insights team for ES&I. Her focus is on blockchain technology and insights in energy. Prior to joining Guidehouse Insights, Benz worked at E Source where she consulted on a variety of utility programs. She was also an analyst and strategist for Vessel Works, a reusable cup service startup and was an intern at Solar Stewards, a startup working to create opportunities for equity in renewable energy markets. She holds a BS in Sustainability in Development from Brown University.