Description


JUST 1 MONTH LEFT!!

SPACE IS LIMITED. REGISTER NOW!
EVENT DESCRIPTION
The forum will bring together Georgia consumers, community leaders, advocates, utility and EMC representatives, policymakers and others to explore how issues of equity intersect with energy efficiency and solar. Equity issues of interest include but are not limited to the following: affordable housing, employment and economic opportunity, and solar access for farmers. This forum will educate and empower Georgia consumers to engage policymakers and utility commissioners to advance equitable and accessible energy efficiency and solar policies and programs for the betterment of their community, and to improve the quality of their own lives.
The program partners are also excited to release Keeping the Lights On, a consumer guide and policy paper exploring why energy equity matters in Georgia! Click on the image below to read the paper. Physical copies will be available at the forum.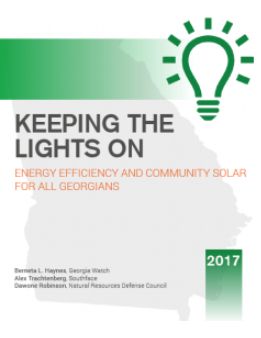 ---
FREE EVENT. FREE FOOD PROVIDED.
---


Agenda
Breakfast (10am - 11am)
Facilitated Discussion: What is Your Energy Story?

Welcome / Opening Remarks: What is Energy Equity?
Q&A: Energy Efficiency and Georgia (11am - 12pm)
Energy Efficiency is for Everyone: Understanding Energy Efficiency

Accessing Energy Efficiency: Energy Efficiency and Weatherization for Low-Income Families
Lunch (12pm - 1pm)
Speed Dating and Networking Session (1pm – 1:30pm)
Practical Tips: How to Save Money on Your Utility Bills (1:30pm – 1:45pm)
Q&A: Georgia's Growing Solar Economy (2pm – 2:45pm)
Solar is for Everyone: An Overview of Accessible Solar Programs

Local Perspectives: Solar in Southwest Georgia
Closing Remarks and Next Steps (2:45pm-3pm)
---


FEATURED SPEAKERS:
Chairman Joe Bostick - Mitchell County Economic Development Authority
Berneta Haynes - Georgia Watch
Quentin Anderson - Groundswell
Alex Trachtenberg - Southface
Randy Weldon - Southwest Georgia Community Action Council
Jill Kysor - Southern Environmental Law Center
Dawone Robinson - Natural Resources Defense Council
and more!
---
PARKING
Free parking in the lot near the back of the Commission. Conference center is in the small, attached building next to the parking lot.
---