Energy Efficiency Awards - German Innovation in U.S. Buildings
Description
Energy Efficiency Awards – German Innovation in U.S. Buildings
Recognizing innovators and leaders in green building and energy efficiency
The Energy Efficiency Awards – German Innovation in U.S. Buildings recognize outstanding achievements by German companies in the field of building performance in the U.S., showcasing technologies and innovations that contribute to energy efficiency in buildings.
A jury of experts reviewed the applications and will present the awards to five outstanding German companies, based on innovative characteristics and achieved energy savings of their projects.
Come to the Energy Efficiency Awards ceremony on June 26 and see the five finalists pitching their projects!
After the official awards event, you are warmly invited to an exciting networking event, bringing together the green building and German business communities to connect about new trends, innovations, and business opportunities.
Event Program
2:30pm - On-site visit Uber HQ construction site and demonstration of energy efficient technology (SOLD OUT - for the waiting list please send an email to lreuther@gaccwest.com)
Awards Ceremony and Networking
5:00pm - Registration
5:30pm - Awards Ceremony and Networking
Welcome remarks by Kristian Wolf, CEO of the Representative of German Business (GACC West), and the Consul General Hans-Ulrich Südbeck, German Consulate General San Francisco

Keynote speeches by Debbie Raphael, Director of the San Francisco Department of the Environment, and Tony Saracino, Sustainability Customer Engagement Manager at Autodesk
Finalist pitches

Presentation of awards
7:30pm – Networking reception with the Bay Area German and green building community
Our Finalists:
Our Jury
Bronwyn Barry, President of the North American Passive House Network

Melanie Colburn, Pacific Region Manager at the USGBC

Peter Reppe, Energy Analyst and Design Consultant at Brightworks Sustainability

Stefan Schwab, CEO of Enlighted

Steven Straus, President at Glumac
Follow us on LinkedIn as we reveal each finalist in the coming weeks, and get exclusive insights into the work of the Representative of German Business for the Western United States (GACC West).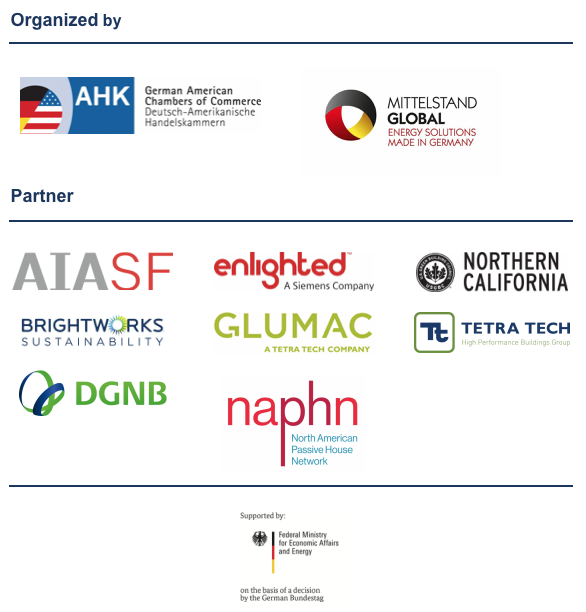 By attending, you agree to the publishing of pictures taken during the event!