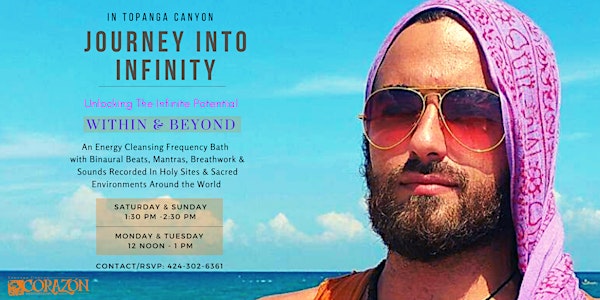 Multiple dates
Energy Cleansing Frequency Bath with Binaural Beats
An Energy Cleansing Frequency Bath with Binaural Beats, Mantras, Breathwork & Sounds Recorded In Holy Sites & Sacred Enviro Around the World
By Corazon Performing Arts
Date and time
January 3 · 9:30am - April 2 · 2:30pm PST
Location
Corazón Performing Arts 125 South Topanga Canyon Boulevard Topanga, CA 90290
Refund Policy
Contact the organizer to request a refund.
Eventbrite's fee is nonrefundable.
About this event
An Energy Cleansing Frequency Bath with Binaural Beats, Mantras, Breathwork & Sounds Recorded In Holy Sites & Sacred Environments Around the World. This daily meditation experience is rooted in ancient methods from Vedic, Sufi, and Zen traditions.
What to expect:
These meditation sessions are offered in the form of Satsang (Vedic word meaning gathering together in search of truth).
"beyond the busy streets of right and wrong, there is a rose garden full of Love and ecstasy. I will meet you there."
- Sufi Saint Rumi
Each session includes a guided and explained meditation experience. Question and answer session where ancient wisdom will be explained & defined for modern understanding.
"Sitting silently doing nothing the rain comes and the grass grows"
- Zen saying
Possible Benefits of meditation sessions may include:
𝘥𝘦𝘤𝘳𝘦𝘢𝘴𝘦𝘥 𝘮𝘦𝘯𝘵𝘢𝘭/𝘱𝘩𝘺𝘴𝘪𝘤𝘢𝘭 𝘴𝘵𝘳𝘦𝘴𝘴 & 𝘵𝘦𝘯𝘴𝘪𝘰𝘯
𝘪𝘯𝘤𝘳𝘦𝘢𝘴𝘦𝘥 𝘣𝘭𝘪𝘴𝘴𝘧𝘶𝘭𝘯𝘦𝘴𝘴 𝘢𝘯𝘥 𝘫𝘰𝘺 𝘰𝘧 𝘭𝘪𝘧𝘦
𝘮𝘦𝘯𝘵𝘢𝘭 𝘤𝘭𝘢𝘳𝘪𝘵𝘺
𝘪𝘯𝘤𝘳𝘦𝘢𝘴𝘦𝘥 𝘤𝘰𝘯𝘧𝘪𝘥𝘦𝘯𝘤𝘦 𝘢𝘯𝘥 𝘴𝘦𝘯𝘴𝘦 𝘰𝘧 𝘱𝘶𝘳𝘱𝘰𝘴𝘦
𝘩𝘦𝘢𝘭𝘪𝘯𝘨 𝘦𝘹𝘱𝘦𝘳𝘪𝘦𝘯𝘤𝘦𝘴
𝘪𝘯𝘤𝘳𝘦𝘢𝘴𝘦𝘥 𝘭𝘪𝘧𝘦 𝘱𝘰𝘴𝘪𝘵𝘪𝘷𝘦 𝘴𝘺𝘯𝘤𝘩𝘳𝘰𝘯𝘪𝘤𝘪𝘵𝘪𝘦𝘴
𝘥𝘦𝘦𝘱𝘦𝘳 𝘴𝘦𝘯𝘴𝘦 𝘰𝘧 𝘤𝘰𝘯𝘯𝘦𝘤𝘵𝘦𝘥𝘯𝘦𝘴𝘴 𝘸𝘪𝘵𝘩 𝘦𝘹𝘪𝘴𝘵𝘦𝘯𝘤𝘦
𝘣𝘳𝘦𝘢𝘬𝘵𝘩𝘳𝘰𝘶𝘨𝘩 𝘦𝘹𝘱𝘦𝘳𝘪𝘦𝘯𝘤𝘦𝘴 & "𝘈𝘩𝘢!"𝘮𝘰𝘮𝘦𝘯𝘵𝘴
Be sure to wear comfortable clothing. Custom eye masks will be provided to keep for those who would need them for $10. Make sure to set phones to silent, and please no calling or texting in class. No late entry.
Cost of Meditation Session:
$33 and you may also pay at for a series directly via venmo : @mamaindia
*Inquire for discounted monthly and yearly session voucher and Corazon Membership Discount
About the organizer
Music Hub, Eclectic Venue in Topanga Canyon