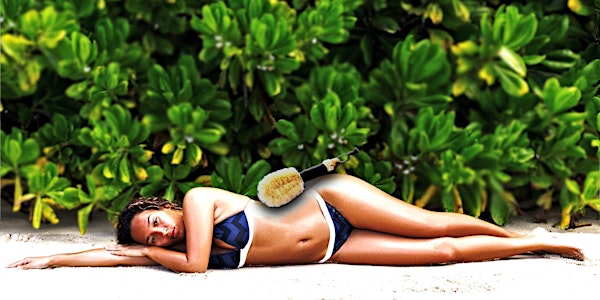 Energy Brushing for Health and Beauty
When and where
Location
Health Fusion Wellness 1825 NJ-35 Wall Township, nj 07719
Refund Policy
Refunds up to 7 days before event
Description
Some healthy habits cost a lot of money, resources, and time. Stocking up the fridge with healthy food impacts your paycheck. Staying active might cost you a few hundred dollars for an annual gym membership. What if you could spend less than $25 total – and a mere 10 minutes a day to look and feel better, plus improve your health?
Your skin as the largest organ of the body responsible for the detoxification. Keeping your skin healthy translate to good overall health. The health of your skin largely influences the health of our entire body and it's your first line of defense against preventing bacteria from entering your system.
In this workshop, Irina Maryanchik will share with you her secrets for having a radiant skin, slim figure, and abundant energy. She will teach you how to perform meridian brushing using to her personal protocol.
Benefits of Meridian Brushing
Helps to eliminate toxins and brings a fresh flow of energy to your meridian system.
Increases circulation and oxygen-rich blood flow to the organs and systems of your body.
Brightens tightens your skin, making it look and feel smoother and more radiant.
Prevents the formation of wrinkles and fine lines, keeping your skin looking younger.
Unclogs blocked pores and removes dead skin cells, which allows your skin to breathe better and
Stimulates digestion and blocks bacteria from entering the body.
Eases and soothes muscle tension while relieving stress.
Activates your nervous system and helps to stimulate muscle fibers.
Promotes the delivery of energy to internal organs and lowers inflammation.
Stimulates lymphatic system and helps to activate lymphatic drainage.
Promotes the excretion of toxins and pumps up your immune system.
Improves kidney function by excreting toxins, which eases the burden on the kidneys.
Reduces cellulite, often when other methods don't seem to work.
Optimizes overall health and makes you feel uplifted and happy.
As you can see, the Meridian Energy Brushing benefits your entire body, and all for less than $25.
All materials provided in class.
Refreshments will be served.
Please wear a swimsuit or a comfortable clothing that permits exposing your hands, legs, a trunk of the body.