| | |
| --- | --- |
| ENERGY ACTIVATIONS for AWAKENING | |
Event Details
Energy Activation Sessions with Ojela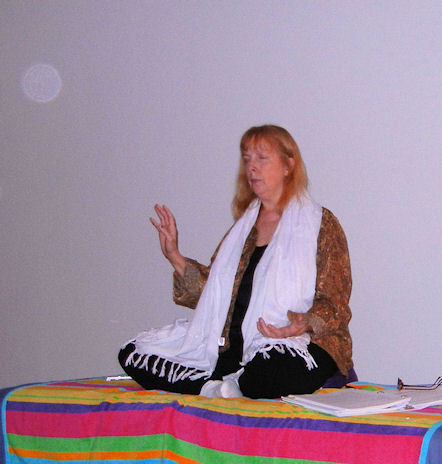 Orb appears during an Energy Blessing.
High-Frequency Bliss
AUMAKHUA-KI 

®

 
LONG-DISTANCE or LOCAL
Sessions Available by Appointment.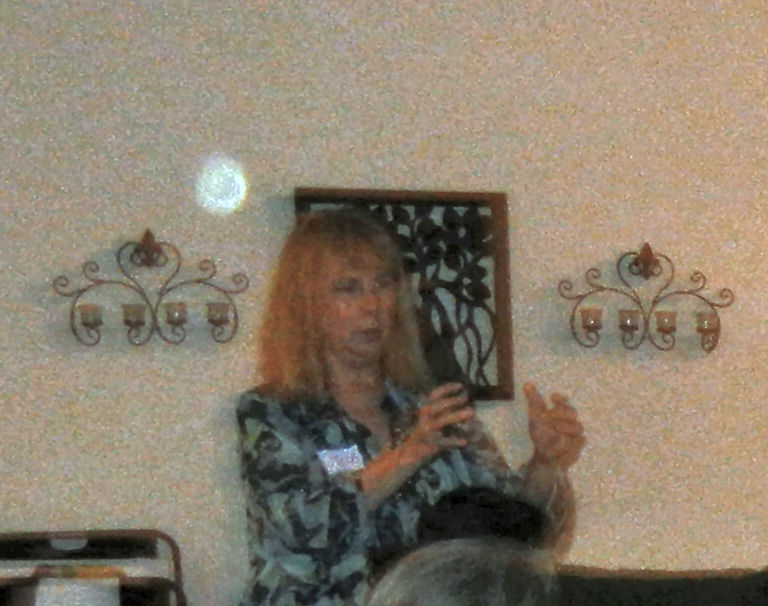 Orb appeared during Energy Activations.
An Energy Transmission is shared during the session. It can be experienced "in person" or, sent from a distance (remotely). Ojela Frank began offering Remote Healing sessions in 1981. She started doing Energy Attunements in 1986. Their first expression developed into Crystal Healing Attunements that she shared in Crystal Therapeutics (SM) workshops for many years. As Ojela explored energy meditation practices, she began to receive and transmit higher frequencies to help herself and others. The Energy Activations evolved from individual sessions to Group Activations. By 1991, Rev. Frank began doing Energy Attunements remotely for people who were at a distance.
An Energy Activation can be stimulating. It is a commitment to personal growth and it is a valuable tool for those wanting to take the NEXT step on their spiritual journey through life.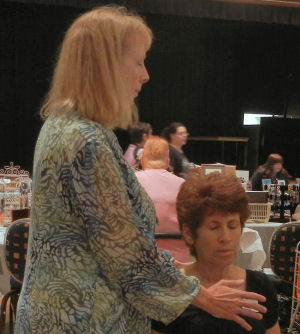 Ojela doing an Energy Activation at the Expo.
WHAT IS AN ENERGY ACTIVATION?
An amplification of Light / Energy is introduced into a person's aura. When a person experiences a higher vibratory rate, it increases more awareness of healing energies and raises their level of consciousness. It can feel like an infusion of healing energy or a sense of having more peace and relaxation. It is best to be seated or resting while receiving an Energy Activation.
Some share that they feel more relaxed and at peace during and after the Energy Activation session. Others mention they were aware of an increase of energy or they had visions. Everyone is unique and may feel something different.
Reserve Your Appointment Today!
Sessions with Rev. Ojela Frank, MSC, MSTh, LMT

(MA60322)
GLOBAL: from ANYWHERE with a computer or a portable device using SKYPE®
$50 LONG-DISTANCE Session
(30-Minutes includes: Energy Activation  via Google Hangout web chat session or as a SKYPE

®

Video Call)
LOCAL: (OCALA, FLORIDA)  Sessions are described below.
$75 for a 60-Minute - Chair Session:
(Chakra Balancing & Alignment with an Energy Activation.)
$100 for 90-Minute - Table session: (Complete Energy Assessment, Chakra Balancing, Aumakhua-Ki

(TM)

Healing session & an Energy Activation.)
Sessions with Ojela are by appointment and pre-paid. Once our office receives payment confirmation, we will schedule an appointment time with you by email.
Group Rates: Discounts on energy sessions are available. Host an AK Bliss Group event.
To Register by Phone & Pay with a Credit Card: 352.239.9272.
What Others Share about Ojela's Sessions:   
"I feel completely different than when I walked in here."
L.D., FL
"Thank you for your gift of transformation. I am still shifting and healing through the powerful energy created in this session. You are a blessing! I am grateful for the honor of receiving your incredible gift."
Jean M., FL
"I just wanted to let you know how much better I feel, especially emotionally! I feel much more balanced and open. Before my session with you yesterday, I felt blocked like I couldn't receive even though I was open to it. Today, I feel like things are flowing better. I just feel much more open and calm. I am excited as to where my future will lead me and I look forward to the journey."
R.A., FL
"I just enjoyed the energy work with Ojela. It was a one of a kind experience. Right in the beginning I had difficulty silencing my mind. Then like a switch was flipped, I completely cleared my thoughts with no effort at all. Throughout the session, there were definite layers being uncovered. Really, there's no other way to describe the feeling I had towards the end when Ojela was working near my head...a white light appeared in my face for a brief moment. I also felt warmth generate through my body. I walked out of there feeling renewed and stress-free. Since that day, I have had more clarity in my thinking and I only pay attention to the truly important things. In essence, letting go of what doesn't serve me. It has been a wonderful progression and I look forward to more energy work. Thank you, Ojela!"
Ola Sobanski., certified Supreme Science Qigong L-3 Instructor
"I felt lots of energy. It usually takes me an hour of meditation practice to feel that much bliss. I could feel Kundalini energy rising again and again!"
W. J., Colorado   (Long-Distance Energy session via a Skype® Video Call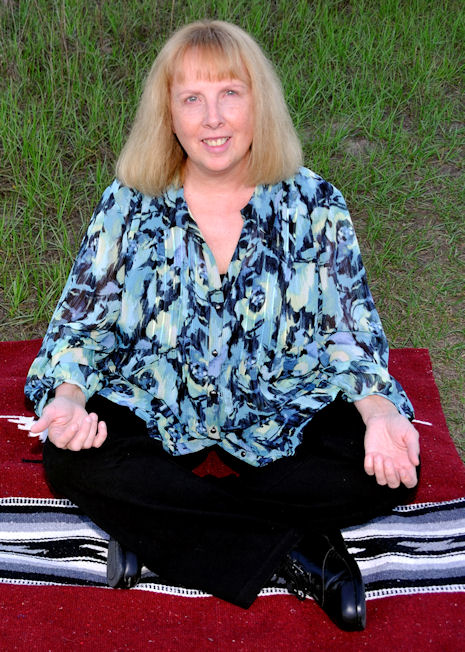 Ojela Frank, MSC, LMT has been active in the healing arts for 45 years. As a Teacher, Author, Energy Healer, Spiritual Awakening Coach and Initiation Master, Ojela has inspired thousands through her sessions, seminars and books on healing and personal growth. Ojela is creator of AUMAKHUA-KI® Energy Healing & Therapeutics.
    Visit us at:  www.Aumakhua-Ki.org    
Click HERE to see what Others share about Ojela & her energy work.
The Book of Initiation: Awakening to Soul by Ojela Frank is available on the website.
About AUMAKHUA-KI ® Energy Healing & Webinars
AUMAKHUA-KI ®accelerates a heightened state of awareness and increases a person's capacity to channel more healing energy. Most workshops and webinars include a powerful AUMAKHUA-KI ® Attunement, complete instruction in AKEH therapeutic techniques, experiential, energetic exercises, session work, a student class manual or handouts and a Workshop Certificate of Completion.
352.239.9272
© 2013 by Ojela Frank   
When & Where

GLOBAL (Skype Video) or LOCAL




Organizer
AumaKhua-Ki ® International
We offer courses & sessions for quantum transformation. Visit our website to read testimonials and learn about the energy healing certification programs.