Description
The Carolinas is becoming a major conduit for African energy trade. Join African and U.S. energy policy officials and executives engaged in the Africa – Carolinas energy trade to learn about opportunities and develop partnerships with which to pursue a variety of African trade opportunities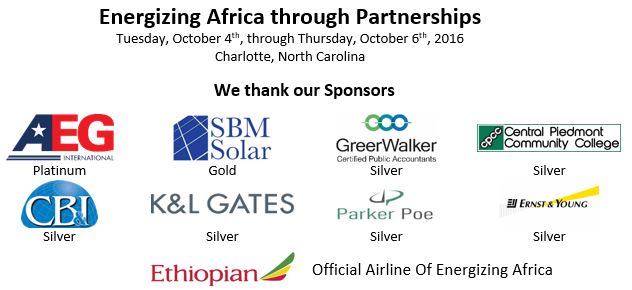 Visit our Energizing Africa through Partnerships Website by CLICKING HERE
DAY 1: Tuesday, October 4th (Foundation for the Carolinas, 220 N Tryon Street, Charlotte, NC 28202)
3:00 – 5:30 pm Conference Registration Open
3:30 – 4:00 pm Welcome to Charlotte
4:00 – 4:30 pm The Carolinas: A New State of Energy - David Doctor, President & CEO, E4 Carolinas
4:30 – 4:50 pm Charlotte: An International City - Dr. Tony Zeiss, President, Central Piedmont Community College and Chair, Charlotte Global Vision Leaders Group
4:50 – 5:30 pm Energy Education and Research at Carolinas' Universities
5:30 – 7:30 pm BBQ Picnic – (Levine Museum of the New South, 200 E. 7th Street, Charlotte, NC 28202)
---
DAY 2: Wednesday, October 5th (Venue: the Mint Museum Uptown, at the Levine Center for the Arts, 500 South Tryon Street, Charlotte, NC 28202)
Visit our Energizing Africa through Partnerships Website by CLICKING HERE
8:00 – 9:00 am Registration
Continental breakfast + Networking and exhibits
9:00 – 10:00 am Keynote Address: The African Energy Partnership Opportunity
10:00 – 11:00 am Panel - Africa Energy Trade: Where and What?
An overview of where energy trade can be conducted in Africa and what opportunities exist within that geography
11:00 – 11:30 am Break + Networking and exhibits
11:30 – 12:30 pm Africa Energy Trade: Who and How? Moderator - Lauri Elliott, Group Chair and CEO, Afribiz
An overview of domestic and international agencies supporting African energy trade and how to prepare for African energy trade
12:30 – 2:00 pm Luncheon and Keynote Adress: Vision for a Carolinas Africa Energy Partnership
2:00 – 3:30 pm Africa Energy Trade: How to Profit and Keep It. Moderator - Sherrod Seward, Managing Partner, Seward Law Firm
An overview of how to finance/capitalize African energy trade and tax considerations to optimize your returns.
3:30 – 4:00 pm Break + Networking and exhibits
4:30 – 6:00 pm Case Studies and Conclusion. Moderator - Clifton Vann IV, Chief Executive Officer, Hyde Park Partners
Three Success Stories of Carolinas/African Energy Partnerships
6:00 – 7:00 pm Reception
Dinner on your own (Uptown Charlotte dining guide to be provided)
---
DAY 3: Thursday, October 6th (Venue: K&L Gates in Hearst Tower, 214 N Tryon Street, Suite 4700, Charlotte, NC 28202 and Parker Poe in Three Wells Fargo Center, 401, S Tryon Street, Suite 3000, Charlotte, NC 28202)
Visit our Energizing Africa through Partnerships Website by CLICKING HERE
African Trade "Deep Dive"
Up to fourteen (14) African delegations will be housed in conference rooms at K&L Gates and Parker Poe (up to seven at each location). U.S./other delegations will be programmed to meet with various African delegations in 30 minute sessions (speed-networking).
8:00 – 8:00 am
African delegations settle in the conference room and U.S./other teams arrive
8:30 – 9:00 am
Meeting 1
9:00 – 9:30 am
Meeting 2
9:30 – 10:00 am
Meeting 3
10:00 – 10:30 am
Meeting 4
10:30 – 11:00 am
Break – opportunity for U.S./other teams to switch venues
11:00 – 11:30 am
Meeting 5
11:30 – 12:00 pm
Meeting 6
12:00 – 12:30 pm
Meeting 7
12:30 – 1:30 pm
Lunch