Energetics and the Soul of Essential Oils, with Olivia MacMillan
Description
Learn a heart-centered, expansive approach to using the energetic properties of essential oils to influence the healing and balance of the mind, body, and heart connection. Explore using your new-found knowledge to create deeply personal blends for use with loved ones or professionally with in-class practice.
Hand-Craft Several Blends of Your Own:
Anointing oil
Purifying Bath salt
Aromatherapy Inhaler
Additional blends based on YOUR needs....
Discover chakras (the energy centers of the body), different personal techniques for choosing essential oils for energetic blends, using essential oils to shift vibrational patterns, meditations on the energetic properties of essential oils, diagnosing energetic imbalances, and more!
Features:
Discover Chakras
Learn the vibrational and energetic properties of essential oils
Fun, hands-on, interactive class tailored to the needs of the students attending
Benefits:
In class meditations
Diagnosing your energetic imbalances and craft deeply personal blends to help your healing journey.
Receive a certificate of completion at the end of class.
---
As a little girl, Olivia used to take the little nurse's kit that her mother had given her and cover an elderly neighbor with Band-Aids while dispensing candy aspirin. Little did she know that sweet playtime was her first step onto the path of her destiny as a healer. Olivia had a consciousness awakening in 2010 which led her to her destiny as a Reiki practitioner of which she is a Usui/Holy Fire Reiki Master. Still not feeling finished, Olivia found her calling with aromas and went through an extensive certification program to become a Registered Clinical Aromatherapist and her affinity for all things natural led her to also seek her certification as a Crystal Healer and to become an Herbalism student. Next up for Olivia as a healer, she says she wants to change the world, one balanced, self-healing spirit at a time.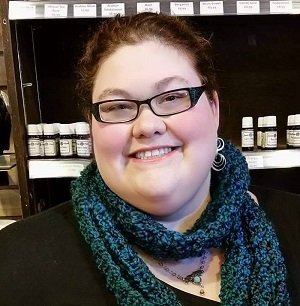 Save
Save