Energetic Sex for Pragmatists with Reid Mihalko

Monday, March 4, 2013 from 8:00 PM to 10:30 PM (CST)
Event Details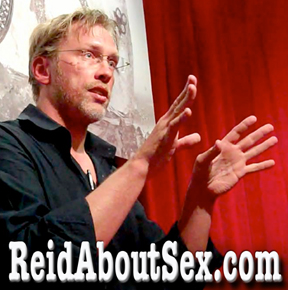 Sexuality educators Sunny Megatron and Ken Melvoin-Berg are super excited to have sex and relationship expert, Reid Mihalko, at The Studio Chicago on Monday, March 4th, 2013! 
From Sunny:
When I first heard about Reid's Energetic Sex for Pragmatists class not only did I want to take it, I wished I could make it available to the Chicago community too— my wish came true! I've always been interested in tantric principles and energy work but find most learning resources a bit too "new agey" for my taste.  Because of this I've steered clear of any class that mentions "chakras," over-uses the phrase "paradigm shift," or is otherwise heavily rooted in New Age Spirituality.  
If this describes you too, Ken & I have your back.  Join us on Monday 3/4/2013  for some no-nonsense instruction that will help you ramp up and harness your sexual energy.  
If you haven't attended one of Reid's Mihalko's classes before you're in for a real treat.  He's wicked smart and hilariously funny.  Reid is known worldwide for his TV appearances, workshops, university lectures and a whole lot more.  In other words, he's kind of a big deal!  You can learn more about Reid HERE. 
Energetic Sex for Pragmatists Class Description: 
Explore Kundalini, the "Tantric Twitchies" and Vibrational Luvin' 

Without the Woo-Woo

! (with live Demos, too)
Remember that Cosmo magazine article that talked about how Tantra and breathing could give you explosive orgasms? How about the urban legend about Sting having sex for eight hour stints?
Regardless of your tolerance for words like "chakras" and "yoni," there is a non New Agey way to understanding and incorporating ecstatic experiences into your bedroom routine that is fun, easy, and explosive.
If you or a lover have ever experienced post-orgasmic spasms or "twitches" after lovemaking, or feelings of heat and tension in your lower back, hands, neck or throat… You might be more energetic in your sex life than you think! And if you've never experienced those things but would like to, you might be pleasantly surprised how easily energetic sex is to grasp and play with.
Join sex and relationship expert Reid Mihalko of ReidAboutSex.com for an evening of frank, fun, and electrifying learning targeted for folks who aren't necessarily New Agey.
Reid promises to drop the woo-woo and leave his Sandskrit-to-English dictionary at home! And, for those of you who say Namasté instead of "thank you," Reid's got you covered, too!
You will be introduced to:
Reid's particular views on how sexual energy "behaves" and how it "works," as well as ways you can begin accessing more energetic awareness in the bedroom
 What Kriyas ("the twitchys") can look like and what to do when you or a lover experiences them
 Three possible approaches for engaging sexual energy and expanding it when exploring energetic sex with a partner or solo with yourself
 What playing a singing saw has to do with energetic sex and expanding your lovemaking
Simple breathing and "presence" techniques to build up energetic awareness
 How to use "pressure play" and where so you can help unlock and activate points on your lover's body to augment energetic experiences during love making
 A few advance tips and tricks that will make you smile and your partner moan regardless of whether "the twitchys" happen or not!
Whatever your level of experience with sex that seems to be "more than just sex," Reid's humorous and informative instruction, sex education, and live demonstrations on this esoteric (and yet more common than you think) realm of energetic sex is not to be missed!
Ken and I are beyond delighted to have the opportunity to host Reid's class at The Studio! Cost is $20 in advance or $30 at the door.  Bcause our students confidentiality is important to us the exact address of The Studio will be emailed to you after you purchase your ticket on EventBrite.  It will appear at the bottom of your ticket purchase confirmation email that has your paper tickets attached.  
If you plan to purchase your ticket at the door please RSVP to Chicago.Ghost@gmail.com and you will be given the address.  It is located roughly 10 minutes southwest of Downtown Chicago (think Chinatown-ish/Bridgeport- ish), is easily accessible by public transportation, near expressways, and has a parking lot available. 
When & Where

The Studio Chicago
10 min SW of Downtown Chicago
Exact address e-mailed on bottom of ticket purchase confirmation
Chicago, IL 60608


Monday, March 4, 2013 from 8:00 PM to 10:30 PM (CST)
Add to my calendar
Organizer
The Studio Chicago/Sunny Megatron & Ken Melvoin-Berg
The Studio is Chicago's premier, upscale playspace located just outside of downtown Chicago. This independent kink and erotic arts community believes in continual learning and hosts educational events on a regular basis.  The Studio is the home of the popular Rough Crowd Educational Series, Black Beat Chicago, On The Edge BDSM Workshop Series, among many others.  The space is clean, sober and non-smoking. Anyone 18+ years of age can attend our educational events.
Sexuality and BDSM educators, Sunny Megatron and Ken Melvoin-Berg are partners in every sense of the word. They co-teach classes across the U.S. on BDSM, polyamory, sexual techniques, sex toys 101 and more.   Ken & Sunny are most known for their approachability, humor and ability to present alternative sexuality topics in a way that is accessible and understandable to the mainstream. Their most recent endeavor features the couple as host and co-host for Outside the Box on X3Sixty, a web-based television network devoted to sex and the adult industry.   
Energetic Sex for Pragmatists with Reid Mihalko