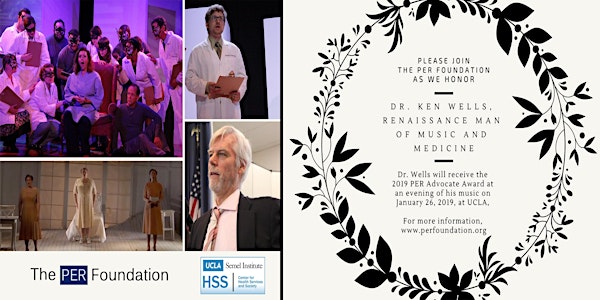 Endowment in Life: Celebrating the Operas of Kenneth Wells
When and where
Location
UCLA Louis Jolyon West Auditorium 760 Westwood Plaza C8-183 Los Angeles, CA 90024
Description
A Special Event of the Psychiatric Education and Research (PER) Foundation with support from the UCLA Semel Institute? Center for Health Services and Society Narrative Projects.
Celebrating the use of opera to address mental health stigma,? including a brief talk by Kenneth Wells (psychiatrist/composer) and live concert performances from two operas (The First Lady, about Eleanor Roosevelt after the death of FDR; and The Center Cannot Hold, based on the memoir by Elyn Saks) along with the West Coast premiere presentation of excerpts from a new opera.
To make a voluntary tax-deductible donation to the Psychiatric Education and Research Foundation, visit www.perfoundation.org as donations for this event of any amount are gratefully acknowledged.
Dr. Wells will also receive the 2019 PER Advocate Award. Every year, at its annual event, PER gives the PER Advocate Award to someone who has exemplified its mission. Past awardees include the Honorable Edward Edelman, NAMI leader Sharon Dunas, Commissioner Laurie Hymowitz and other distinguished mental health champions.
Reception begins at 7pm
Awards & Performances begin at 7:30pm
UCLA Semel Auditorium
Parking at UCLA Jules Stein Parking
Cost: $8
100 Stein Plaza Driveway, Los Angeles, CA 90095
Enter from Westwood Plaza, north of Le Conte Avenue
As part of this event you will have the opportunity to participate in a short anonymous survey on the arts and mental health for a UCLA Research Study. This survey is optional. You will be asked to complete 10 questions before and 13 questions after the event that will take approximately 5 min. total of your time.