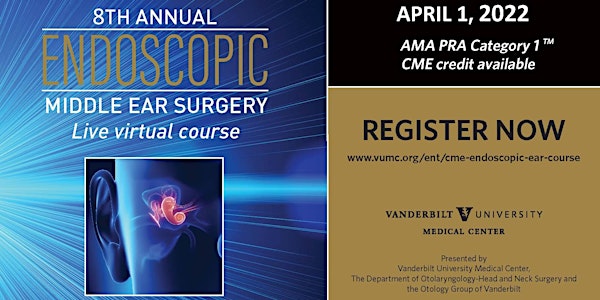 Endoscopic Middle Ear Surgery Live Virtual Course
The Otology Group at Vanderbilt Medical Center proudly presents the 8th Annual Endoscopic Middle Ear Surgery Course – a live virtual event.
About this event
The Otology Group at Vanderbilt University Medical Center, within the Department of Otolaryngology-Head and Neck Surgery, is proud to bring you the 8th Annual Endoscopic Middle Ear Surgery Course!
This year's course will be a one-day virtual event taking place via Zoom that will feature pre-recorded lectures, live moderation by Vanderbilt faculty, and live panel discussions amongst invited faculty lecturers. Our virtual format will provide all attendees access to a video library where all lectures will be stored for future access. Additionally, live participants in the course will be eligible for AMA PRA Category 1 CME credit.
VUMC faculty lecturers & invited faculty lecturers to be announced!
Topics to be covered:
Endoscopic Management of:
Cholesteatoma
Middle Ear Anomalies
Glomus Tumors
Superior Semicircular Canal Dehiscence
Endoscopic Ear Anatomy
Endoscopic Stapes Surgery
In addition to...
Endoscopic Ossiculoplasty
Mastoidectomy
Microscopic Techniques for Management of Cholesteatomas
Cost Analysis of Endoscopic Ear Surgery
Endoscopic Ear Surgery in the Pediatric Population
Cochlear Implant
And more!