Description
Bridal shows are the best way to plan a wedding. They offer attendees so much in just one location! It's like accessing The Knot or the pages of your favorite wedding magazines all at once! Imagine a full day of wedding planning, conveniently located, one-stop-shop for everything you need for the most important day of your life! The best wedding professionals on hand to answer all of your wedding needs, from bridal salons to honeymoon travel specialists.
At the Holiday Inn Virginia Beach Norfolk Hotel and Conference Center, make your wedding day dreams come to fruition. Beautiful ballrooms, designed with elegance along with the expert culinary team, helps create your wedding fantasy. Sophisticated surroundings provide the perfect location for rehearsal dinners, ceremonies, receptions and even your farewell breakfast. With an array of enhancements specially customized for the enjoyment of your guests, you will make memories that will last a lifetime! Call (757) 499-4400 for directions.
Meet Mrs. Virginia United States 2016-2017, Dr. Shena Dixon Mason, Esq. our current Mrs. VA & WVA US Pageant winner! Discover her "more than beauty pageants" mission at www.dixonmason.com. Both will be available for you to personally meet and greet! Shena will announce prize winners during the outdoor fashion show featuring Colonial DJs! A Proud History of Entertainment is not just their slogan but your guarantee that they care about your event!
Each attendee representing the couple will receive at registration two FREE wedding bands from ZB Jewelers! You only pay for shipping and handling for each ring. Once you select the rings you like at www.zbjewelers.com, use the coupon code on the back of the gift card that you receive upon arriving at registration. This will waive the price of each ring. For each partner, you choose from their finest selection of tungsten and titanium wedding bands that will exceed your expectations. These are polished, classic style and contemporary brushed style tungsten and titanium wedding bands. All of the tungsten and titanium wedding bands ship in a black suede pouch and placed in a black outer packer. Get them while supplies lasts!
During and after the fashion show by David's Bridal and Men's Wearhouse, the following prizes will be announced:
Certificate for One Hour of "Personalized" Wedding Preparation Services from the Mrs. Virginia United States Organization as well! Each certificate is valued at $150 and will cover advice on physical appearance, make up, poise, walking, and personal Q&A.
Four attendees will win an Acrylic Glass Impressions Custom Print by Symbolize It. Get this beautiful Glass Impression by redeeming the gift card received for any item under the Gift Card category at www.symbolizeit.com.
Four brides will win an online Name Change Service Gift Card from MissNowMrs.com Instead of steering through the filing of necessary government, bank, insurance, and personal forms, make it official here!
One couple will win a Massanutten VIP Vacation with complimentary access to their 2 indoor sport complexes featuring indoor and outdoor Olympic sized swimming pools, racquetball, fitness centers and much more. This VIP Passport valued up to $495 includes accommodations in one of their oversized hotel rooms located on the resort for 3 days, 2 nights for up to 2 adults and 3 children, or 4 adults. Be their guest in the beautiful Shenadoah Valley. VIP Services (800) 228-3866.
The FINAL PRIZE will be, NOT ONE, BUT TWO All-Inclusive Viva 2 Night Viva Wyndham Resort Vacations by Odenza. This entitles you and your companion to enjoy 2 nights of accommodations in Mexico, Bahamas or Dominican Republic! This vacation is packed with sports, recreation, relaxation, dining and so much more! The resort's fun friendly and enthusiastic staff will help you live each Viva moment and make your vacation one that won't be forgotten! This will be awarded NOT ONCE BUT TWO TIMES after the FASHION SHOW FINALE!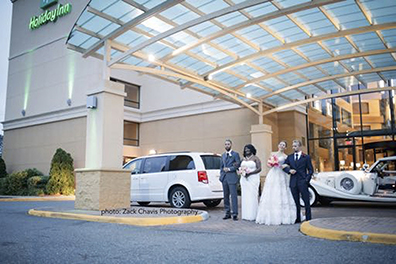 https://vimeo.com/223304388