Location
Greenhouse NYC
150 Varick St.
New York, NY 10002
Description
Visit our event on Facebook...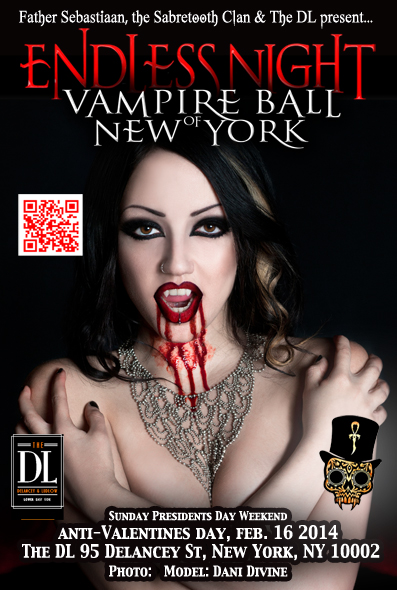 THE ENDLESS NIGHT VAMPIRE BALL HAS BEEN
Rated #1 Halloween party in the world by TripAdvisor.com
The Venue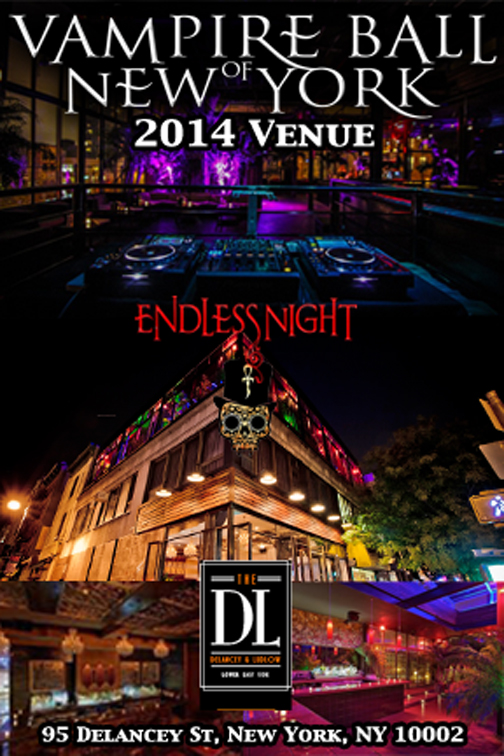 Impresario Father Sebastiaan is proud to announce the 19th edition of the Endless Night "New York Vampire Ball" will take place on Sunday, February 16th 2014 at The DL, located at 95 Delancey St, New York, NY 10002.
The Endless Night Vampire Ball has been rated the #1 Big Halloween party in the world by TripAdvisor and remains a centrepiece of the modern vampire community. Once a patron described Endless Night as a "Venetian Masquerade Ball, meets a Vampire Court, with the Energy of a Rock Concert and the Elegance of a Burlesque Cabaret." Endless Nights have been held in Berlin, London, Amsterdam, Miami and a signature 5 day festival in New Orleans over Halloween weekend.
ENTERTAINMENT
Live festivities and performances throughout the evening include:
- DJs Aengel, Xris SMack!, V Christ and special guests weave your dark favourites musical delights throughout the night.
- Master of Ceremonies Baron Masurara.
- The Cirque du Vampyre presents the RED MASS, a vampiric ritual & theatre performance.
- BEST DRESSED CONTEST featuring two complimentary passes to the New Orleans Vampire Ball 2014 and gift certificates from Gothic Renaissance.
- Enjoy bloodbath and absinthe drink specials all night.
- and much more to be announced.
BANQUET
Join us for the new banquet hosted by the elders of the Sabretooth Clan, Vampyre community, friends and EN Krewe. Seating at 8pm, dinner at 8:30pm. FOR EVENT TICKET HOLDERS ONLY.
TICKETS
Online $16,66 singles / $30.00 for couples through Eventbrite.
Gothic Renaissance at 104 4th Avenue for $18 General Admission and $35 for couples.
DOOR tickets are available at the door for $20.00
Tickets are only valid in proper attire and with 21+ with valid ID.
%20 discount with ticket stub at Gothic Renaissance 104 4th Avenue NYC and 10th St.
A portion of the ticket proceeds goes to supporting our 2014 EN charity www.breastcancer.org.
DRESS CODE - http://www.endlessnight.com/dress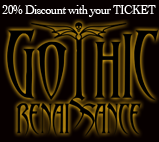 The GateKeeper Victor Magnus will be enforcing a strict Vampyre, steampunk, gothic, fetish (PVC, Latex, Leather) and costume dress code. Masks are highly encouraged and fangs are preferred additions to any ensemble.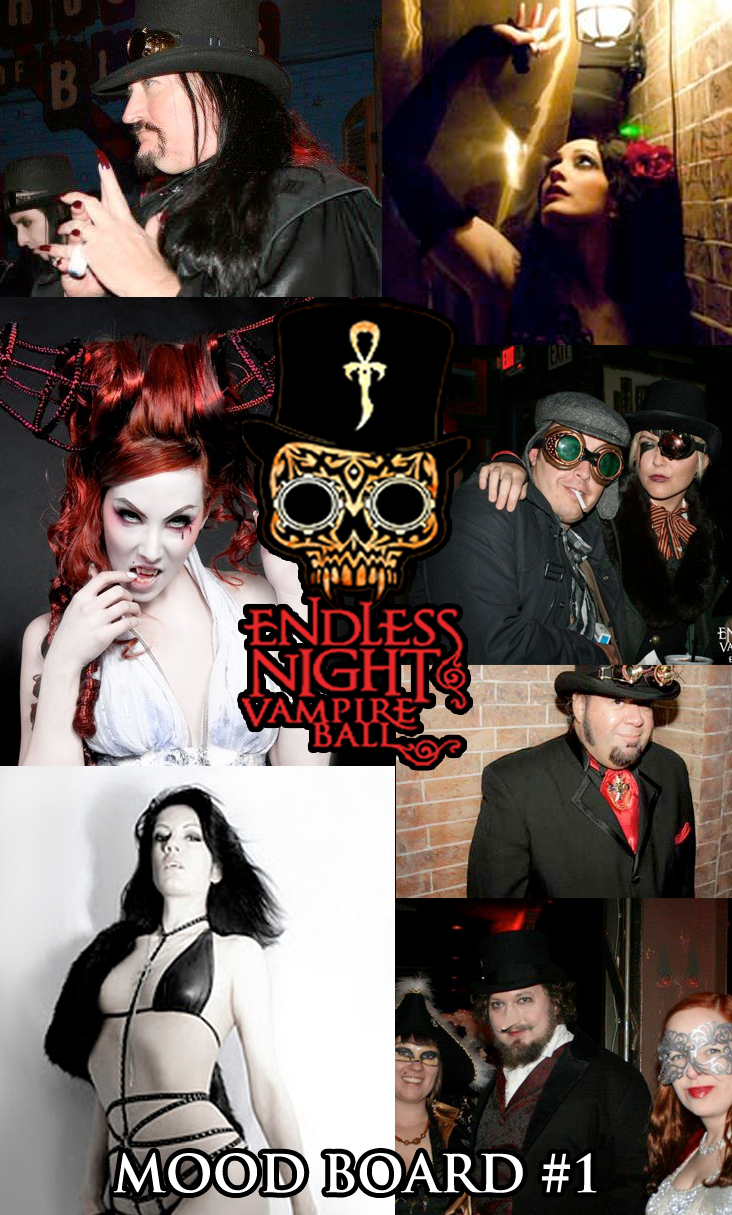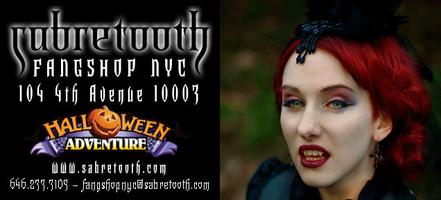 You can obtain your custom made fangs from Father Sebastiaan himself by appointment at the FangShop at 104 4th Avenue, inside the Halloween Adventure Store. For more information please visit http://www.fathersebastiaan.com/fangs.
For more information about the Endless Night Vampire Ball events please visit our website at www.endlessnight.com or on facebook.com/endlessnightvb.
Years of the Endless Night: New York Vampire Ball:
1996 - I - The Bank
1997 - II - Limelight
1998 - III - The Bank
1999 - IV - The Bank
2000 - V - MOTHER
2001 - VI - True
2002 - VII - True
2003 - VIII - Steelows
2004 - IX - Rare
2005 - X - Crash Mansion
2006 - XI - Crash Mansion
2007 - XII - Element
2008 - XIII - Element
2009 - XIV - Element
2010 - XV - Element
2011 - XVI - Santos Party House
2012 - XVII - Drom
2013 - XVIII - Element
2014 - XIX - The DL