Location
House of Blues New Orleans
225 Decatur Street
New Orleans, LA 70130
Endless Night: New Orleans Vampire Ball 2022
About this event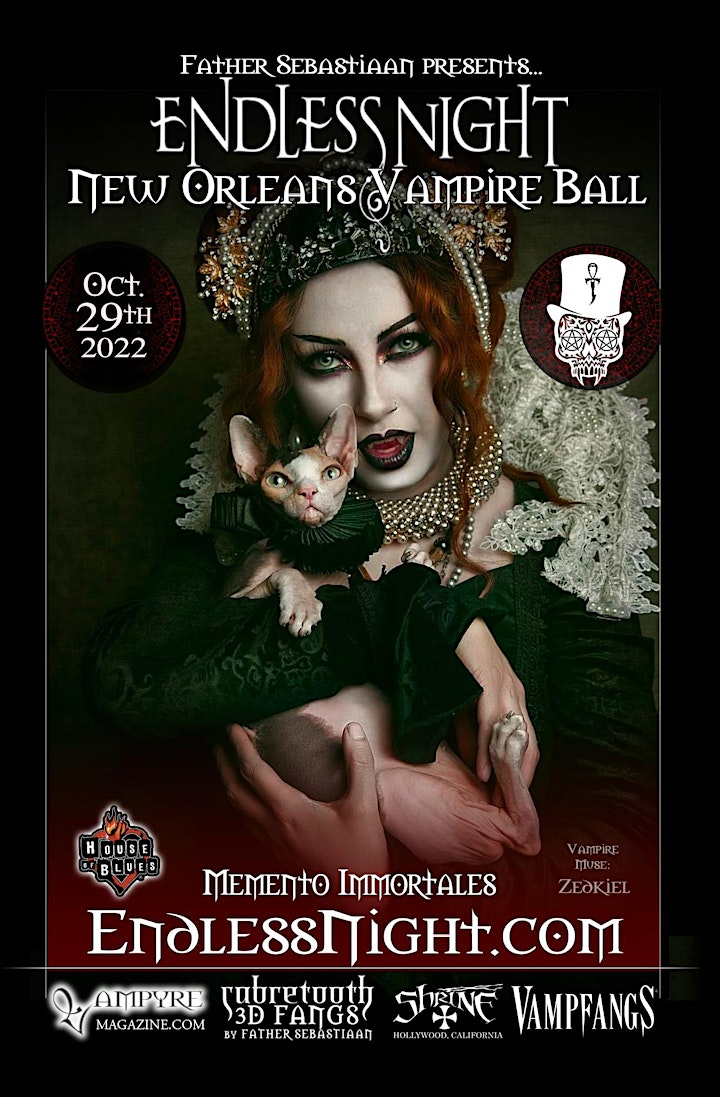 Endless Night Productions and Father Sebastiaan are proud to present New Orleans Vampire Ball 2022 "Memento Immortalitas" (remember your immortality). To be held on Saturday, October 29th at the legendary House of Blues, located right in the middle of the French Quarter at 225 Decatur Street.
Described as a "Venetian Masquerade meets a Vampire Court, with the energy of a rock concert and the elegance of Burlesque Cabaret" These events are a series of masquerade ball theme soirees produced by Impressario Father Sebastiaan which began in NYC in 1996 with the "Vampyre Ball of New York" and the "Main Gala Event", the New Orleans Vampire Ball, over Halloween weekend.
Since then EN events have taken place in New Orleans, Paris, Amsterdam, Barcelona, Austria, Berlin, Tampa, Salem, Los Angeles, and Dallas. The name Endless Night comes from the William Blake poem "Auguries of Innocence" in which he states "Some are born to Sweet Delight, Others are born to Endless Night."
Entertainment:
- Mistress of Ceremonies TBA.
- Howl at Midnight led by Father Sebastiaan.
- Live musical guests TBA @ 10:30pm
- Best dressed contest hosted by JoHanna Moresco of the Cruxshadows.
- Ritual Burlesque by Inferno Burlesque.
- DJs Erik Aengel and Matt V Christ spin the Endless Night Vampire Top 250 on the main floor.
- Official Storyteller & tour guide Rose Sinister
- Patti Negri of Ghost Adventures will be our ritual leader preparing an offering to the Vampire Spirit Queen of New Orleans Bublancha.
Krewe:
- Impresario: Father Sebastiaan
- Maître d: Victor Magnus
- Stage Captain: Matt V Christ
- Gatekeeper: Jonathan Repass
- Decor Captain: Moira McCarthy
- Babylon Hostess / Local NOLA Ambassador: Tsarina Hellfire
- Vampire Bazaar Curator: Josh Suit
- VIV Hostess: JoHanna Moresco
- LA Ambassador: Patti Negri
Weekend Agenda of Events:
- Bazaar: Friday (Oct 29) and Saturday (Oct 30) from Noon to 6 pm with VIP registration, vendors, stage shows, etc. @ House of Blues Voodoo Garden
- Salon Noir: Friday (Oct 28) 10pm - 2am @ House of Blues Parish
- Vampire Ball: Saturday (Oct 29) - 9 pm for VIPs, 10 pm for GA to 4 am @ House of Blues
- High Tea & Tarot: Sunday (Oct 30) 1pm-3pm @ House of Blues Foundation Room
- Convivium Banquet: Sunday (Oct 30), 6 to 9pm @ Creole Queen
- Babylon VIV Salon: Sunday (Oct 30) 9 pm-3 am @ House of Blues Foundation Room
Tickets: http://neworleansvampireball2022.eventbrite.com
- GA (General Admission) - $150
- VIV (Very Important Vampire) - $350
- Add Ons: High Tea & Tarot - $80, Boat Banquet - $150
Drink Specials:
- Traditional Bloodbath: 1/3 chartreuse, 1/3 cabernet, 1/3 cranberry juice, shaken poured not on ice in a wine glass.
Dresscode: http://www.endlessnight.com/dresscode
- Bazaar - no dress code
- Friday Salon Noir - ALL BLACK NO EXCEPTIONS
- Saturday Vampire Ball - See Pinterest
- Sunday Babylon VIV - red and black formal attire
Press:
- New York Times, Return of the Vampire King - https://www.nytimes.com/2018/10/26/nyregion/the-return-of-the-vampire-king-of-new-york.html
- Revolver Magazine on Endless Night: Vegas Vampire Ball 2019 - https://www.revolvermag.com/culture/vampirecon-fangs-bondage-and-red-pool-parties-las-vegas
- LA Weekly on the Anti-Valentines Vampire Ball 2019 - https://www.laweekly.com/l-a-was-out-for-blood-at-endless-night-vampire-ball
- Rolling Stone Inside the Endless Night Vampire Ball - https://www.rollingstone.com/culture/culture-pictures/vampires-new-orleans-endless-night-ball-photos-926237/