Endless Night - German Vampire Ball 2012

Friday, November 23, 2012 at 10:00 PM

-

Saturday, November 24, 2012 at 6:00 AM (CET)
Event Details
JOIN THE GERMAN VAMPIRE BALL FACEBOOK DISCUSSION GROUP


THE ENDLESS NIGHT VAMPIRE BALL HAS BEEN 
Rated #1 Halloween party in the world by TripAdvisor.com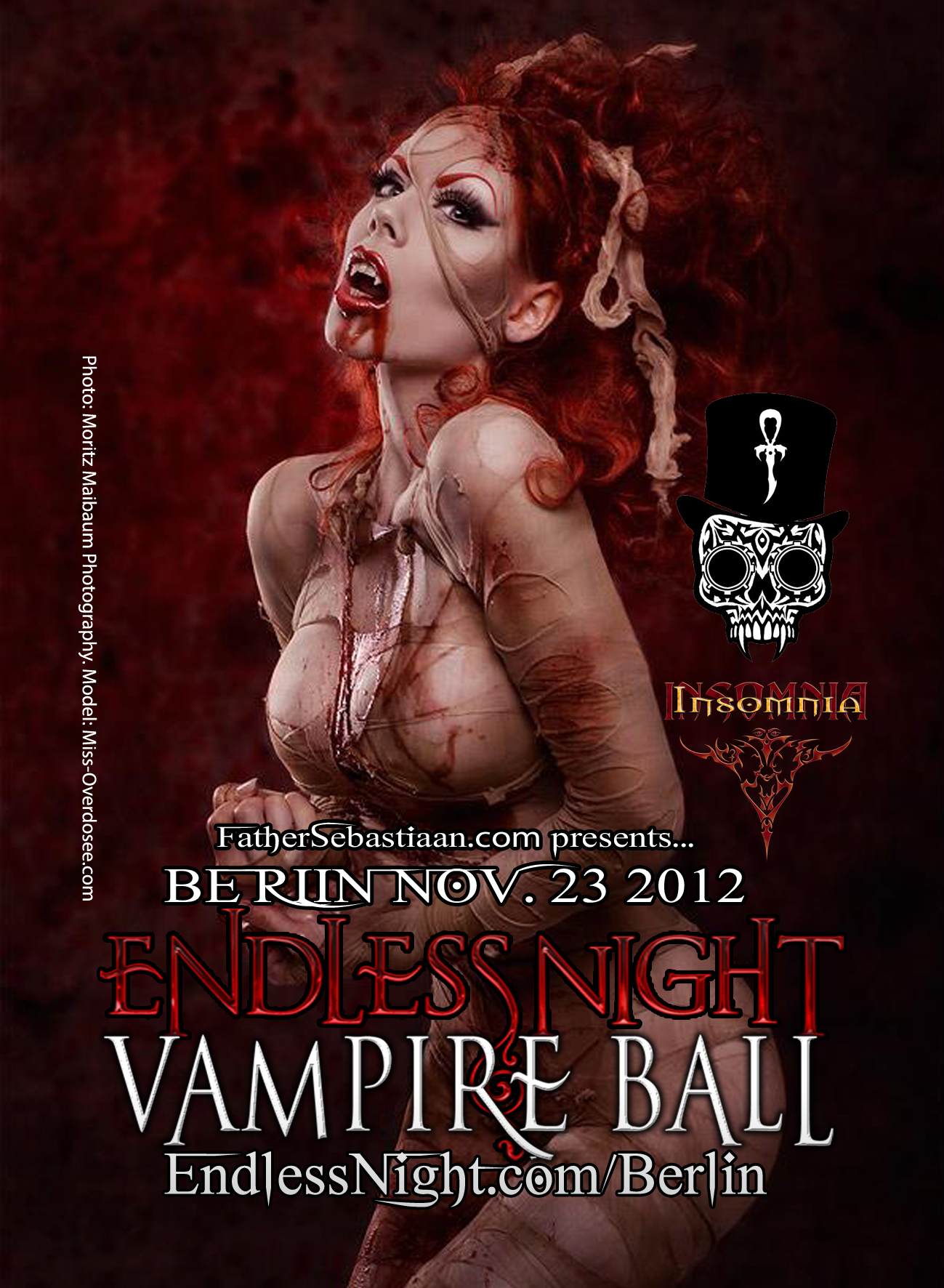 PROGRAM
Thursday November 22nd
PREPARTY - 18h to 01H @ Last Cathedral.
Friday, November 23rd
AFTERNOON COURT - 15h00 to 18h00 @ Last Cathedral
VAMPIRE BALL - 22h to 06h00 @ Club Insomnia
 Saturday, November 24th
AFTER PARTY - 20h00 to LATE - @ Last Cathedral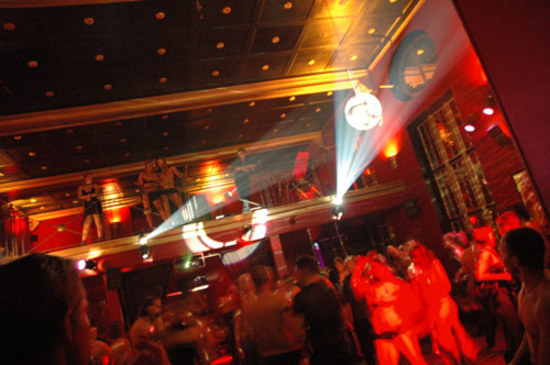 Zum ersten Mal in Deutschland findet der German Vampire Ball statt- der Ball der lebenden Vampyre -
ganz in der Tradition der berühmt-berüchtigten Endless Night Vampire Balls, organisiert von Father Sebastiaan.

Father Sebastiaan ist seit 1996 eine zentrale Autorität der internationalen Vampir/Vampyr-Subkultur
und Begründer des Sabretooth-Clans, woraus sich inzwischen ein weltweites Netz von
Clans lebender Vampyre entwickelt hat. Er ist Impresario der Endless
Night Vampire Balls in New Orleans, New York, London und Paris und
fertigt seit 20 Jahren Vampyr-Zähne in Handarbeit an (Master Fangsmith).

Der Endless Night Vampire Ball ist eine Art venezianischer Maskenball,
auf dem sich die Energie eines Rockkonzertes mit der Eleganz eines
burlesken Theatervorstellung mischt. Es herrscht strenger Desscode, zwar
sind Masken und Vampirzähne nicht zwingend, aber elegante und
phantasievolle Kleigung wie Dandy, Gothic, Steampunk, Tierkostüme,
Elfen, viktorianisch, Drag Queens etc. ist Voraussetzung.

Für Unterhaltung und Erbauung ist gesorgt:
- Das bekannte Model Ophelia Overdose wird als Mistress of Ceremonies
durch die Nacht führen und bietet eine Burleske Show dar.
- DJs spielen die 250 besten Vampyrtitel aller Zeiten
- Aufführung des Vampyr Ritual: "Die Erweckung des Berliner Zoa (eine
Art Vampyrgeist)" durch den Pariser "Cirque de Vampyre"
- Deacons of Fred (Vampyrpriester) am Altar von Fred Samedi
- Buchstand vom Verlag Second Sight Books, wo Bücher von Father
Sebastiaan wie z.B. sein deutschsprachiges Buch "Vampyr-Tugenden" und
andere Vampyrlektüre erworben werden kann.
Father Sebastiaan steht den ganzen Abend über für Autogramme und
Fragen zur Verfügung.
Preise: 23,- Paare / 13,-Männer / 13,- Frauen VVK
23,- Paare / 15,-Männer / 15,- Frauen AK
_______________________________________________________________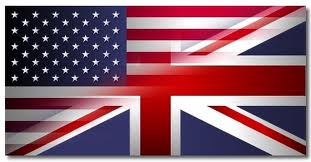 Endless Night Vampire Ball 2012
You are cordially invited to Father Sebastiaans' Endless Night; German Vampire Ball 2012 at Club Insomnia in Berlin Germany. 
The Endless Nights was rated #1 Halloween party in the world by TripAdvisor.com and is described as
"A Venetian Masquerade Ball, meets a vampire court, with the energy of a rock concert and the elegance of a burlesque cabaret."
Entertainment and delights for the evening....
- Mistress of Ceremonies Ophelia Overdose presenting a burlesque performance.
- DJ David from Amsterdam and Arcone spinning the Vampyre Top 250 songs of all time...
- Vampyre Ritual; "The Awakenings of the Berlin Zoa" by Cirque de Vampyre.

- Make your offering at the Altar of Fred Samedi by the Deacons of Fred.
- and many more surprises throughout the evening to pleasure your darkest desires.
Tickets: General admission is €13 each in advance, €15 at the door, €23 for couples, VIP €40 ea.
(includes signed copy of Vampyre Virtues German Edition).
Tickets available exclusively online from our secure server from GermanVampireBall.com.
Pre-Sale Tickets here.
Dress Code: strict Endless Night dress code includes Vampyre "Fangs and Masques are encouraged but not required" carnivale, steampunk, circus animals, cosplay, elves, victorian, dandy, uber gothic, drag queens, etc. 
No street close or everyday wear.  The gatekeepers will be VERY strict.
http://pinterest.com/fatherseb/endless-night-vampire-ball-dress-code-inspiration/
FANGS by Father Sebastiaan will be available by appointment (not during the event)
on Thursday the 22nd and Friday the 23rd of November. 
For more information please visit http://www.fathersebastiaan.com/fangs 
Vampyre White Court Pre-party: Thursday evening (8pm to 1am) and Friday afternoon
come join us for the Berlin Vampire White Court, a vampyre / vampire meet and greet, social event
at the Last Cathedral Bar... http://www.lastcathedral.com. 
Located at Schönhauser Allee 51 10119 Berlin, Germany.  
BOOK SIGNING: Father will be signing English and German Editions of Vampyre Virtues
at the White Court at 5pm on Thursday and 3-4pm on Saturday. 
http://second-sight-books.com/product_info.php?products_id=761
Press & Photographers: please contact Ingrid at endlessnightvampireball@gmail.com.
NO EXCEPTIONS and a limited number of professional photo passes are available.
 MOODBOARDS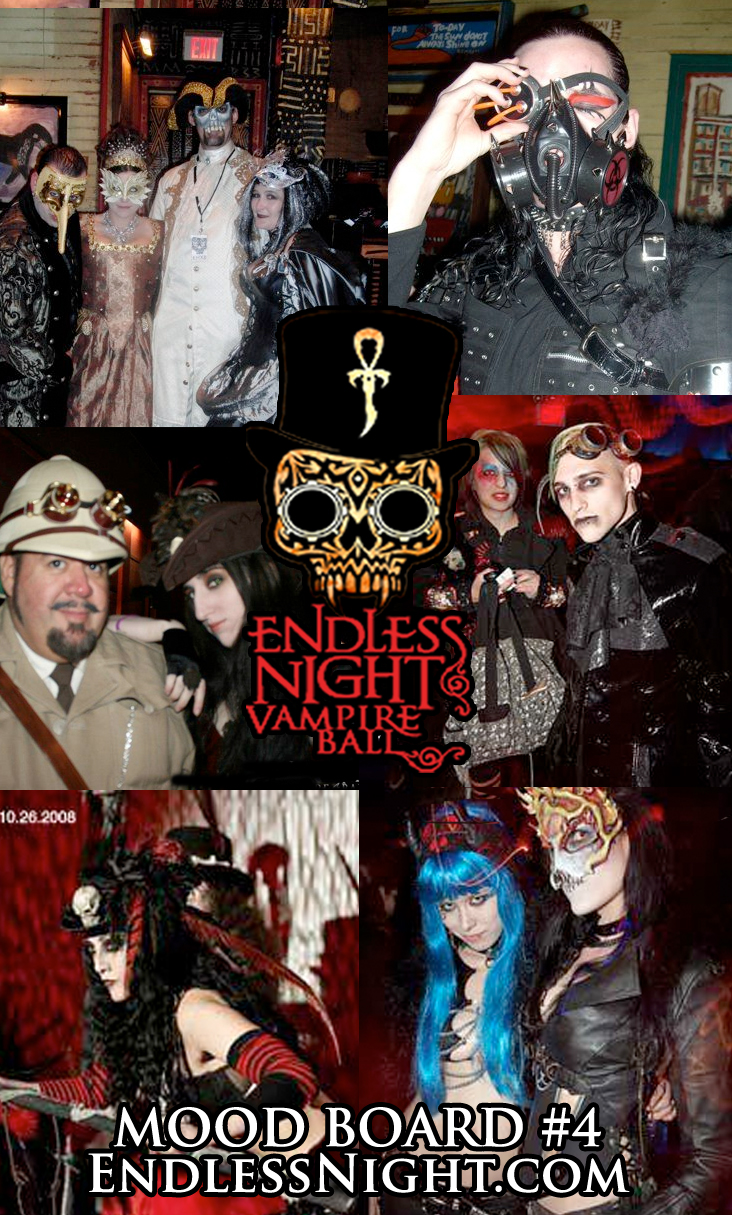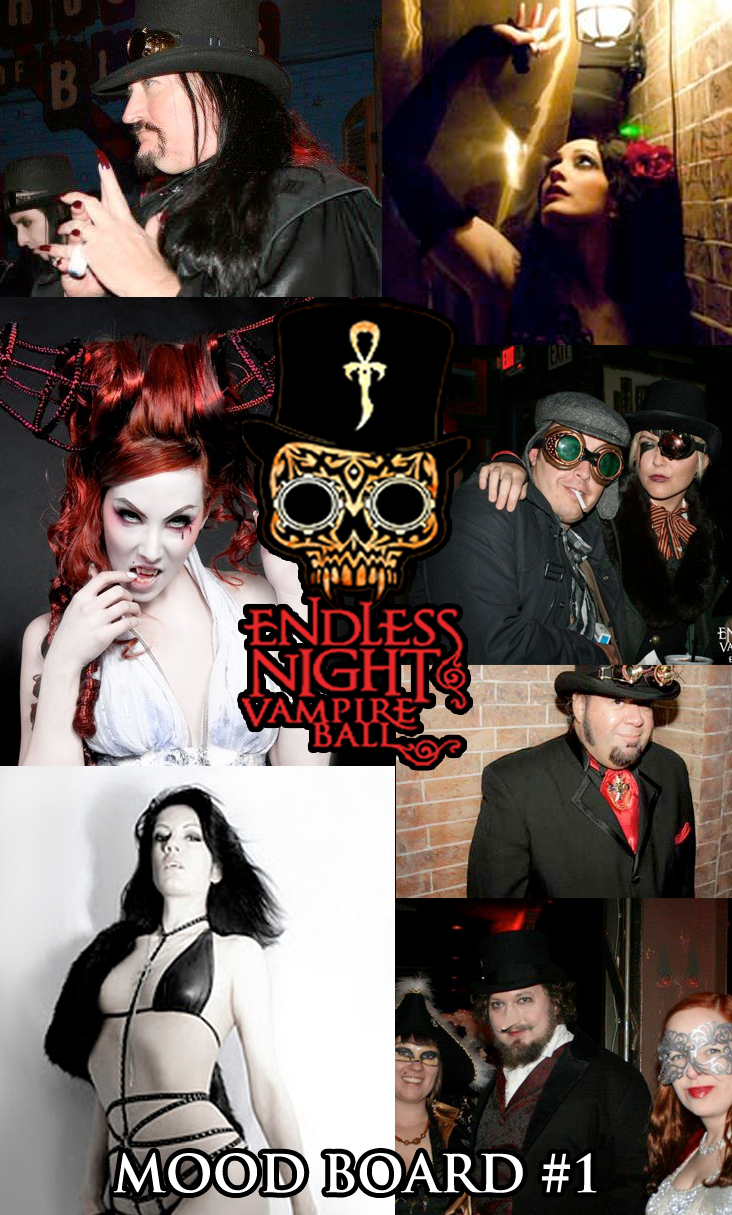 SPONSORS, FRIENDS AND SUPPORTERS ....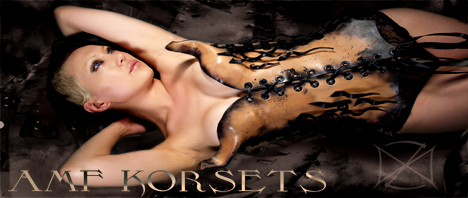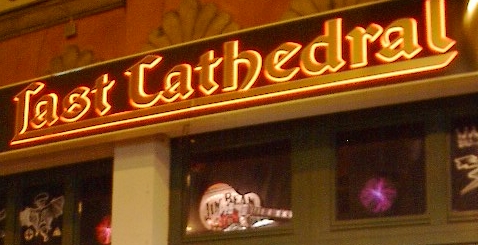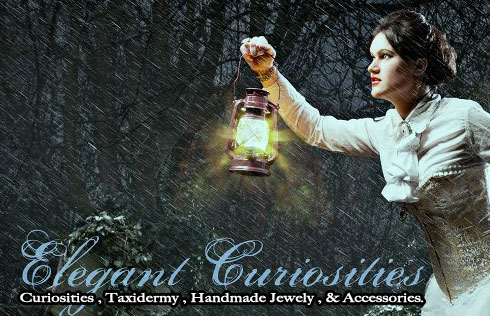 When & Where

Insomnia Berlin
Alt Tempelhof 17
12099 Berlin
Germany


Friday, November 23, 2012 at 10:00 PM

-

Saturday, November 24, 2012 at 6:00 AM (CET)
Add to my calendar
Organizer
Endless Night Vampire Ball

The Endless Night Vampire Ball is held every Halloween in New Orleans and was rated #1 Big Halloween Party in the world by TripAdvisor.com in 2010. A basic description of the ENVB is called "The Endless Night Vampire Ball is akin to a Venetian Masque Ball meets a Vampire Court, with the energy of a rock concert and the elegance of a burlesque cabaret!"  
 
Endless Night - German Vampire Ball 2012