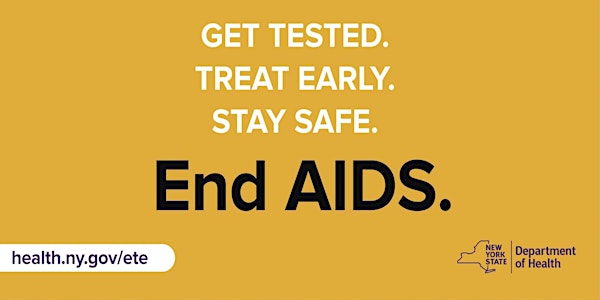 Ending the Epidemic 2016 Summit
By New York State Department of Health AIDS Institute
Date and time
December 6, 2016 · 2:30pm - December 7, 2016 · 5pm EST
Location
Empire State Plaza Convention Center Albany, NY 12242
Description
Ending the Epidemic 2016 Summit
The New York State Department of Health AIDS Institute (NYSDOH AI) is hosting an Ending the Epidemic Summit on December 6-7, 2016 at the Empire State Plaza Convention Center and accompanying meeting rooms. The Ending the Epidemic 2016 Summit is intended to bring key stakeholders to one forum to share Ending the Epidemic implementation efforts. Future innovative programs, policies, and research efforts to be considered will also be presented and discussed.
Background
On June 29, 2014, Governor Andrew M. Cuomo detailed a three-point plan to move us closer to the end of the AIDS epidemic in New York State. The goal is to reduce the number of new HIV infections to just 750 annually by the end of 2020 and achieve the first ever decrease in HIV prevalence in New York State.
The three-point plan:
1. Identifies persons with HIV who remain undiagnosed and link them to health care.
2. Links and retains persons diagnosed with HIV in health care to maximize virus suppression so they remain healthy and prevent further transmission.
3. Facilitates access to Pre-Exposure Prophylaxis (PrEP) for persons who engage in high-risk behaviors to keep them HIV negative.
Ending the Epidemic efforts in New York State will maximize the availability of life-saving, transmission-interrupting treatment for HIV, saving lives and improving the health of New Yorkers. In October 2014, a Task Force to develop a Blueprint was brought together to operationalize the three-point plan. The Blueprint was presented to the Governor on April 29, 2015.
Please register by 5pm on Thursday, December 1, 2016.
AGENDA
December 6, 2016
2:00pm
Registration opens outside of Meeting Room 6
2:30pm
Please join us in the Convention Center for the World AIDS Day Commissioner's Special Recognition Awards Ceremony, recognizing individuals for their commitment, contribution, and response to improve and promote the health and well-being of all New Yorkers.
5:00pm-7:00pm
Welcome and Keynote Remarks
December 7, 2016
8:30am
Registration and continental breakfast
9:00am
Welcome and keynote remarks
9:50am
Preventing New Infections and Improving Outcomes through Data and Research
The Ending the Epidemic (ETE) Blueprint calls for the development of key performance indicators and milestones to track the epidemic, building on existing technologies to disseminate priority data, and conducting qualitative and quantitative research to achieve success. Panelists will discuss the current status of the epidemic in New York City and State and address efforts currently underway to improve our understanding of the epidemic, improve patient outcomes, and prevent new infections through innovation.
10:55am
Identifying the Undiagnosed, Linking to Care and Maximizing Viral Suppression
Varied, evidence-based outreach strategies to address HIV stigma and promote knowing one's HIV status must become a community norm. Ensuring access to continuous care and achieving viral load suppression is critical for reducing morbidity and mortality. This discussion will provide information on recently initiated programs being implemented across the state to assist in these critical areas that will reduce the number of new HIV infections in New York State.
12:00pm
LUNCH in Meeting Room 6
Building Infrastructure During a Season of Change
*Lunch-time plenary opportunity in Meeting Room 4
*
With challenges come opportunities. This session will focus on the tools and resources necessary for building a sustainable infrastructure in a changing environment.
1:05pm
PrEP and nPEP Access and Usage Statewide
For persons at risk of acquiring HIV who have trouble adhering to other prevention strategies, PrEP and nPEP could mean the difference between staying negative and living the rest of their lives with HIV. This session will focus on collaborative statewide implementation efforts among clinical providers, HIV testing programs, primary prevention programs and support services providers, while also addressing future needs and areas of focus.
2:10pm
In My Mind: Working Towards Zero
Discussions will focus on recognizing and articulating the mental health needs of all individuals, and the importance of addressing behavioral health for those living with HIV and AIDS.
3:15pm
What Works for Priority Populations?
In order to change the trajectory of the epidemic, an effective plan of action must continuously identify and address the needs of key populations that are most disadvantaged by the systemic health, economic and racial inequities that result in poor health outcomes. Community members who served on several advisory bodies to develop implementation strategies in support of the ETE Blueprint will discuss what they propose to overcome barriers to effective care for vulnerable persons.
4:15pm
Closing Remarks
Presenters and Panelists will be shared closer to the event date.