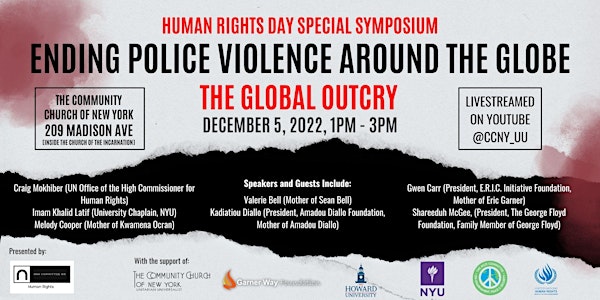 Ending Police Violence Around the Globe: A Human Rights Day Symposium
Join us for this special symposium as part of efforts to end police violence around the globe.
When and where
Location
209 Madison Ave 209 Madison Avenue New York, NY 10016
About this event
As a result of police violence, Black men have a one in 1000 chance of being killed by police use of force. Black women have a one in 33,000 chance. These are greater odds than cancer, heart disease, and other common illnesses.
In recognition of the urgent need to address police violence worldwide as a threat to the human rights and well-being especially of People of African Descent, the NGO Human Rights Committee; Mia Thornton, as an extension of the Howard University School of Social Work; and the Garner Way Foundation have come together with the support of the Community Church of New York Unitarian Universalist to facilitate a discussion on the critically important topic of police violence around the globe, proposals for change, and the high cost of continued inaction.
During a special symposium, entitled "Ending Police Violence Around the Globe: The Global Outcry," we will be exploring the epidemic of police violence and excessive force (both legal and illegal forms) alongside key activists and community leaders and family members of individuals lost to police violence, including Eric Garner, George Floyd, and others. The event will take place on Monday, December 5, 2022 from 1-3 PM at the Church of the Incarnation in Midtown Manhattan.
The main objective of the event is to exchange views on the manifestations and consequences of structural and institutionalized discrimination against people of African descent worldwide, and to discuss how to take advantage of the International Decade for People of African Descent to achieve justice and the equal enjoyment of all human rights for people of African descent, including through an end to police violence worldwide.
The event is free and open to the public. For those unable to attend in person, the event will be live streamed by the Community Church of New York at www.youtube.com/ccny_uu.
Special Contributors:
* Peggy Clarke & Reverend Jude Geiger (Community Church of New York Unitarian Universalist)
* Craig Mokhiber (Director, NY Office, Office of the UN High Commissioner for Human Rights)
* Hawa Diallo (UN, Head of Unit and Public Information)
* Imam Khalid Latif (Executive Director, The Islamic Center at NYU)
* Jennifer Jones Austin (Executive Director, FPWA/NAN)
* Bobbi Nassar (NGO for Human Rights Committee Member)
Panelists:
* French perspective: Yasser Louati (President, Comite' Justice & Libertes' Pour Tous)
* Latin American perspective: Cheryl Sterling, Ph.D. (Director, Black Studies Program, The City College of New York)
* US perspective
* Marion Gray-Hopkins (Executive Director of the Coalition of Concerned Mothers, Mother of Gary Hopkins)
* Pamela Brooks (Mother of Amir Brooks)
* Melody Cooper (Mother of Kwamena Ocran)
* William & Valerie Bell (Parents of Sean Bell)
* Kadiatiou Diallo (President, Amadou Diallo Foundation, Mother of Amadou Diallo)
* Gwen Carr (President, E.R.I.C. Initiative Foundation, Mother of Eric Garner)
* Dr. Shareeduh McGee, (President, The George Floyd Foundation, Family Member of George Floyd)
* Dr. Delores Jones-Brown (Howard University Sociology Professor, Juris Doctor, & Excessive Force Scholar)
* Dr. De Lacy Davis (Founder, Black Cops Against Police Brutality, Professor, Author)
* Kirsten John Foy (President & CEO, Arc of Justice)
* Dr. Robert Hawkins (Associate Dean of NC State University)
Other Special Invitees:
* Colin Kaepernick (Know Your Rights Camp Founder/Former NFL Football Player/Anti-Police Violence Activist)
* Kerry Washington (Actress, and Co-Chair of Black Voices for Black Justice Fund)
* Alvin Bragg, Esq. (Manhattan District Attorney)