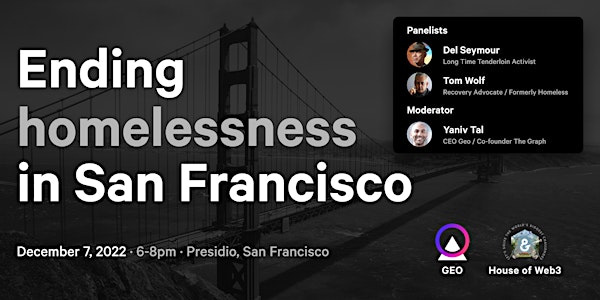 Ending homelessness in San Francisco
An evening dedicated to understanding the causes of homelessness in San Francisco and discussing solutions to an issue that touches us all.
When and where
Location
103 Montgomery St 103 Montgomery Street San Francisco, CA 94129
About this event
You're invited to join us for the opening of our speaker series at House of Web3, focused on solving San Francisco's most pressing problems. Our first event is focused on the issue of ending homelessness in San Franciso. A deep and complex issue that touches everyone in the San Francisco Bay Area.
We are excited to host a discussion with Del Seymour and Thomas Wolf, both recovering addicts, formerly homeless with experience living on the streets of the Tenderloin, and now serving as activists for the homeless community in San Francisco.
Come participate in a live panel discussion with community members who are passionate about building a better San Francisco. We will be discussing what needs to happen today to create transformative change.
The panel discussion will start at 6:00pm. Following the discussion, pizza and drinks will be served. We invite you to stay and network.
After the event, we'll be organizing the information shared in Geo to help inform public policy proposals, steer funding, and kickstart future panel discussions. We are working to bridge the world to web3 – please, bring a guest and share this invitation with your community.
About House of Web3
It all starts with human connection.
House of Web3 is especially for web3 pioneers and those who contribute knowledge, education, and code to the community at large. Through the tools and platform of decentralization, House of Web3 inspires and designs solutions for the challenges we collectively face.
Through interactive panels, workshops, and curated events, this handpicked collective loves to teach and to learn. We bring together influential creators of web3 including the builders, researchers, inventors, and partners who are literally the writing code of the future into the fabric of humanity.
Not quite a coworking space nor an office, we are a private space based on meritocracy, representing the highest values of decentralization. While we are not an office, by-invitation, you can build and create a web3 project alongside us.
About Geo
Geo is building tools to help communities organize knowledge and information on verifiable public infrastucture. By hosting discussions and debates on difficult topics, we hope to stimulate creative energery toward solving the world's biggest challenges.
Together we can change how society is organized, put power into the hands of those who've earned it, and distribute resources and opportunity far and wide.