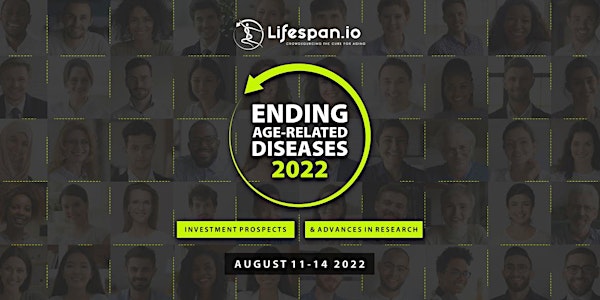 Ending Age-Related Diseases 2022
Join us for the Ending Age Related Diseases Annual Conference!
Refund Policy
Contact the organizer to request a refund.
Eventbrite's fee is nonrefundable.
About this event

On August 11-14, we will be meeting virtually to hear the latest developments from the leading experts.
This conference will bring together the leading experts in rejuvenation biotechnology and investment in order to foster scientific and business collaborations to develop rejuvenation therapies that target the root causes of aging.
In addition to bringing together the thought leaders of the rejuvenation biotechnology industry to foster scientific and business collaborations, we will provide interviews and panel discussions on related topics, such as the philosophy of life extension, the ethics of longevity journalism, and the relationship between rejuvenation biotechnology and blockchain technology. The conference will help you to deepen your understanding of what is going on in the aging research field.
Join us, and let's discuss how we can defeat aging sooner and achieve healthy life extension free from age-related diseases!
Lifespan Heroes: To thank you for your kind support, we are offering Lifespan Heroes a 20% discount off your ticket. Please contact info@lifespan.io to get your special code to unlock the Hero ticket.
Press: We have made a limited number of complimentary press passes available for this conference. Reporters and editors along with professional and freelance journalists may apply for a complimentary press pass. You will need to provide proof of your status in the organization you represent as well as the ability to demonstrate that you are currently an active journalist. We may also consider a complimentary pass if you are the owner of a significant social media following. In this case, you should include the name and location of your channel(s), approximate audience size, and how it relates to our scientific field. To apply for a complimentary pass please contact steve@lifespan.io.
Student: Student discounts are available, please contact info@lifespan.io for more information.
In case you cannot come, a refund is allowed any time before July 30, 2022.
WHAT'S NEW IN 2022? This year we are looking at the industry as an ecosystem, trying to identify the gaps in coordination and collaboration that can be filled by a concerted effort of the community. We will be also paying special attention to the burden of neurodegenerative diseases and innovative approaches to maintaining and restoring mental health.
HOW CAN YOU BENEFIT FROM ATTENDING THIS CONFERENCE?
If you are a researcher: EARD2022 offers you the opportunity to learn what is going on in other labs and discuss promising directions and potential blind spots with your peers. Q&A sections, breakout rooms, instant messages, forums and 1-1 video calls will allow you to network and exchange ideas with other researchers - in the comfort of your room.
If you are a longevity supporter: You can get the news directly from the lab and talk with the researchers even before their publication comes out. Don't miss the opportunity to be first to know about breakthroughs and experimental treatments to upgrade your own reliable longevity strategy. On top of that, being among like-minded people and exchanging insights is refreshing!
If you are an investor: EARD2022 will feature leading researchers and biotech companies, and with the many networking features offered by the virtual platform, scouting will be easy and comfortable. We'll dedicate one day to discussing investment issues so you could consider new approaches to risk management and new ways to collaborate with other investors on biotech projects that have a great potential to change the world.
If you are leading a biotech company: EARD2022 is a great space to discuss your company and the therapy you are developing or already marketing. If you have new research data to present, you are welcome to apply as a speaker. Apart from that, we offer a range of sponsorship opportunities. At our conference you can find both new partners and new customers. We'll do our best to make your company more visible to the longevity community during and after the event.
If you are a medical service provider: with so many treatments targeting aging in human clinical trials, and aging diagnostic tools in development, it is important to keep yourself informed about new opportunities for your patients. Make sure your healthcare institution possesses the up-to-date vision on preventative approaches to age-related diseases.